Who do I learn from?
by
Concetta Gotlieb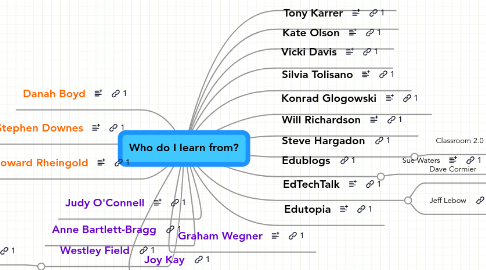 0.0
stars -
0
reviews range from
0
to
5
Who do I learn from?
Interesting editorial and up-to-date new technologies. Also has been doing seminars in Sydney recently so familiar to ICT co-ordinators and librarians.
Used to get newsletters. Introduced me to new ways of thinking about education.
Need to spend some more time here. Very interesting info in previous entries about how to use blogs to enhance learning and understanding.
Good technical info about using edublogs and other software. Also good place to see the comments of other beginner bloggers.
I mostly watch the vlog. I find it pretty interesting. Don't turn it off after 30secs so that must be a good thing. His insights are usually good because they can be applied at any level. Eg turning your thinking on it's head a little.
Community that I have been studying for uni.
I've just started reading this. Some good links for teachers.
I've been reading his updates fairly regularly. Love that it helps me understand the complexities of what other people are writing about. For example I've read lots on collaboration and I think he understands it's really complicated.
Also I've learnt alot about the complex dynamics of collaboration. Everyday I think he impacts my thinking a little bit.
Mix of everything. Educator from Australia. Strong indirect links from him to Edna, that's probably how I got to him.
Adds alot to the general conversation I think.
I have been getting emails from him for a while and find them useful but a bit on the corporate side.
I think the most important thing I've learnt here is the idea that we need to keep thinking about the idea of public and private spaces. We don't necessarily want one huge public Facebook where all relationships are of the same value.
Lots of blogging resources. Might be useful for the bloggers corner.
If this had a really good push behind it it would be sooo... goood. Basically easy to use web-based software and forums for collaborating with schools all over the world.
Has a strong literacy focus. I look in occasionally.