PRINCE2 (TM) End Project Report
by
stakeholder map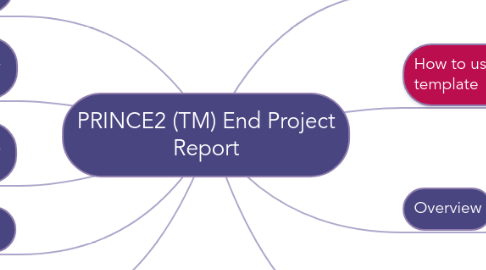 0.0
stars -
0
reviews range from
0
to
5
PRINCE2 (TM) End Project Report
Document information
Project Name
[name]
Date
[date]
Release
Draft/Final
Author
[author]
Owner
[owner]
Client
[client]
Document Number
[number]
Revision, Approvals & Distribution
Revision History, Revision # [....], Revision Date, [date], Previous Revision Date, [date], Summary of Changes, [change], Changes Marked, [change mark], Revision # [....], Revision Date, [date], Previous Revision Date, [date], Summary of Changes, [change], Changes Marked, [change mark], Revision # [....], Revision Date, [date], Previous Revision Date, [date], Summary of Changes, [change], Changes Marked, [change mark], Date of next revision:, [....]
Approvals, Approval # [....], Name, [name], Signature, [signature], Title, [title], Date of Issue, [date], Version, [version], Approval # [....], Name, [name], Signature, [signature], Title, [title], Date of Issue, [date], Version, [version], Approval # [....], Name, [name], Signature, [signature], Title, [title], Date of Issue, [date], Version, [version]
Distribution, Distribution # [....], Name, [name], Title, [title], Date of issue, [date], Version, [version], Distribution # [....], Name, [name], Title, [title], Date of issue, [date], Version, [version]
Overview
Purpose
An End Project Report is used during project closure to review how the project performed against the version of the Project Initiation Documentation used to authorize it. It also allows the:, Passing on of any lessons that can be usefully applied to other projects, Passing on of details of unfinished work, ongoing risks or potential product modifications to the group charged with future support of the project's products in their operational life.
Contents
The End Project Report should cover the following topics.
Project Manager's report
Review of the Business Case
Review of Project Objectives
Review of Team Performance
Lessons Report
Review of Products
Advice
The End Project Report is derived from the: Project Initiation Documentation; Business Case; Project Plan; Benefits Review Plan; Issue Register, Quality Register and Risk Register; Lessons Report and End Stage Reports (and Exceptions Reports, if applicable).
An End Project Report can take a number of formats, including presentation to the Project Board (physical meeting or conference call), as a document or email issued to the Project Board or as an entry in a project management tool.
The following quality criteria should be observed:, Any abnormal situations are described, together with their impact, At the end of the project, all issues should either be closed or become the subject of a follow-on action recommendation, Any available useful documentation or evidence should accompany the follow-on action recommendation(s), Any appointed Project Assurance roles should agree with the report.
Project Manager's report
Summarizing the project's performance
[Summarise the project's performance]
How to use this template
How to share this template with your team
Send an email, 1. Click Share this map, 2. Select Invite People, 3. Write a message, 4. Click Invite
Send a link, 1. Click Share this map, 2. Tick Link to share, 3. Copy the link to share it
Export, 1. Click down arrow, bottom right, 2. Select the export option you want
How to complete this template
Complete the sections in square brackets, [....]
Read these sections for help on this template, Purpose, Advice
Navigate using the links in Contents, Contents
Attribution
Copyright © AXELOS Limited 2009. All rights reserved. Material is reproduced with the permission of AXELOS
Review the Business Case
Summarizing the validity of the project's Business Case
[Summarise the validity of the project's Business Case]
Benefits achieved to date
Expected net benefits
Deviations from the approved Business Case
Residual benefits expected
Post-project.
[Post-project benefits expected]
Review of Project Objectives
Review of how the project performed against its planned targets and tolerances for time, cost, quality, scope, benefits and risk. Review the effectiveness of the project's strategies and controls
[Review how the project performed against its planned targets and tolerances for time, cost, quality, scope, benefits and risk. Review the effectiveness of the project's strategies and controls]
Review of Team Performance
In particular, providing recognition for good performance
[Provide recognition for good performance]
Lessons Report
A review of what went well, what went badly, and any recommendations for corporate or programme management consideration (and if the project was prematurely closed, then the reasons should be explained). This may be a separate document and referenced from this location
[Review what went well, what went badly, and give any recommendations for corporate or programme management consideration (and if the project was prematurely closed, then the reasons should be explained). This may be a separate document and referenced from this location]
Review of Products
Summary of Follow-on Action Recommendations
Request for Project Board advice about who should receive each recommended action. The recommended actions are related to unfinished work, ongoing issues and risks, and any other activities needed to take the products to the next phase of their life
Project Product Handover
Confirmation (in the form of acceptance records) by the customer that operations and maintenance functions are ready to receive the project's product)
[Provide (in the form of acceptance records) confirmation by the customer that operations and maintenance functions are ready to receive the project's product]
Products
[Product Name], Quality Records, [Planned], [Completed], Approval Records, [....], Off-specifications, [....]
[Product Name], Quality Records, [Planned], [Completed], Approval Records, [....], Off-specifications, [....]
[Product Name], Quality Records, [Planned], [Completed], Approval Records, [....], Off-specifications, [....]
[Product Name], Quality Records, [Planned], [Completed], Approval Records, [....], Off-specifications, [....]
[Product Name], Quality Records, [Planned], [Completed], Approval Records, [....], Off-specifications, [....]
[Product Name], Quality Records, [Planned], [Completed], Approval Records, [....], Off-specifications, [....]