Research into iPod TV commercials
by
Billy Rowlinson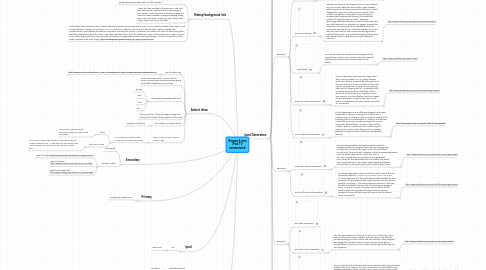 0.0
stars - reviews range from
0
to
5
Research into iPod TV commercials
Ipod Generation
2001 ipod
First ipod Keynote presentation: http://www.youtube.com/watch?v=kN0SVBCJqLs
In depth analysis/interview of first iPod: http://www.youtube.com/watch?v=e84SER_IkP4
First tv ad: http://www.youtube.com/watch?v=kN0SVBCJqLs
Ipod first gen, The iPod first generation was Apple's first iPod. Among the iPod's innovations were its small size, achieved using a 1.8" hard drive, whereas its competitors were using 2.5" hard drives at the time, and its easy-to-use navigation, which was controlled using a mechanical scroll wheel, a center select button, and 4 auxiliary buttons around the wheel., http://www.ipodhistory.com/ipod-first-generation/
2002 ipod
Ipod second gen, The iPod second generation used the same body style as the first generation, the hold switch was redesigned, a cover was added to the FireWire port, and the mechanical wheel was replaced with a touch-sensitive wheel. The front plate also had rounded corners and edges., http://www.ipodhistory.com/ipod-second-generation/
2003 ipod
ipod third gen, The iPod third generation was thinner than the previous models, the models replaced the FireWire port with a new Dock Connector and introduced the Touch Wheel, a completely non-mechanical interface with the four auxiliary buttons located in a row between the screen and the touch wheel. The front plate had rounded edges, and the rear casing was slightly rounded as well. A new wired remote connector was introduced. Whereas first and second generation classics had an auxiliary ring around the headphone port for the remote, the third generation classic had a 4-pin jack adjacent to the headphone port., http://www.ipodhistory.com/ipod-third-generation/
2004 ipod
Ipod forth gen, The fourth-generation iPod classic replaced the touch wheel from the third generation with the Click Wheel from the iPod mini, putting the four auxiliary buttons underneath a touch-sensitive scroll wheel. The casing was also slightly slimmer., http://www.ipodhistory.com/ipod-fourth-generation/
Ipod photo, Positioned as a premium version of the standard fourth-generation iPod, the iPod photo featured a 220x176 pixel LCD capable of displaying up to 65,536 colors. The photo supported JPEG, BMP, GIF, TIFF, and PNG graphic file formats, and could be attached to a television or other external display for slideshows., http://www.ipodhistory.com/ipod-photo-2/
ipod mini, First generation iPod minis were available in five colors: silver, gold, pink, blue, and green. The gold model was dropped from the second generation range, likely due to its unpopularity. The pink, blue, and green models had brighter hues in the second generation; the silver model remained unchanged. The first generation mini had grey button labels; the second generation had button labels matching the case's color., http://www.ipodhistory.com/ipod-mini-first-generation/
2005 ipod
ipod fifth gen, The fifth generation classic, known informally as the iPod video, featured a 2.5" 320x240 QVGA screen and a smaller Click Wheel. The fifth generation iPod is the first classic iPod to be available in an alternative color scheme in a non-special edition form, as a black option was added alongside "Signature iPod White", and marked the second full redesign of the iPod's aesthetic with its re-arranged proportions, its return to a fully flat front plate, and its more rounded rear casing. The 4-pin remote port was removed as well, causing backwards accessory compatibility issues., http://www.ipodhistory.com/ipod-fifth-generation/
ipod nano first gen, Development work on the design of the iPod nano started only nine months before its launch date. Apple released some accessories, including armbands and silicone "tubes" designed to bring color to the nano and protect it from scratches, as well as a combination lanyard-earphone accessory that hangs around the neck, and avoids the problem of tangling earphone cords. Testing by technology-enthusiast website Ars Technica has shown that even after being sat on, dropped by a jogger, dropped four times from a car moving at various speeds, then being driven over twice by the car, and finally dropped from nine feet onto concrete, the unit's screen was damaged but it could still play music. The unit finally stopped playing music after being thrown 40 feet into the air and landing on concrete., http://www.ipodhistory.com/ipod-nano-first-generation/
ipod photo, On June 28, 2005, the iPod photo was merged into the monochrome iPod line. The 30 GB model was dropped, and the 20 GB monochrome iPod received a color screen., http://www.ipodhistory.com/ipod-video/
iPod Mini Second Generation, The 2nd generation iPod minis no longer came with a FireWire cable or an AC power adapter, which were left out to reduce the selling prices of the new iPod minis. iPod mini batteries, like many Lithium Ion batteries, run down to 80% capacity after 400 full charge cycles.[2] A proprietary dock connector was provided on the bottom of the device for a connection to a computer's USB or FireWire port. The unit's battery could be charged during connection. Along the top it had a hold switch, a headphone jack, and a remote connector for accessories., http://www.ipodhistory.com/ipod-mini-second-generation/
iPod Shuffle First Generation, The first generation iPod shuffle was designed to be easily loaded with a selection of songs and to play them in random order. According to Apple, owners of existing iPods had often left the music selection to "shuffle", and the new iPod shuffle was a way of implementing that in a much more cost-effective fashion. It relies on the use of an "autofill" feature in iTunes, which can select songs at random from a user's music library (or from a specific playlist) and copy as many as will fit into iPod shuffle's memory., http://www.ipodhistory.com/ipod-shuffle-first-generation/
2006 ipod
iPod Nano Second Generation, The second-generation nano features scratch-resistant, anodized aluminum casing like the earlier mini's design; the multiple color choices (silver, green, pink, blue, and black) mirror that of the mini as well. However, unlike the second-generation mini, the button labels do not match the color of the nano. Instead, they are gray, like the first-generation mini, except for the black iPod which has a black click wheel. The second generation iPod nanos support gapless playback of audio files, a new search option, and a 40% brighter screen., http://www.ipodhistory.com/ipod-nano-second-generation/
iPod Shuffle Second Generation, The second generation model is less than half the size of the first generation model at 41.2 x 27.3 x 10.5 mm (1.62 x 1.07 x 0.41 in), and is reminiscent of the iPod Radio Remote available for iPod nanos and 5th generation iPods. Apple branded it as the "world's smallest MP3 player". This size includes the new built-in belt clip; the actual unit itself is thinner, with the entire device weighing only 15.5 g (0.55 ounces). The power and shuffle/no shuffle switches were also separated into two controls to prevent accidental choice of shuffle when that may not be the desired mode of operation, http://www.ipodhistory.com/ipod-shuffle-second-generation/
2007ipod
iPod Sixth Generation
iPod Nano Third Generation, The third generation nano features a 2-inch QVGA (320×240) screen and a shorter, wider, heavier design, with new colors. New features include browsing via Cover Flow, a new user interface, video playback, and support for new iPod Games. Users must repurchase games bought before a month prior to the debut of the new iPod as they are not supported., http://www.ipodhistory.com/ipod-nano-third-generation/
iPod Touch First Generation, The iPod touch has the iPhone's multi-touch interface, with a physical home button off the touch screen. The home screen has a list of buttons for the available applications which include Music, Videos, Photos, iTunes, Safari, YouTube, Mail, Maps and Widgets. Software upgrades sold by Apple expand the iPod touch's functionality by adding more features., http://www.ipodhistory.com/ipod-touch-first-generation/
2008 ipod
iPod Touch Second Generation, The new iPod Touch features a thinner design. New additions include a volume button and inbuilt speaker. Newer firmware includes the App store and Genius functions., http://www.ipodhistory.com/ipod-touch-second-generation/
iPod Nano Fourth Generation, The thinnest iPod ever comes with rounded edges and 9 amazing colours. The new Nano integrates 'genius' playlist creation and includes an accelerometer allowing you to turn the screen from vertical to horizontal. Shaking the new Nano plays a random song., http://www.ipodhistory.com/ipod-nano-forth-generation/
iPod 6.5 Generation, The 6.5 generation iPod "classic." features an all-new interface, headlined by Cover Flow and a new all-metal shell., http://www.ipodhistory.com/ipod-65-generation/
2009 ipod
iPod Touch Third Generation, The iPod Touch third generation features a faster processor, optional higher capacity and support for Open GL. The iPod Touch is marketed as a gaming platform to rival the PSP and Nintendo DS., http://www.ipodhistory.com/ipod-touch-third-generation/
iPod Shuffle Fourth Generation, The new iPod Shuffle fourth generation features updated voice control, a clip and new colours., http://www.ipodhistory.com/ipod-shuffle-forth-generation/
iPod Nano Fifth Generation, The new iPod Nano Fifth generation features a slightly larger screen, a built in camera for taking photos and recording video, an integrated FM Radio, a built in pedometer (for Nike+iPod) and comes in 9 colors., http://www.ipodhistory.com/ipod-nano-fifth-generation/
iPod Shuffle Third Generation, The third generation iPod shuffle body features no buttons apart from the power/shuffle button. All other controls are on the remote control in a similar way to the iPhone/iPod Touch. One of the new features of the Shuffle is voice over, this makes it easier to to navigate your shuffle as songs, artists and play lists are read out through your headphones. Voice over is available in 14 different languages., http://www.ipodhistory.com/ipod-shuffle-third-generation/
History/background info
The Apple iPod is the best selling portable media player in history. As of January 2008, over 140 million iPods have been sold. Apple iTunes is used to transfer music and other programs onto iPods and millions of songs, movies, television shows and video games are bought by people through iTunes everyday. But when was the iPod invented
Apple iPod was invented in the year 2001, The iPod was marketed as a product that put 1000 songs in your pocket. While sales were quite slow in 2002 and 2003, the iPod increased in popularity rapidly during 2004, 2005 and 2006. Today, over 40% of the profits Apple makes come from iPod sales.
Co-founders Steve Jobs and Steve Wozniak effectively created Apple Computer on April 1, 1976, with the release of the Apple I, and incorporated the company on January 3, 1977, in Cupertino, California. For more than two decades, Apple Computer was predominantly a manufacturer of personal computers, including the Apple II, Macintosh, and Power Mac lines, but faced rocky sales and low market share during the 1990s. Jobs, who had been ousted from the company in 1985, returned to become Apple's CEO in 1996, and brought with him a new corporate philosophy of recognizable products and simple design. With the introduction of the wildly successful iPod music player: http://en.wikipedia.org/wiki/History_of_Apple_Inc.#The_iPod
Ipod
USP
New node
Primary
Google doc questionaire
Secondary
Press report
youtube Video's
ipod 2G review:http://www.youtube.com/watch?v=NspDyv1LhRo
ipod 1G review: http://www.youtube.com/watch?v=xOVlpTK5RhI
ipod touch scratch test: http://www.youtube.com/watch?v=_8yNh0N2qbs
S.W.O.T
Strengths
established brand, reputation
room to develop, access to new markets
New node
Weakneses
Price, expensive
scratch
New node
Oppourtunity
Threat
http://marketingteacher.com/swot/apple-swot.html
Advert ideas
ipod transforming
http://www.youtube.com/watch?v=_1To3AVfMiY&playnext=1&list=PL8E2E79FC5633DE99&index=27
have an ipod animation - in time with the music, moving round the place perhaps going to find the headphones or vice versa.
filming each stereotype with ipod:
grunge
emo
chav
etc....
filming a pull out - having footage playing then pulling out to reveal it being played on the ipod,
The 'Beatles on itunes' advert
Simple BUT effective
IPOD VS CD PLAYER / CHEAP MP3 PLAYER.
HAVE MUSIC PLAYING THEN WANT TO CHANGE THE SONG, IPOD, USE HANDY HEADPHONE BUTTONS (PERHAPS USE VOICE CONTROL, CD/MP3 PLAYER, HAVE TO TAKE BAG OF SEARCH AROUND THE BAG THROW BOOKS OUT - THEN GET TO THE CD PLAYER AND THE DISKS FALLEN OUT OF THE CD PLAYER ETC........