Anton Gurov - Resume
by Anton Gurov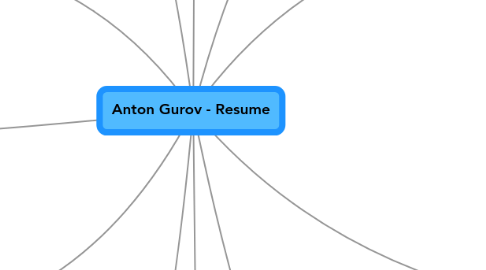 1. Skills (click arrow to see more)
1.1. Network administration
1.2. Systems administration
1.3. Applications administration
1.4. Misc. Skills
2. Accomplishments
2.1. Datacenter migration planning and implementation (see work sample)
2.1.1. Saved company a third of the annual datacenter costs ($330k) by relocating non-production devices out of the SAVVIS datacenter and by shrinking footprint and power use.
2.2. Implemented a new virtualized QA environment - an exact replica of production environment to improve quality of results from UAT and QA pre-production testing. (see work sample)
2.3. Significantly contributed to a flawless migration of Australian MobileMessenger platforms to Boston with no revenue impact
2.3.1. Noted at the board meeting as a testament to the engineering and operations teams efforts
2.4. Runner-up of the internal VeriSign Archimedes contest with a terrific foray into how VeriSign can achieve objectives of maintaining "command of the business" though use of interactive executive dashboards (see work sample)
2.5. Designed and built 4000+ points 360 degree monitoring infrastructure including end-to-end mobile testing (see work sample)
2.6. Track record of promotions, awards and bonuses
2.7. Personal
2.7.1. Open water scuba IDEA certified
2.7.2. Owner, importer and restorer of 2010 Greenwich Concours d'Elegance auto show winner
2.7.2.1. Autoblog link
2.7.2.2. Greenwich Times link
3. Contact info
3.1. gurov.tel
4. Work Samples
4.1. Please contact me
4.2. VeriSign Archimedes Project
4.2.1. Proposal
4.2.2. End-result
4.3. Documentation
4.3.1. Monitor Master map
4.3.2. Syslog presentation
4.3.3. Securing Tomcat
4.4. Datacenter migration project
4.4.1. Office server room design
4.4.2. Project planning/tracking
4.5. QA_NET
4.5.1. Network Diagram
4.5.2. Project planning/tracking
5. Work History
5.1. DLM & Associates, Inc.
5.1.1. 2001-2004
5.2. m-Qube, Inc. (Acquired by VeriSign)
5.2.1. 2004
5.3. VeriSign, Inc. (Division acquired by MobileMessenger)
5.4. Mobile Messenger, Inc.
5.4.1. 2011
5.5. Paydiant, Inc.
5.5.1. Current
6. Mission statement
6.1. Apply my talents to a challenging Linux sys-admin or an architectural opportunity at a company around Boston and MetroWest area. Start-ups welcome.
6.2. Continuously expand my set of skills and responsibilities through personal and professional growth.
7. Qualifications
7.1. B.S. Computer Science, Worcester State College, 2004
7.2. Partial M.S. Computer Science, Worcester Polytechnic Institute, 2005
7.3. B.S. Psychology, Worcester State University, 2011
8. Certifications
8.1. RHCT
8.1.1. 604007795911986
9. Disclaimers
9.1. none
10. Interests/Hobbies
10.1. Rock climbing
10.2. Running
10.3. Scuba diving
10.4. Judo/Sambo
10.5. Skiing
10.6. Car restoration
10.7. Travel
11. References available upon request
11.1. Senior Management
11.2. Direct Management
11.3. Peers
11.4. Junior peers