Browsers 2010
by Guadalupe Diaz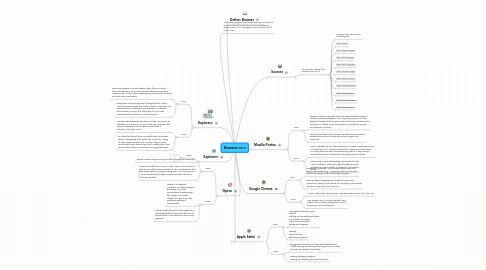 1. a software program that allows the user to find and read encoded documents in a form suitable for display, esp. such a program for use on the World Wide Web.
2. Define: Browser
3. Explorer9
3.1. Pros:
3.1.1. Speed IE8 seems to be noticeably faster than IE7, which users will welcome. The actual speed difference may be in milliseconds, but the faster downloading could help Microsoft win back some customers.
3.1.2. Integration Internet Explorer 8 integrates with other Microsoft applications like Outlook Web Access and can show presence. Stability If one window in a tabbed environment crashes, the other tabs do not crash simultaneously, and this is a big plus point.
3.2. Cons:
3.2.1. Memory Requirements IE8 recommends a minimum of between 64 MB and 512 MB of memory. However, this seems inadequate and is better served with a memory of at least 2 GB.
3.2.2. So, whether this will help Microsoft retain its market share is something the market has to decide. Heavy to Load Internet Explorer 8 is quite heavy to load, and smaller home users may have to watch their hard drives before they can decide on an upgrade to IE8.
4. Explorer8
4.1. Cons:
4.1.1. 1
4.1.2. 2
5. Opera
5.1. Pros:
5.1.1. Speed handle image loading for faster speeds (and security)
5.1.2. Opera now offers the "Turbo Mode" which is excellent for dial-up and other slow connections. Its a compression tool that chows down on page loading time. You can even set it up to automatically detect slow connections and turn on when needed!
5.2. Cons:
5.2.1. Opera is a separate company, so downloading is necessary. For slow connections, downloading this program could be difficult and you may have problems getting it downloaded.
5.2.2. Handy helpful shortcuts may simply be a confusing hassle to someone who is not accustomed to new features, like mouse gestures
6. Sources
6.1. All sources must be from October/Nov 2010
6.1.1. Shorten your URLs at the following link:
6.1.2. http://bit.ly/
6.1.3. http://bit.ly/9ds3L2
6.1.4. http://bit.ly/tzOup
6.1.5. http://bit.ly/aLfHbU
6.1.6. http://bit.ly/cCTynF
6.1.7. http://bit.ly/cFXjYN
6.1.8. http://bit.ly/b83SXU
6.1.9. http://bit.ly/5jusiW
6.1.10. http://bit.ly/b2GNYY
6.1.11. http://bit.ly/zCGGr
7. Mozilla Firefox
7.1. Pros:
7.1.1. Speed. Firefox is reported to be the fastest browser when it comes to download speed. Not only do programs and files download faster, but you get a record of all your downloads in the form of a table, so you can erase or move them at your convenience. Security.
7.1.2. The look and feel of the browser has definitely improved. Download time and the loading time of pages has improved.
7.2. Cons:
7.2.1. Some websites do not show properly in Firefox. Firefox takes a lot of memory to run. Firefox also tends to freeze and close when too many tabs are open simultaneously, which is why Firefox invested heavily in creating the recovery memory feature.
7.2.2. Some plug-ins are not working, especially the Tab Mix plus plug-in when you type something in the address bar every url that is related to that word is shown.
8. Google Chrome
8.1. Pros:
8.1.1. Compiled Javascript - all the sites performed much faster Site sandboxing - runaway scripts can be killed without having to crash the browser Plugins
8.1.2. Start up speed Page speed load times Javascript execution speeds Works better for Google products Built in search engine into the URL bar
8.2. Cons:
8.2.1. "Most Visited" sites home page - Browse histories don't do it for me.
8.2.2. Less people use it, smaller market share Doesn't have firebug extension Doesn't have pixel perfect extension
9. Apple Safari
9.1. Pros:
9.1.1. Highlighted textarea/input Speed Softing and smoothing of fonts No borders on edges Import of bookmarks Bookmark organizer
9.1.2. Speedy New interface Enhanced graphics
9.2. Cons:
9.2.1. Dragging bookmarks into new tabs deletes them Middle clicking bookmarks don't open them Middle clicking tabs doesn't close them
9.2.2. Lacking extension support Lacking anti-phishing and smart toolbar