Gaming Machines
by
Abir Rahman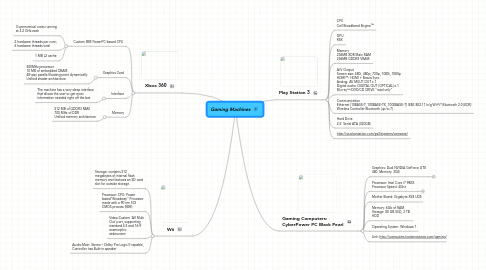 0.0
stars -
0
reviews range from
0
to
5
This is just a demo map that you can delete right away, if you feel like it...
Xbox 360
Custom IBM PowerPC-based CPU
Graphics Card
Interface
Memory
Gaming Computers: CyberPower PC Black Pearl
Graphics: Dual NVIDIA GeForce GTX 480. Memory: 3GB
Processor: Intel Core i7 980X. Processor Speed: 4Ghz
Mother Board: Gigabyte X58 UD5
Memory: 6Gb of RAM. Storage: 80 GB SSD, 2 TB HDD
Operating System: Windows 7
Link: http://computers.toptenreviews.com/gaming/
Wii
Storage: contains 512 megabytes of internal flash memory and features an SD card slot for outside storage.
Processor: CPU: Power based"Broadway" Processor made with a 90 nm SOI CMOS process (IBM)
Video:Custom 'AV Multi Out' port, supporting standard 4:3 and 16:9 anamorphic widescreen
Audio:Main: Stereo – Dolby Pro Logic II-capable, Controller has Built-in speaker
Play Station 3
CPU Cell Broadband Engine™
GPU RSX
Memory 256MB XDR Main RAM 256MB GDDR3 VRAM
A/V Output Screen size: 480i, 480p, 720p, 1080i, 1080p HDMI**: HDMI + Bravia Sync Analog: AV MULTI OUT x 1 Digital audio: DIGITAL OUT (OPTICAL) x 1 Blu-ray™/DVD/CD DRIVE "read only"
Communication Ethernet (10BASE-T, 100BASE-TX, 1000BASE-T) IEEE 802.11 b/g Wi-Fi* Bluetooth 2.0 (EDR) Wireless Controller Bluetooth (up to 7)
Hard Drive 2.5' Serial ATA (320GB)
http://us.playstation.com/ps3/systems/compare/