Jazmin Diaz Browsers
by Jazmin Diaz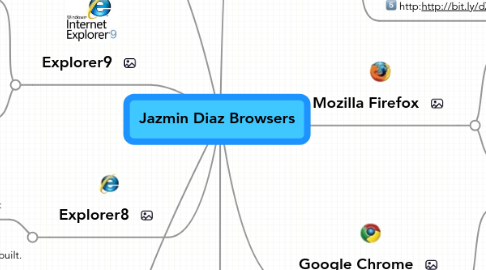 1. Define: Browser-A web browser is a software application for retrieving, presenting, and traversing information resources on the World Wide Web. An information resource is identified by a Uniform Resource Identifier (URI) and may be a web page, image, video, or other piece of content.
2. Opera
2.1. Pros:
2.1.1. 1. Opera's browser is light-weight and well-built. The download and program size is much smaller than IE
2.1.2. 2. This browser is, and has been, considered one of the most secure browsers available
2.2. Cons:
2.2.1. 1. Handy helpful shortcuts may simply be a confusing hassle to someone who is not accustomed to new features
2.2.2. 2. No quick favorites button
3. Google Chrome
3.1. Pros:
3.1.1. 1. Process Isolated Tabs and Add-Ons – this adds stability to the browser in case a particular plugin or a page goes rogue.
3.1.2. 2. Page Search, also marks all occurrences on the vertical scroll bar.
3.2. Cons:
3.2.1. 1. Lack of Add-ons it doesn't have a StumbleUpon toolbar, or AdBlock, or S3Fox
3.2.2. 2. Privacy Concerns-it has a license to track everywhere you go
4. Apple Safari
4.1. Pros:
4.1.1. 1. A big user interface overhaul makes Safari look polished rather than clunky on Windows
4.1.2. 2. Safari complete online forms for you, automatically and securely
4.2. Cons:
4.2.1. 1. the lack of something like the extensions architecture that Firefox pioneered still means Safari 4 is better only than Safari 3, not the competition.
4.2.2. 2.This browser does crash like explore and gets all those error messages too.
5. Mozilla Firefox
5.1. Pros:
5.1.1. 1. It remembers the zoom size of the page you visited.
5.1.2. 2. The toolbars can be manipulated much more than any other
5.2. Cons:
5.2.1. 1. In JavaScript performance test Firefox 4 was 30ms behind Opera 10
5.2.2. 2.The main disadvantage of Firefox® is compatibility
6. Explorer9
6.1. Pros:
6.1.1. 1. IE9 features a new font set that makes small text easier to read
6.1.2. 2. Type in a word or phrase, and you'll be presented with icons representing the search engines you have selected to be used directly within IE9.
6.2. Cons:
6.2.1. 1. IE9 will not be available for Windows XP
6.2.2. 2. Putting it bluntly, editing your list of Favorites (i.e. bookmarks) still stinks in IE9 beta
7. Explorer8
7.1. Cons:
7.1.1. 1. Internet Explorer 8 is quite heavy to load, and smaller home users may have to watch their hard drives
7.1.2. 2. Sites that have still not complied with the latest web standards may not display easily or correctly in IE8
8. Sources
8.1. All sources must be from October/Nov 2010; minimum 5 sources, collaborative effort
8.1.1. Shorten your URLs at the following link:
8.1.2. http://bit.ly/
8.2. http://bit.ly/aOjOPp
8.3. http:http://bit.ly/dvohaL
8.4. http:http://bit.ly/aZvByN
8.5. http:http://bit.ly/bd0puO
8.6. http:http://bit.ly/dZaWsn