OBIEE Hybrid Deployment
by Mark Rittman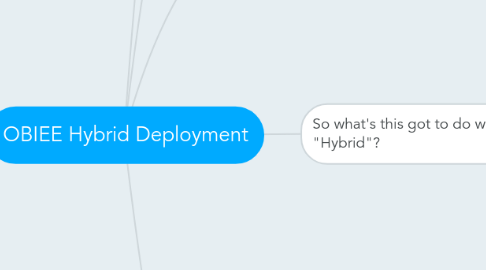 1. What's been going on in BI these past few years (and in IT generally?)
1.1. IT has been getting more "enterprise", focusing on governance, architecture, "getting it right" - Doing IT right
1.1.1. Data warehouses
1.1.2. enterprise BI tools
1.1.3. TOGAF, etc
1.2. But there's been a growing movement that emphases agility, smaller ambition but more focus on immediate business needs - Doing IT Fast
1.2.1. Agile development
1.2.2. desktop BI & discovery tools
1.2.3. data reservoirs and schema-on-read
1.3. And these "Doing it fast" advocates typically now control the budget for BI, DW and Big Data spend
1.3.1. Which means vendors such as Oracle, and partners such as RM, can't ignore that
2. This movement towards "Doing IT Fast" has been formalised in many ways
2.1. Agile development
2.1.1. For example, RM Extreme BI
2.2. Information architectures
2.2.1. For example, Oracle/RM ref architectures
2.2.1.1. Second gen used OBIEE logical model to abstract DB changes, support fast development
2.2.1.2. Current gen introduces Innovation Lab / Execution Area separation
2.3. In software and hardware
2.3.1. Exalytics - kill it with hardware
2.4. Gartner BIModel IT concept
2.4.1. Applies to all parts of IT
2.4.2. Mode 1 and Mode 2, with Mode 1 being traditional and Mode 2 being agile
2.4.2.1. Definition of Type 1 + Type 2 : "Type 1 is traditional IT, focused on stability and efficiency, while Type 2 is an experimental, agile organization focused on time-to-market, rapid application evolution, and, in particular, tight alignment with business units."
2.4.3. Particularly had impact on BI market with recent Gartner BIA MQ
3. So what is BIModal BI, and Gartner's idea of a Modern BI Platform?
3.1. For BI : A modern BI platform supports IT-enabled analytic content development. It is defined by a self- contained architecture that enables nontechnical users to autonomously execute full- spectrum analytic workflows from data access, ingestion and preparation to interactive analysis and the collaborative sharing of insights. By contrast, traditional BI platforms are designed to support modular development of IT-produced analytic content, and specialized tools and skills and significant upfront data modeling, coupled with a predefined metadata layer, are required to access their analytic capabilities.
3.1.1. Upfront modeling not required vs mandatory BM and dimensional modeling
3.1.2. IT enabled vs. IT produced
3.1.3. Business user-led vs. IT led
3.1.4. Free-form exploration vs. predefined reports
3.1.5. Sharing and collaboration vs. distribution and notification
4. So what's this got to do with "Hybrid"?
4.1. The IT-enabled part is about creating a platform to allow Mode 2 to survive, be a reality and make use of new trends and capabilities in IT
4.2. It's also about how we use the software - OBIEE etc - so that we can support and enable Mode 2 development but stop it from becoming chaotic
4.3. And how we run projects - Agile sounds great, but business users don't like "methodologies"
5. So in practice what does it mean for Oracle Business Analytics?
5.1. Use of cloud to enable quick-start, user driven discovery and initiatives
5.1.1. And a means for cloud and on-prem to interoperate ("Hybrid")
5.1.1.1. And for metadata exchange between tools, and tools in a wider family (DV to OBIEE, BICS to OBIEE etc)
5.2. Use of features such as 12c Mashups & VA to allow users to participate in discovery and selection of metadata
5.2.1. And a method of bringing that metadata into the IT-curated semantic layer
5.2.1.1. It can be published and made available "as is" in an Enterprise BI instance – provided that it uses enterprise data sources that are looked after and kept up to date
5.2.1.1.1. available soon for Oracle BI
5.2.1.2. It can have its data view layer replaced by a new data view layer and then published for more general consumption—in the authoring environment the user resorted to sources that are not managed and therefore cannot be relied upon for ongoing use. That includes flat files, unofficial extracts sitting in personal databases etc.
5.2.1.2.1. High priority for Oracle BI
5.2.1.3. The BI metadata analysis and repair service can be used to make mass updates to DV artefacts when changes need to happen after they deployment. This service provides metadata auditing, edit with search and replace capabilities to help IT manage and adapt their already deployed BI artefacts. (Hyperion Impact Manager and Catalog Manager are example of this sort of service)
5.2.1.3.1. being discussed
5.2.1.4. If it is found that a set of curated artefacts together can be better thought of as a subject area, then together their data layers can be "translated" and deployed to an RPD Business Model and subject area. After that the VA projects can have their data view layers replaced to reference the newly converted RPD subject areas.
5.2.1.4.1. being discussed
5.3. Use of tools such as BDD, Apache Drill, data reservoirs to reduce need to strictly define schema before any analysis
5.3.1. and other tools such as BDPCS to accelerate new data source onboarding
5.4. And innovative methods and partners to bring it all together
5.4.1. Use agile concepts but reinterpret for business audience vs. developers (who don't care about agile manifestos, continuous integration etc)
5.4.2. Ways of adding governance and eventual IT curation
5.4.3. Architecture that build in Mode 2 concepts
5.4.4. Appreciate all new is not always good, i.e. some sense of perspective
5.4.5. Full use of cloud, metadata interchange, use of new desktop / cloud tools, and ability to run hybrid environments
5.4.6. And innovative thinking that helps customers preserve their current investment whilst recognising shifts in the market, landscape etc