LEARNING THEORIES
by Rida i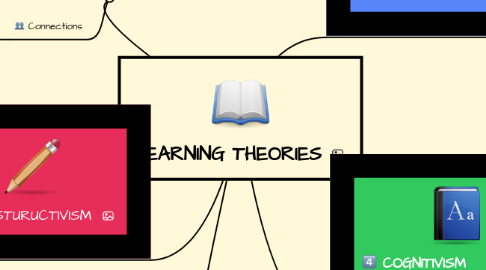 1. BEHAVIOURISM
1.1. PRINCIPLES
1.1.1. The learning from positive and negative reinforcements to achieve desired result
1.1.2. Watson, and Pavlov
1.1.3. Pavlov's experiment: Ringing the bell to feed the dog, and watching the dogs reaction to the bell after.
1.2. IMPLICATIONS
1.2.1. Practicing to achieve desired results
1.2.2. Teacher teaches and allows the students to learn by practicing
1.3. Connections
1.3.1. Educational tutorials such as Ted-talks, youtube, and khan Academy.
2. CONSTURUCTIVISM
2.1. PRINCIPLES
2.1.1. Constructivism is a way of connecting our own knowledge and understandings and expressing it in many different ways.
2.1.2. Prior knowledge influences new knowledge influences new knowledge and allows us to modify what we already know.
2.2. IMPLICATIONS
2.2.1. Learning is active and students learn by practicing with the knowledge they have and learn.
2.3. CONNECTIONS
2.3.1. Many digital and other resources are available for students to use like: interactive smart boards and Gizmos.
3. TPACK
3.1. PRINCIPLES
3.1.1. TPACK stands for technology Pedagogy content knowledge and its framework
3.1.2. TPACK consists of three different categories. and 8 different sub categories of knowledge.
3.2. IMPLICATIONS
3.2.1. Teachers in Alberta have a duty to include technology into classrooms for educational purposes
3.3. CONNECTIONS
3.3.1. Gizmos, weeby, prezis, wordle, are some examples of how technology can be used and taught in the classrooms to share, gain and organize information
4. CONNECTIVISM
4.1. PRINCIPLES
4.1.1. Learning occurs as a part of a social network
4.1.2. Learning where to find the knowledge
4.2. IMPLICATIONS
4.2.1. Allowing students to take control of their learning
4.2.2. Using educational technology for inclusion
4.3. CONNECTIONS
4.3.1. Educational communication tools
4.3.2. Moodle, twitter, edmodo, and other social media websites can also be used
5. COGNITIVISM (Information Processing)
5.1. PRINCIPLES
5.1.1. Mental process of remembering and using old and new knowledge
5.1.2. change in knowledge can also have an effect on one's behaviour
5.2. IMPLICATIONS
5.2.1. students actively participate in their learning
5.2.2. Using mental maps and nemonic devices to remember things.
5.2.3. North East South West, (never east shredded wheat)
5.3. CONNECTIONS
5.3.1. Powerpoints, mindmaps, prezi's, Weebly Are some tools students can use to organize, review and share their ideas and knowledge