CALPURNIA
by Tara Andrews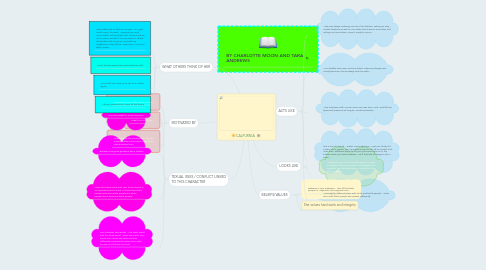 1. ACTS LIKE
1.1. "She was always ordering me out of the kitchen, asking me why I couldn't behave as well as Jem when she knew he was older, and calling me home when I wasn't ready to come."
1.2. "Our battles were epic and one-sided. Calpurnia always won, mainly because Atticus always took her side."
1.3. "She had been with us ever since Jem was born, and I had felt her tyrannical presence as long as I could remember."
1.4. She is Scout's friend - "Baby,' said Calpurnia, 'I just can't help it if Mister Jem's growin' up. He's gonna want to be off to himself a lot now, doin' whatever boys do, so you just come right on in the kitchen when you feel lonesome. We'll find lots of things to do in here.'"
1.5. Acts slightly different when with white and black people - When she's with black people she speaks differently.
2. LOOKS LIKE
2.1. "Calpurnia was something else again. She was all angles and bones; she was nearsighted; she squinted; her hand was wide as a bed slat and twice as hard."
3. BELIEFS/VALUES
3.1. Believes in Tom Robinson - Like all the black people in Maycomb, she supports Tom.
3.2. She values hard work and integrity
4. MOTIVATED BY
4.1. Motivated to look after Scout and Jem.
4.2. Loyal to Finch family.
4.3. Motivated by the truth/justice. She like everyone else in the black community stands behind Tom.
5. TEXUAL ISSES / CONFLICT LINKED TO THIS CHARACTER
5.1. Is a role model for Scout and Jem.
5.2. Behaves and gives guidance like a mother.
5.3. When she takes Scout and Jem to her church is an important part in book. It shows how black people welcome white people but white people don't welcome black people.
5.4. Torn between two worlds - The black world and the white world. When she's with Jem, Scout and Atticus she talks and acts differently compared to when she's with her son and friends at church
6. WHAT OTHERS THINK OF HER
6.1. Talks differently to different people: "It's right hard to say," she said. "Suppose you and Scout talked colored-folks' talk at home it'd be out of place, wouldn't it? Now what if I talked white-folks' talk at church, and with my neighbors? They'd think I was puttin' on airs to beat Moses."
6.2. Finch family respects her and treats her well.
6.3. Scout and Jem look up to her as a mother figure.
6.4. Atticus considers her a part of the family.
7. BY CHARLOTTE MOON AND TARA ANDREWS