NUMERICAL EXPRESSION
by
Matija Pintaric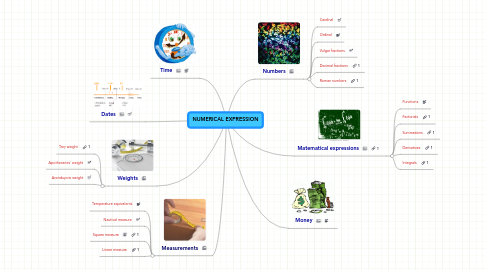 0.0
stars - reviews range from
0
to
5
NUMERICAL EXPRESSION
Numbers
Cardinal
1 one 5 five 23 twenty-three 351 three hundred fifty one 2000 two thousend  
Ordinal
Using for expression sequence.   1st first 2nd secound 5th fifth 23rd twenty-third
Vulgar fractions
1/8 one eighth ½ one half ¾ three quarters  
Functions
f(x)=X2-3   f(x)=x2+2x-5  
Time
6.00 - six o'clock 9.10 - ten past nine   23.00 twenty-three = 11.00 pm 10.30 half past ten = 10.30 am
Money
$ - Dollar 10$ [ten dollars]   € - Euro 1,99 € [one point ninety nine euros]
Measurements
Temperature equivalents
°F Fahrenheit °C Celsius K Kelvin   1°C = +273.15 K 10°C = 50 °F
Nautical measure
International measurement unit used to express distance in Seaemanship.   1 NM = 1.852 m
Used to measure the surface size. In order to understand the usefulness of surface measurement, just follow next link.    
Dates
BC [bi:'si:] 51 BC - fifty one before Christ   AD [ei'di:] - Anno Domine AD 476 fall of the Western Roman Empire
Weights
Apothecaries' weight
Used to measure small weight mainly in the pharmacy, for example grams, milligrams, etc.
Avoirdupois weight
The system of measurement used in the U.S., Canada and Great Britain, and is based on a puond (mass) of sixteen ounces.