Unit 1
by Osvaldo Perez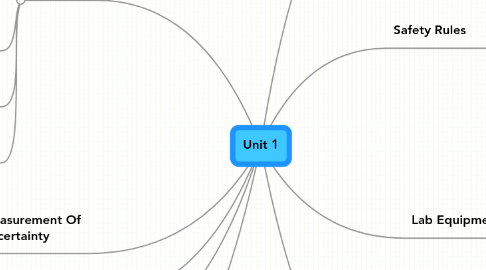 1. Scientific Method
1.1. 1. Observations
1.2. 2. Ask questions
1.3. 3.Backgroud Research
1.4. 4.Hypothesis
1.4.1. Has to have If and Then
1.5. 5.Plan Experiment
1.6. 6.Perform Experiment
1.7. 7.Collect Data
1.8. 8.Analyze Data
1.9. 9.Draw Conclusion
1.10. 10.Retest
1.11. 11.Publish/ Share with Science Community
2. Safety Rules
2.1. -Rinse for 20 minutes after something gets in your eyes
2.2. -NO HORSEPLAY
2.3. -No food or drinks in lab
2.4. -Never returned unused chemicals to original container
2.5. -Wear safety goggles at all times
3. Metric Conversions
3.1. Goes by tens
3.2. Kilo
3.2.1. Kittens
3.3. Hecta
3.3.1. Hide
3.4. Deca
3.4.1. Directly
3.5. Basic units
3.5.1. Under
3.6. Deci
3.6.1. Dad's
3.7. Centi
3.7.1. Car
3.8. Milli
3.8.1. Motor
4. Accuracy
4.1. Def: Accuracy refers to the agreement between a measurement and the true or correct value.
5. Precision
5.1. Def: Precision refers to the repeatability of measurement. It does not require us to know the correct or true value.
6. Lab Equipment
6.1. Beaker
6.1.1. Used to measure: Volume
6.2. Triple Beam Balance
6.2.1. Used to measure: Mass
6.3. Ruler
6.3.1. Used to measure: Length
6.4. Erlenmeyer Flask
6.4.1. Used to contain liquids
6.5. Wash Bottle
6.5.1. Used to dispense water
6.6. Test Tube
6.6.1. Used to contain liquids
7. SI Units
7.1. Meter
7.1.1. Symbol: m
7.1.2. Base quantity: Length
7.2. KiloGram
7.2.1. Symbol: kg
7.2.2. Base quantity: Mass
7.3. Second
7.3.1. Symbol: s
7.3.2. Base quantity: Time
7.4. Ampere
7.4.1. Symbol: A
7.4.2. Base quantity: Electric Current
7.5. Mole
7.5.1. Symbol: mol
7.5.2. Base quantity: Amount of substance
7.6. Kelvin
7.6.1. Symbol: K
7.6.2. Base quantity: Temperature
7.7. Hertz
7.7.1. Base quantity: Frequency
7.7.2. Symbol: Hz
8. Measurement Of Uncertainty
8.1. Def: Refers to the digit added to measurement to get a more accurate measurement.
9. Sig Figs
9.1. are those digits that carry meaning contributing to its precision
9.2. All non-zero digits are considered significant
9.3. Zeros appearing anywhere between two non-zero digits are significant
9.4. The significance of trailing zeros in a number not containing a decimal point can be ambiguous
9.4.1. This can be either good or bad depending if its rounded or not.