Michael Meyer: Introduction
by
Jeanne Cortiel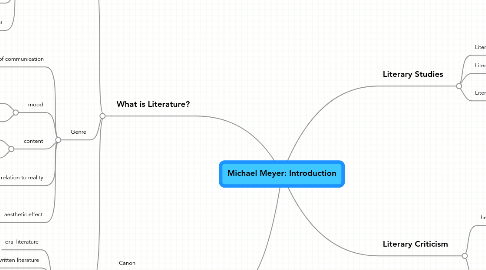 0.0
stars - reviews range from
0
to
5
Michael Meyer: Introduction
Literary Studies
Literary Theory
Literary Criticism
Literary History
development
canon
What is Literature?
Definition - literature is
mimesis, Aristotle (384-322 BC), relation between literature and reality
aesthetic experience, Horace (65-8 BC), pragmatic, effect on the reader
aesthetic expression, William Wordsworth (1770-1850), author central as the origin of art
aesthetic object
Genre
form of communication, narrative, drama, poetry
mood, elegy, satire
content, crime fiction, science fiction
relation to reality, mimetic, non-mimetic
aesthetic effect, comedy, horror
Medium
oral literature
written literature
audiovisual literature, theater, cinema
hypertext (electronic) literature
Literary Criticism
hermeneutic
What?
hermeneutic circle
understanding
analytic
How?
structure
composition
Literary History
Canon
Contexts
Periods