Technological Advances in the 20th century
by Shaheer Ajaz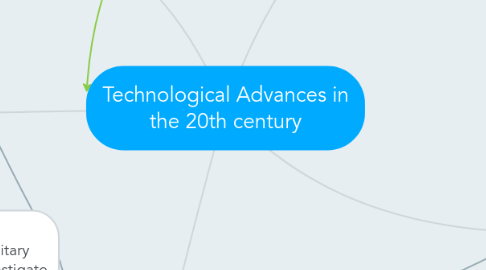 1. Most of the innovations were made for WW2 AND WW1 because there was a needed supply for weapons such as the following this points too
2. Medical
2.1. Pacemaker developed for irregular heartbeat (1952)
2.1.1. Led to artificial hearts 1982
2.2. Vaccine for tuberculosis and diabetes (1922)
2.3. First artificial heart in dog (1957)
2.3.1. First heart transplant in 1967
2.4. Mobile Blood Transfusion (1936)
3. Communication
3.1. Computer (1951)
3.2. Radio (1902)
3.3. Satellite (1957)
3.4. Internet (1969)
3.5. Cell Phones (1973)
4. Military
4.1. Tanks (1914)
4.2. Chlorine Gas first used as a weapon (1915)
4.3. First Hydrogen Bomb made (1952)
4.4. Manhattan Project (1945)
5. Assistive
5.1. Talking books (1935)
5.2. Computers first used in classrooms (1981)
5.3. Speech synthesizers invented (1936)
5.4. Electric Wheelchair developed (1950)
6. Transportation
6.1. Cars (1886)
6.2. Aeroplane (1903)
6.3. Buses (1820)
6.4. Helicopters (1939)
7. Cars first became widely used in the early 20th century
8. They first became widely used in 1906. They were made in London.
9. Cell phones were starting to be widely used in the 1980's
10. Cars became available to anyone because of their cheap prices in the 1920's.
11. Helicopters are used for communication also for the military when they are assigned to investigate different places.