Zoos -Should they exist? (Municipal Issue)
by Alisha George - Meadowvale SS (2562)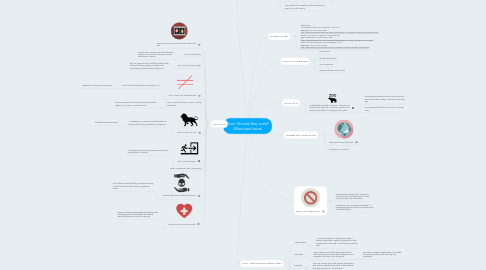 1. WHO IS AFFECTED
1.1. the animals
1.2. animal right activist
1.3. zoo companies
1.4. anyone who has vistied a zoo
2. WHY NOT
2.1. zoos are imprisoning animals who want to be free
2.2. The Cost of Capture
2.2.1. several other animals die in the atempt to capture one animal and the permanent destruction a family.
2.3. Zoo Animals Live in Cages
2.3.1. hey are prevented from fulfilling basic needs such as hunting, grazing, roaming, and developing important social structures.
2.4. Not All Zoos Are Created Equal
2.4.1. not all of them follow the rules set by AZA (
2.4.1.1. Association of Zoos and Aquariums
2.5. Many Animal Sanctuaries Aren't Actually Sanctuaries
2.5.1. true sanctuaries should never breed animals for display.  but many "sancturaries" do
2.6. Wild Animals Are Wild
2.6.1. , a zookeeper in Missouri was killed when he was knocked to the ground by an elephant.
2.6.1.1. his death was unnecessary
2.7. Zoo Animals Escape
2.7.1. If a dangerous zoo animal escapes and cannot be captured, it is killed
2.8. Bad Management Can Mean Death
2.9. Animals Often Die Prematurely in Zoos
2.9.1. Not all zoos have the ability, or proper training to care for the animals that they capture or breed.
2.10. It's Bad For The animals' Health
2.10.1. these animals are overweight, but they are also exhibiting specific behaviors that indicate mental distress as a result of captivity.
3. HOW to stop zoo's
3.1. Zoos exist to create profit- if everyone would bycott zoos they wouldn't make money and go out of business
3.2. complain to your local representative - if enough people do that they could become outlawed (illegal)
4. WORKS CITED
4.1. References 10 Reasons to Skip Your Next Zoo Visit. (n.d.). Retrieved June 18, 2016, from http://www.onegreenplanet.org/animalsandnature/10-reasons-to-skip-your-next-zoo-visit/ Hone, D. D. (2014, August 19). Why zoos are good. Retrieved June 18, 2016, from https://www.theguardian.com/science/lost-worlds/2014/aug/19/why-zoos-are-good Zoos and Other Captive-Animal Displays. (n.d.). Retrieved June 18, 2016, from http://www.peta.org/issues/animals-in-entertainment/zoos-pseudo-sanctuaries/
5. WHAT IS IT
5.1. an establishment that maintains a collection of wild animals, typically in a park or gardens, for study, conservation, or display to the public.
5.1.1. some people belice zoos are cruel to animals and should stop existing - and set the animals free
5.1.2. some people that there is no harm in having zoos
6. WHERE DO THEY EXIST
6.1. they exist all over the world
6.2. we have on in Toronto
7. WHEN DID THEY START
7.1. Egypt and Mesopotamia have evidence that rulers and aristocrats created menageries as early as 2500 BCE.  ( the first zoos)
7.1.1. The first zoos were created as private collections by the wealthy to show their power. These private collections were called menageries.
7.2. The model of the modern, public zoo became popular in 18th century
8. WHY WE SHOULD KEEP THEM
8.1. Conservation
8.1.1. A species protected in captivity provides a reservoir population against a population crash or extinction in the wild. Here they are relatively safe
8.2. Education
8.2.1. Many children and adults, especially those in cities will never see a wild animal beyond a fox or pigeon, let alone a lion or giraffe.
8.2.1.1. give them a greater appreciation for wildlife, conservation efforts and how they can contribute.
8.3. Research
8.3.1. If we are to save many wild species and restore and repair ecosystems we need to know about how key species live, act and react.
8.4. protecting them and breeding them for reintroduction,
8.5. Fun
8.6. Make money and Creat jobs