Australian Technologies Curriculum
by Tahnee Baken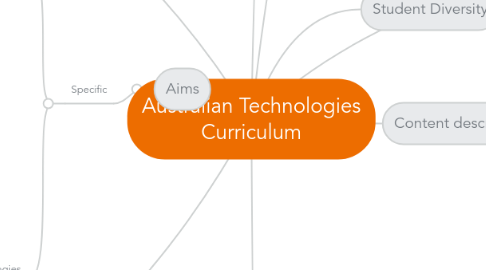 1. Overarching
1.1. investigate, design, plan, manage, create and evaluate solutioins
1.2. understand how technology has developed over time
1.3. make informed and ethical decisions about role, impact and use of technologies for the future
1.4. engage with and responsible select and manipulate technologies,
1.5. critique, analyse and evaluate problems, needs and opportunities to create solutions.
2. Aims
2.1. Specific
2.1.1. Design and Technologies
2.1.1.1. develop confidence as users of technology
2.1.1.2. develop confidence as designers and producers of designed solutions
2.1.1.3. investigate, generate and critique designed solutions for future
2.1.1.4. use thinking to generate ideas and communicate these to an audience
2.1.1.5. produce solutions for technologies contexts by selecting and manipulating range of materials, systems, components, tools and equipment creatively, competently and safely.
2.1.1.6. evaluate processes and solutions
2.1.1.7. transfer knowledge and skills to new situations
2.1.1.8. understand roles and responsibilities of D&T occupations.
2.1.2. Digital Technologies
2.1.2.1. design, create, manage and evaluate solutions to meet needs
2.1.2.2. use computational thinking and concept  of abstraction to create digital solutions
2.1.2.3. confidently use digital systems to automate data
2.1.2.4. communicate ideas in range of settings
2.1.2.5. apply protocols and practices to support safe, ethical and respectful communications.
2.1.2.6. apply thinking to monitor, analyse, predict and shape interactions between information systems.
3. Key areas
3.1. Create preferred futures
3.2. Project management
3.3. Thinking in Technologies
3.3.1. Systems thinking
3.3.2. Design thinking
3.3.3. Computational thinking
3.4. Information and communication technology in the Australian Curriculum
3.5. Safety
3.6. Animal ethics
4. Strands
4.1. Design and Technologies
4.1.1. Knowledge and Understanding
4.1.1.1. Technologies and society
4.1.1.2. Technologies contexts
4.1.1.2.1. Engineering principles and systems
4.1.1.2.2. Food and fibre production
4.1.1.2.3. Food specialisations
4.1.1.2.4. Materials and technologies specialisations
4.1.1.2.5. Types of designed solutions
4.1.2. Processes and production skills
4.1.2.1. investigating and defining
4.1.2.2. generating and designing
4.1.2.3. producing and implementing
4.1.2.4. evaluating
4.1.2.5. collaborating and managing
4.2. Digital Technologies
4.2.1. Knowledge and Understanding
4.2.1.1. digital systems
4.2.1.2. representation of data
4.2.2. Processes and production skills
4.2.2.1. investigating and defining
4.2.2.2. generating and designing
4.2.2.3. producing and implementing
4.2.2.4. evaluating
4.2.2.5. collaborating and managing
5. General capabilities
5.1. Literacy
5.2. Numeracy
5.3. Information and Communication Technology Capability
5.4. Critical and Creative Thinking
5.5. Personal and Social Capability
5.6. Ethical understanding
5.7. Intercultural understanding
6. Cross-curricular priorites
6.1. Aboriginal and Torres Strait Islander Histories and Cultures
6.2. Asia and Australia's Engagement with Asia
6.3. Sustainability
7. Bands
7.1. F-Y2
7.2. Y3 & 4
7.3. Y5 & 6
7.4. Y7 & 8
7.5. Y9 & 10
8. Student Diversity
8.1. Students with disability
8.2. Gifted and talented students
8.3. Students for whom EAL/D
9. Content descriptors
9.1. Content descriptors describe the knowledge, understanding and skills that guides educators in regards to what they are expected to teach in that band level,