Introduction to Concept Mapping
by
James Neill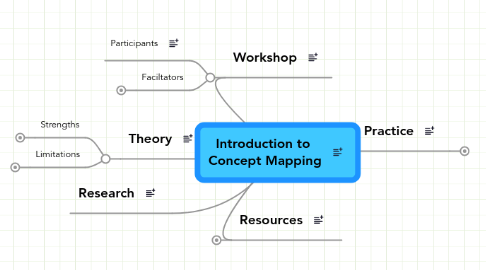 5.0
stars -
1
reviews range from
0
to
5
Introduction to Concept Mapping
This concept map aims to outline and provide links to key information and topics for an introductory workshop to concept mapping.
Practice
Nuts and bolts (and ins and outs) of creating concept maps.
Non-electronic
Drawing in the sand
Drawing on paper
Whiteboard/Blackboard
Post-it stickers
Online, Free and open source, Proprietary, No cost, MindMeister, Examples, Cost
Offline, Free & open source, FreeMind, Open Office Draw, Proprietary, No cost, Cost, Inspiration
Offline & online, Free and open source, VUE, CMAP, Proprietary, No cost, Cost
File formats, Map format, Image output, gif, png, svg
Theory
Theory notes - to be expanded.
Strengths
"A picture tells a 1000 words"
Visualisation
Limitations
Less easy to edit
Less easy to share
Workshop
Administrative and logistical workshop information.
Participants
Participation in the upcoming July, 2008 workshop is for research students and staff at ACT tertiary institutions.
Faciltators
Peter Donnan
James Neill
Links to websites with more information about concept mapping.
Research
What are examples of specific applications of concept mapping in a thesis?