EMPOWERMENT TECHNOLOGIES
by Lhyra Fernandez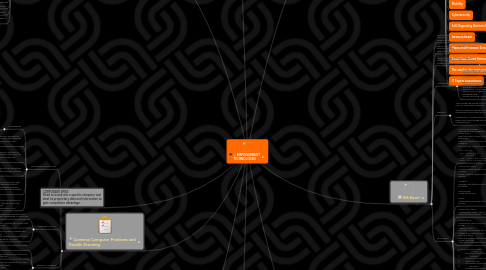 1. CORPORATE SPIES Hired to break into a specific computer and steal its proprietary data and information to gain competitive advantage
2. Netiquette, Cyber Citizenship, Internet Research
2.1. CYBERCITIZENSHIP
2.1.1. Social Networking
2.1.1.1. online community
2.1.1.1.1. Be safe when sending requests
2.1.1.1.2. be vigilant
2.2. INTERNET RESEARCH
2.2.1. RESEARCH
2.2.1.1. "studious inquiry or examinatio
2.2.1.2. "collecting of information about a particular subject
2.2.1.3. "collecting of information about a particular subject
2.2.1.4. Summarization is the act of telling information using fewer words. It is merely a re-telling of information.
2.2.1.5. Research is Systematic!
2.2.1.5.1. 1. Identify a problem or question that you want to answer.                                                2. Review related literature regarding the problem. 3. Formulate a hypothesis.                              4.Design methodologies or experiments to validate (or disprove) your hypothesis.                                                          5. Implement the experiments.                        6. Gather results, draw conclusions, and create new knowledge.
2.2.1.6. CREDIBLE SOURCES
2.2.1.6.1. BOOKS Must be within 5 years from publication! JOURNALS Must be from academic journal publications INTERNET As much as possible, end with .org/ .edu/ .gov BLOGS OR OPINION EDITORIALS ARE NOT CREDIBLE
2.3. Lead Routing
2.3.1. Which qualified leads are distributed to which Sales representative
2.3.2. Based on
2.3.2.1. Geographic Territory
2.3.2.2. Industry
2.3.2.3. Company Size
2.4. NETIQUETTE
2.4.1. Rule 1: Remember the Human
2.4.2. Rule 2: Adhere to the same standards of behavior online that you follow in real life
2.4.3. Rule 3: Know where you are in cyberspace
2.4.4. Rule 4: Respect other people's time and bandwidth
2.4.5. Rule 5: Make yourself look good online
2.4.6. Rule 6: Share expert knowledge
2.4.7. Rule 7: Help keep flame wars under control
2.4.8. Rule 8: Respect other people's privacy
2.4.9. Rule 9: Don't abuse your power
2.4.10. Rule 10: Be forgiving of other people's mistakes
3. ICT
3.1. Current State
3.1.1. Information and Communication Technology (ICT)
3.1.1.1. UNESCO
3.1.1.1.1. "The scientific, technological and engineering disciplines and the management techniques used to handle and transmit information [between] men and machines".
3.1.1.2. Digital Video Technical Glossary
3.1.1.2.1. "The computing and communications facilities and features that support teaching, learning and a range of activities in education."
3.1.1.3. UK National Curriculum document in 2000
3.1.1.3.1. "The technology used to handle information and aid communication"
3.1.1.4. Official IBM Glossary
3.1.1.4.1. "The use of computer based information systems and communications systems to process, transmit, and store data and information"
3.1.1.5. UK Government's ICT Year In 1972
3.1.1.5.1. "A collective term [that is] involved in handling and transmitting information. It includes computing, telecommunications and microelectronics [that] process[es], transmit[s], and store[s] data and information."
3.1.2. Society
3.1.3. Education
3.1.4. Communication
3.1.5. Scientific Exploration
3.1.6. Military
3.1.7. Economy
3.1.8. Recreation
3.1.9. Transportation
3.2. Gartner's ICT trend
3.2.1. GARTNER
3.2.1.1. "Gartner, Inc. (NYSE: IT) is the world's leading information technology research and advisory company. We deliver the technology-related insight necessary for our clients to make the right decisions, every day.
3.2.1.2. Founded in 1979, Gartner is headquartered in Stamford, Connecticut, USA, and has 7,600 associates, including more than 1,600 research analysts and consultants, and clients in 90 countries."
3.2.2. INFORMATION CAPITALISM
3.2.2.1. Industrial Age
3.2.2.2. Knowledge Society
3.2.3. Everything on the Cloud!
3.2.4. INFORMATION SOCIETY
3.2.4.1. Media
3.2.4.2. Education
3.2.4.3. Social Relationships
3.2.4.4. Medicine
3.2.4.5. Business Hours
3.2.4.6. Dematerialization
3.2.5. Mobility
3.2.6. Cybersecurity
3.2.7. Self-Organizing Business Model Applications
3.2.8. Network Reach
3.2.9. Video and Pervasive Screens
3.2.10. Smart Cars, Smart Homes, Smart Appliances
3.2.11. The smaller, the more powerful
3.2.12. IT Expert Acquisitions
4. MS Word
4.1. is the word processing program of the Microsoft Office suite that allows you to create documents and reports.
4.2. Quick Access Toolbar Tools shown here are always visible. You can add your favorite tools to this toolbar, allowing for a set of commands independent of the tab on the Ribbon currently displayed.
4.3. Ribbon Tabs Click any tab on the ribbon to display a set of tools grouped together related to that task.
4.4. Hide the Ribbon Click this icon to minimize the ribbon and provide more work space
4.5. Dialog Box Launchers Dialog box launcher icons next to any ribbon group label can be clicked to open a dialog box with more options for that group.
4.6. Ribbon Groups Each ribbon tab contains groups, and each group contains a set of related tools. Here, the Paragraph group on the Home tab contains tools for how text should be aligned within the document.
5. Common Computer Problems and Trouble Shooting
5.1. COMPUTER SECURITY RISK
5.1.1. CYBERCRIME
5.1.1.1. Refers to an online or Internet based illegal acts.
5.1.2. HACKER Some one who accesses a computer or network illegally. Hackers often claim the intent of their security breach is to "improve security"
5.1.3. HACKER Some one who accesses a computer or network illegally. Hackers often claim the intent of their security breach is to "improve security"
5.1.4. SCRIPT KIDDIE Often are teenagers who use pre-written hacking and cracking programs to break into computers
5.1.5. CYBER EXTORTIONIST Uses e-mail as a medium for extortion. They send e-mail messages indicating they will expose confidential information, exploit a security flaw or launch an attach if not paid a sum of money
5.1.6. CYBER TERRORISM Someone who uses the Internet to destroy or damage computers for political reasons (eg. Destroy the traffic system, telecommunications infrastructure, etc.)
5.2. INTERNET ATTACKS
5.2.1. •VIRUS- altering the computer works without user's knowledge or permission
5.2.2. •WORM- program that copies itself repeatedly
5.2.3. •TROJAN HORSE- program that hides within a legitimate program and is triggered by an action
5.3. PROTECT YOURSELF
5.3.1. Never start a PC with removable media inserted
5.3.2. Never open an email attachment that is not from a trusted source
5.3.3. Install an Anti-Virus Program for ALL your computers and update on a regular basis
5.3.4. Check all downloaded programs for malicious content
5.3.5. Delete flagged programs with warning of infection
5.4. COMPUTER PROBLEMS
5.4.1. MY COMPUTER IS SO SLOW 
5.4.2. MSCONFIG.EXE
5.4.3. DISK DEFRAGMENTER
5.4.4. SPONTANEOUS SHUTDOWNS AND THE BLUE SCREEN OF DEATH!
5.4.5. OVERHEATING
5.4.6. OVERHEATING
5.4.7. THE PRINTER IS NOT WORKING!
5.4.8. I CAN'T ACCESS THE WIFI!
6. MS Excel
6.1. Excel is a computer program used to create electronic spreadsheets.
6.2. Within excel user can organize data ,create chart and perform calculations.
6.3. Microsoft excel consists of workbooks. Within each workbook, there is an infinite number of worksheets.
6.3.1. ROWS
6.3.2. COLUMNS
6.4. OFFICE BUTTON
6.4.1. NEW-TO OPEN NEW WORKBOOK. (CTRL+N) OPEN-TO OPEN EXISTING DOCUMENT (CTRL+O) SAVE-TO SAVE A DOCUMENT.         (CTRL+S) SAVE AS-TO SAVE COPY DOCUMENT. (F12) PRINT-TO PRINT A DOCUMENT.      (CTRL+P) PREPARE-TO PREPARE DOCUMENT FOR DISTRIBUTION. SEND-TO SEND A COPY OF DOCUMENT  TO OTHER PEOPLE. PUBLISH-TO DISTRIBUTE DOCUMENT  TO OTHER PEOPLE. CLOSE-TO CLOSE A DOCUMENT  (CTRL+W).
6.5. RIBBONS
6.5.1. TABS:THERE ARE SEVEN TABS ACROSS THE TOP OF  THE EXCEL WINDOW.                                  GROUPS: GROUPS ARE SETS OF RELATED COMMANDS,DISPLAYED ON TABS.                    COMMANDS: A COMMAND IS A BUTTON,A MENU OR A BOX WHERE YOU ENTER INFORMATION.
6.6. FUNCTIONS
6.6.1. SYNTAX OF DATEDIF =DATEDIF(START_DATE,END_DATE,"INTERVAL") START DATE- Date from which u want to calculate difference. END DATE- Date up to which u want to calculate difference. INTERVAL- Form in which u want to calculate difference. " D " -  D AY S                                                          " M " -  M O N T H S                                                " Y " -  Y E A R S                                                      " Y M " -  M O N T H S  O V E R  Y E A R                 " M D " -  D AY S  O V E R  M O N T H
6.6.2. SYNTAX OF SUMIF =SUMIF(RANGE,CRITERIA,SUM_RANGE) RANGE- Range of cells on which conditions are applied.                                                                              CRITERIA- Condition that defines which cell or cells will be added.                                                                             SUM RANGE- Actual cells to sum.                                                 NOTE:- If sum range is not used then range is used for sum.
6.6.3. SYNTAX OF SUMIF =SUMIFS(sum_range, criteria_range1, criteria1,[criteria_range2, criteria2],...)
6.6.4. SYNTAX OF IF =IF(LOGICAL TEXT, VALUE IF TRUE, VALUE IF FALSE)                                                    LOGICAL TEXT- Any value or expression that can be evaluated to TRUE or FALSE.  VALUE IF TRUE- Value that is returned if logical text is TRUE. VALUE IF FALSE- Value that is returned if logical text is FALSE.
6.6.5. SYNTAX OF FUNCTIONS 1. COUNT =COUNT(VALUE1,VALUE2,…) 2. COUNTA =COUNTA(VALUE1,VALUE2,…) 3. COUNTBLANK =COUNTBLANK(RANGE) 4. COUNTIF =COUNTIF(RANGE,CRITERIA)
6.6.6. SYNTAX OF FUNCTIONS 1. LOWER FUNCTION =LOWER(TEXT) 2. UPPER FUNCTION =UPPER(TEXT) 3. PROPER FUNCTION =PROPER(TEXT)
6.6.7. SYNTAX OF FUNCTIONS 1. LEFT FUNCTION =LEFT(TEXT,NUM_CHARS) 2. RIGHT FUNCTION =RIGHT(TEXT,NUM_CHARS) 3. MID FUNCTION =MID(TEXT,STARTNUM,NUM_CHAR
6.6.8. NOW RETURNS CURRENT DATE AND TIME. TODAY RETURNS CURRENT DATE ONLY. MOD RETURNS THE REMAINDER AFTER A NO. IS DIVIDED BY A DIVISOR. LEN RETURNS THE NO. OF CHARACTERS IN A TEXT STRING. SUM ADD ALL THE NUMBERS.
7. Effective Powerpoint
7.1. FONTS
7.1.1. atleast 32 pt
7.1.2. don't use ALL CAPS
7.1.3. Avoid Text OVERLOAD
7.1.4. use TEXT SIZE to highlight KEYWORDS
7.2. BULLETS
7.2.1. no more than 6 bullets per slide
7.2.1.1. 6-7 words per bullet or less
7.2.2. no periods (.)
7.2.3. Capitalize the first word in a bullet but no others
7.2.4. PRESENTATION IS NOT A BOOK
7.3. COLORS
7.3.1. dark font
7.3.1.1. light background
7.3.1.1.1. vice versa
7.4. BALANCE
7.4.1. dont center graphics
7.4.1.1. place off center
7.4.2. more room for text
7.4.3. placing graphic on left leads your eye to the text
7.5. GRAPHICS
7.5.1. good illustrations
7.5.2. has reason
7.5.3. clip art gets old
7.5.4. animated gifs are distractive
7.5.5. use bar graphs and pie charts instead of tables of data
7.6. 10-20-30
7.6.1. 10 slides and less
7.6.1.1. 20 mins or less
7.6.1.1.1. font not less than 30 pt
8. GIMP
8.1. GNU MANIPULATION PROGRAM
8.1.1. GIMP is a cross-platform image editor available for GNU/Linux, OS X, Windows and more operating systems. It is free, open source image manipulation program for photo retouching, image composition and image authoring.
8.1.2. Share — copy and redistribute the material in any medium or format
8.1.3. Adapt — remix, transform, and build upon the material for any purpose, even commercially.
8.1.4. Creating a New File
8.1.4.1. Ctrl+N
8.1.4.2. empty canvass
8.1.5. Open an Existing File
8.1.5.1. Ctrl+O
8.1.6. IMAGE
8.1.6.1. Cropping
8.1.6.2. Scaling
8.1.7. Saving & Exporting Images
8.1.7.1. xcf file format (which stands for eXperimental Computing Facility)
8.1.7.2. Shift+Ctrl+S
8.1.7.2.1. Ctrl+S
8.1.7.3. Format
8.1.7.3.1. JPEG (Joint Photographic Experts Group)
8.1.7.3.2. PNG (Portable Network Graphics)
8.1.7.3.3. GIF (Graphics Interchange Format)
8.1.7.4. Shift+Ctrl+E
8.1.8. LAYERS
8.1.8.1. Layer as a transparent piece of film with an image on it. You can stack these pieces of film on top of each other to form a new image!
8.1.8.2. Layer Mask that acts like a filter, allowing you to modify or add an effect to only a small region of the Layer
8.1.8.3. Shift+Ctrl+N
9. MIND MAPPING
9.1. "A mind map is a type of spider diagramor concept map that consists of a centralized subject and related topics or ideas branching off from it in all directions. From each topic subtopics can again branch off, resulting in a radiant structure."
9.2. Tony Buzan in the 1970s.
9.3. If you want them to be read in a certain order, start at about       one o'clock and go clockwise around the center - this is the       direction mind maps are generally read.