Account Map
by Glenn Pacitti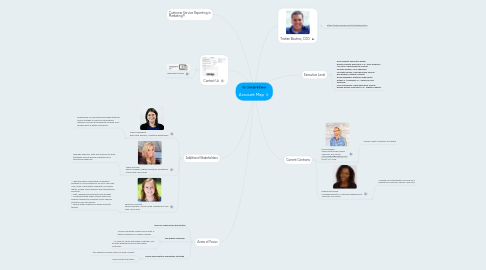 1. Current Contacts
1.1. Nick Rockwell Chief Technology Officer The New York Times [email protected] (646) 431-7549
1.1.1. Former client of Kristin's at Google
1.2. Ejieme Eromosele Managing Director, Customer Experience at The New York Times
1.2.1. " leading our investigation of social as a channel for customer service." per Nick
2. Additional Stakeholders
2.1. Piper Rosenshein Executive Director, Customer Experience
2.1.1. Responsible for developing and executing the Times' strategy to improve subscription retention and drive incremental revenue from existing print & digital customers.
2.2. Tawny Kotchko Senior Manager, Digital Consumer Acquisition at The New York Times
2.2.1. Leverage analytics, data and research to build strategies around driving acquisition and conversion behaviors.
2.3. Shannon Marcotte Senior Manager, Social Media Marketing at The New York Times
2.3.1. • Lead the global subscription acquisition strategy on social platforms for all of The New York Times' subscription segments, including digital, mobile, home delivery and international products. • Own, manage and forecast social budget • Collaborate with other channel leads and segment owners to maximize cross-channel efficiency and conversion. • Partner with Facebook on alpha and beta testing.
3. Areas of Focus
3.1. Improve Subscription Rentention
3.2. The Digital Customer
3.2.1. "Drive incremental revenue from print & digital customers" re Pipers LinkedIn
3.2.2. In order to sell to the Digital Customer, you must be prepared to serve the Digital Customer.
3.3. Global Subscription Acquisition Strategy
3.3.1. Per Shannon's profile, this is an area of focus.
3.3.2. How do they track this?
4. Contact Us
4.1. New Way to Read
5. Customer Service Reporting in Marketing?!
6. Executive Level
6.1. Dean Baquet, Executive Editor Roland Caputo, Executive V.P., Print Products Jim Follo, Chief Financial Officer Michael Golden, Vice Chairman Meredith Levien, Chief Revenue Officer Ken Richieri, General Counsel Andy Rosenthal, Editorial Page Editor Arthur O. Sulzberger Jr., Chairman and Publisher Mark Thompson, Chief Executive Officer Kinsey Wilson, Executive V.P., Digital Products
7. Tristian Boutros, COO
7.1. https://www.linkedin.com/in/tristanboutros