GTP
by
Bob Hofman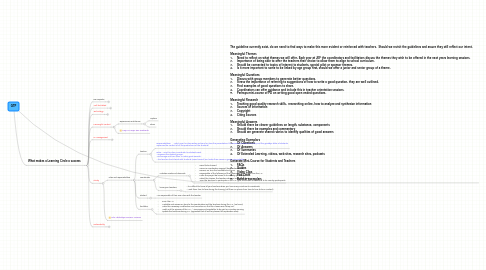 5.0
stars -
1
reviews range from
0
to
5
GTP
The guideline currently exist, do we need to find ways to make this more evident or reinforced with teachers. Should we revisit the guidelines and assure they still reflect our intent. Meaningful Themes 1. Need to reflect on what themes we will offer- Each year at JKF the coordinators and facilitators discuss the themes they wish to be offered in the next years learning sessions. 2. Importance of being able to offer the teachers their choice to allow them to align to school curriculum. 3. Should be connected to topics of interest to students, special pilot or sponsor themes. 4. Is it more important to some to be linked by age group first, should we offer a junior and senior group of a theme. Meaningful Questions 1. Discuss with group members to generate better questions. 2. Stress the importance of referring to suggestions of how to write a good question- they are well outlined. 3. Find examples of good questions to share. 4. Coordinators can offer guidance and include this in teacher orientation sessions. 5. Perhaps mini-course of PD on writing good open ended questions. Meaningful Research 1. Teaching good quality research skills, researching online, how to analyze and synthesize information 2. Sources of Information 3. Copyright 4. Citing Sources Meaningful Answers 1. Should there be clearer guidelines on length, substance, components 2. Should there be examples and commentary 3. Should we generate shared rubrics to identify qualities of good answers Generating Exemplars 1. Of Questions 2. Of Answers 3. Of Summaries 4. Of Extended Learning- videos, web sites, research sites, podcasts Generate Mini-Course for Students and Teachers 1. FAQs 2. Guides 3. Video Clips 4. Pod Casts 5. Build-in exemplars
What makes a Learning Circle a success
Pre-requisite
apply selection crireria
perfomance as expected
Well facilitated
have a backup facilitator
mentorship
competencies
training / materials
inside / outside?
timely response
Technology
connectivity, Low bandwidth, Dgroups or other emailplatform, High bandwidth, Wiki, moodle
technology works
Ria, Ebenezer, Justin
Dgroupproblems, Other emailplatform with more ownership and mangement capacities, Google groups, Yahoo groups, If we stay with Dgroups, is there a possibility to be more in control in case of problems
Other LC platforms, Wiki pb, Wiki spaces, Moodle, Blogger
Training the trainer course for countrycoordinator, in case of introducing new platforms, Create tutorials, Screencasts (Jingproject.com), New node
Minimum resources for each coordinator, Laptop, Comunication tools/software, Internet connection at home or office
Chat, Students, Elluminate, Teachers, Elluminate, Coordinators, Skype, Adobe Connect
Meaningful content
Experiences and stories, capture, share
Mary-Jo, Zoya, Issa, Proshanta
LC management
Clarity on labels as beginner and advanced
LC description
schedules and themes on time
Sylvia, Ligija, Sam, Dario
Calendar online, CC will fill in their school calendar and see what the possibilities are for a year period
Registration online, where CC post it online, two countries allowed, if more facilitator decides, full is full
LC label, Basic Advanced will be changed by other labels: Primary/Secondary, Primary themes will be defined following the curricula, Primary/Secondary Dbased/ Secondary Wiki, criteria is needed, this has to be applied once established!, Primary themes according to Primary school curricula ( teen life, nature, environment), Secondary themes will be defined according to Secondary school curricula ( drugs, teenage mothers, how do I improve my neighbourhood, geography)
teachers training, (new?)material
rewards, a reward and a punitive system with prices for : time, quality, ..., without a reward system according to ranking, otherwise ranking are only statistics, ranking, no use of ranking if there is no reward!
chat, keep this form of commnication (under supervision of an available an online coordinator) but spread it on three days with some schools with good connectivity as basis
Clarity
roles and responsibilities, teacher, Responsabilities: Watch over his class writes and send on time the presentation, the answers/questions/summery and the goodbye letter of students. Supervise the content of all the productions of the students/, Roles: - Lead his class: coordinate his students work - Organise the student groups - Encourage and train them to make good research. - The teacher should work with students (revise/correct) and make them assure a group responsibility., coordinator, matches needs and demands, - Need to be trained - Secure a coordination support (fees, materials, etc.) - Receive on time the timetable and forms - Responsible of the following of the classes, not to drop out from the L.C. - Make the project be known in his country (publicity) - Select the classes, the teachers who can really participate - Train the teachers to participate in the L.C./give certificates and rewards to his country participants, know your teachers, - It is difficult to know all your teachers when you have many countries to coordinate. - Meet them face to face during the training (call them on phone from time to time to be in contact), student, - Co-responsible of their own class with the teacher, facilitator, - Form the L.C. - Available and answer on time to the coordinators and the teachers during the L.C. (48 hours) - Make the necessary modification and correction so that the classes won't drop out. - Watch out the process of the L.C. / -Overviews and newsletter to be sent on monday morning - Update the timelines during L.C. (agreeded that all will be planned till september 2009)
Lala, Abdoulaye, Romeo, Lucrecia
Sustainability
administration, linked to curriculum, Government buy-in, Mapping to local curriculum, Project Management, M&E
Backup at all levels, Coordinator, School Teachers, appoint more than 1 teacher per school, Facilitators, Project Managers???
Archive, Project Management, Record Keeping, Easy Access, Case Studies of Projects, Handover Procedures
Finance, Long term planning, Funding, Partnership opportunities, Institutionalise Projects, Local Partnerships, Government support, Stakeholder buy-in
Motivation, School Certificate from PMs, Participation Certificates - students, teachers, Recognition of excellence, Wider range of choice of LCs - wiki-based, email-based, project duration or other..., GTP branded paraphernalia
Emefa, Charlotte, Mary, Lee