HindSite Core Values
by
ted rigthe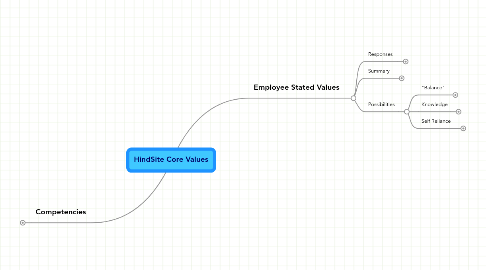 0.0
stars -
0
reviews range from
0
to
5
HindSite Core Values
Employee Stated Values
Responses
David, Honesty, And trust. We tell the truth to each other and to our customers., Confidence, We speak our mind and challenge ideas, no matter their origin., Balance, We love to have a good time, but we know when and how to work.
Mike, Customer Service, We make every customer feel as if we were a part of their company., Self Reliance, We as individuals can solve problems., Pride, We take pride in our work with individual customers and in our company's performance.
Ted, Ownership, We are connected to our work, taking pride in company and customers., Balance, We work hard and play hard., Loyalty, We work selflessly towards the best interest of company and customer alike.
Steve, Humor, Humor frames our work, keeps us honest, and creates our casual culture., Knowledge, We excel in our work and work as a team to reinforce that excellence., Hard Work, When it's time to work, we work hard. We get the job done, and done right.
Leah, Teamwork, Working together we can accomplish great things, more than merely being good., Responsibility, We are responsible for and to each other, our customers, and our company to establish aforementioned greatness, from teamwork to superior quality., Commitment, We are dedicated to the success of HindSite and it's customers on a daily basis.
John, Patience, We are dedicated serving our customers through personal character and expert knowledge., Empathy, We understand the importance of our customers' business and to their sense of urgency, and we strive to be worthy of their trust., Responsibility, We take ownership of our customers, including the importance of their own understanding of our products and services, in order to help them succeed.
Michael, Teamwork, We work best as a team, meaning we are dedicated to helping each other., Punctuality, We strive to be "on the dot", respecting our customers and coworkers., Friendliness, We understand the best way to reach our customers is to work with their trust, and the best way to work together is through camaraderie.
Karl, Customer Service, We must always strive to make the customer happy, meaning excellence of product and service., Balance, We know when to it's alright to relax, and we know when it's time to work., Respect, We treat everyone, customers and coworkers alike, with respect.
Summary
Categorized, Respect, Respect/Honesty/Empathy/Patience/ Customer Service, permission-to-play?, Ownership, Pride/Ownership/Responsibility/ Confidence/Self Reliance, aspirational?, Commitment, Commitment/Loyalty/Customer Service, Balance, Balance/Hard Work/Humor, Teamwork, Teamwork, permission-to-play?
Shared Responses, Balance, Customer Service, Responsibility, Teamwork
Possibilities
"Balance", Humor is a survival method around here, and we like to have fun...when it's time to work, we know how to work hard and get the job done.
Knowledge, We know our jobs inside and out, and always encourage exploration and education
Self Reliance, Teamwork is a given. We pride ourselves on the excellence and confidence of our individuals. We encourage challenges and innovation.
Competencies
Customer Focus
Each employee exemplifies customer focus by staying committed to the success of their customer's level of knowledge and use of the software. Each employee also provides superior customer support when helping customers solve their problems by fixing the issue and treating them with respect., Treat Customers with Respect, Stay Committed to the Success of Your Customers, Provide Superior Customer Support
Drive for Results
Every employee pursues daily tasks with energy, drive, and a need to finish. They do not give up before finishing even in the face of resistance or setbacks. They steadfastly push themselves and others for results., Do Not Give Up, Push for Results with Energy & Drive, Encourage Yourself and Others to Finish
Learning on the Fly
Each employee is committed to learning, analyzing problems, and providing solutions in a fast paced technology-focused environment., Learn Quickly, Understand the Problem, Provide a Correct Solution
Timely Decision Making
HindSite employees think well on their feet and make decisions in a timely manner. At times they will make the appropriate decisions with incomplete information, under pressure, and within tight deadlines., Make Appropriate Decisions, Make Decisions in a Timely Manner
Intellectual Horsepower
Every employee at HindSite is intelligent and capable. They are good at learning and deciphering new knowledge, can understand, and work with concepts as an individual and as a member of the team., Learn New Skills, Understand what You are Doing, Ask for Help in Order to Learn, Help Others to Learn