Types of Programs for English Language Learners
by Marcy Jorgenson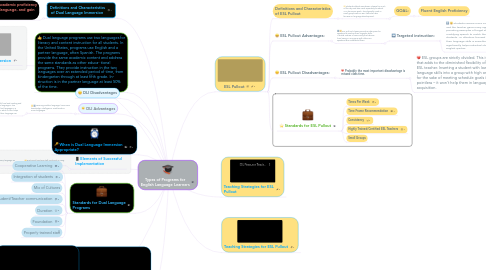 1. Dual language programs use two languages for literacy and content instruction for all students. In the United States, programs use English and a partner language, often Spanish. The programs provide the same academic content and address the same standards as other educa- tional programs. They provide instruction in the two languages over an extended period of time, from kindergarten through at least fifth grade. In- struction is in the partner language at least 50% of the time.
2. DLI Disadvantages
3. DLI Advantages
3.1. Learning another language, have more knowledge, intelligence, read books in more languages.
3.1.1. Students develop full oral and reading and writing proficiency in two languages. This allows them to see their first language in a comparative perspective, which in turn helps them analyze and refine their language use
3.1.1.1. Students in dual language programs develop very positive attitudes about students of other language and cultural backgrounds, and positive attitudes toward themselves as learners.
4. Definitions and Characteristics  of Dual Language Immersion
4.1. •The GOAL is to develop academic proficiency in English and students' first language, and gain a multicultural appreciation
4.1.1. •Transitional programs: generally place less emphasis on developing students' first language and more emphasis on the first language as a bridge to English language development. Developmental programs: generally place equal emphasis on developing and maintaining students' primary language and academic English proficiency • Students are ELL and from same language background • Significant amount of instruction in native language while continuing to increase instruction in English (4-6 years)
5. Dual Language Immersion
6. ESL Pullout
6.1. Definitions and Characteristics of ESL Pullout
6.1.1. Students attend mainstream classes for much of the day and also meet separately for about 3-10 hours per week. They typically meet in small groups with an ESL instructor who focuses on language development.
6.1.1.1. GOAL:
6.1.1.1.1. Fluent English Proficiency
6.2. ESL Pullout Advantages:
6.2.1. ESL pull-out classes provide a safe space for speakers to practice their linguistic skills. It builds a sense of community that derives from being in one group with other ESL speakers who understand them.
6.2.1.1. Targeted instruction:
6.2.1.1.1. Students receive more constructive feedback and the teacher gains many opportunities for providing examples of target structures, modifying speech to match the level of the students. An attention focused on increasing their language skills is something that significantly helps individual students to learn English quicker.
6.3. ESL Pullout Disadvantages:
6.3.1. Probably the most important disadvantage is missed class time.
6.3.1.1. ESL groups are strictly divided. This is a factor that adds to the diminished flexibility of the ESL teacher. Inserting a student with low language skills into a group with high ones just for the sake of meeting schedule goals is pointless – it won't help them in language acquisition.
6.3.1.1.1. Time Requirements:
6.4. Standards for ESL Pullout
6.4.1. Times Per Week
6.4.2. Time Frame Recommendation
6.4.3. Consistency
6.4.4. Highly Trained/Certified ESL Teachers
6.4.5. Small Groups
7. Standards for Dual Language Programs
7.1. Cooperative Learning
7.2. Integration of students
7.3. Mix of Cultures
7.4. Reciprocal Student/Teacher communication
7.5. Duration
7.6. Foundation
7.7. Properly trained staff
8. Elements of Successful Implementation
8.1. • Bilingual teaching staff proficient in using both languages for academic instruction
8.1.1. • Develops literacy in the primary language as foundation for English reading
8.1.1.1. • Language arts instruction in primary language and English
8.1.1.1.1. • Often uses sheltered instructional strategies
9. When is Dual Language Immersion Appropriate?
10. Teaching Strategies for ESL Pullout
11. Teaching Strategies for Dual Language Programs
12. Teaching Strategies for Dual Language  Programs
13. Teaching Strategies for ESL Pullout