Build Your Invite
by Julie Hanan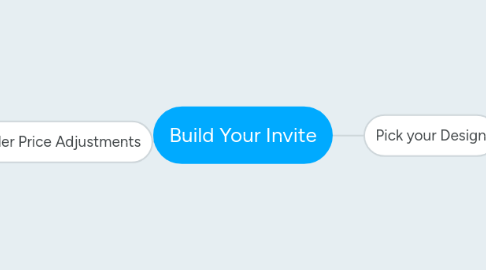 1. Pick your Design
1.1. STEP 1: Pick your Style and Size
1.1.1. Base Invitation Packages
1.1.1.1. $2.75 ea: Flat Panel Style - no accent layers of cardstock
1.1.1.1.1. Invitation Size
1.1.1.1.2. Insert Style Selection
1.1.1.2. $3.50 ea: Flat Panel Style - 1 accent layer of cardstock
1.1.1.2.1. Invitation Size
1.1.1.2.2. Insert Style Selection
1.1.1.3. $4.25: Flat Panel Style - 2 accent layers of cardstock
1.1.1.3.1. Invitation Size
1.1.1.3.2. Insert Style Selection
1.1.1.3.3. $.50 ea: Glitter Accent Cardstock Upgrade for inner layer
1.1.1.4. $4.75 ea: Pocketfold Style - no accent layers of cardstock
1.1.1.4.1. Invitation Size
1.1.1.4.2. Insert Style Selection
1.1.1.5. $5.50 ea: Pocketfold Style - 1 accent layer of cardstock
1.1.1.5.1. Invitation Size
1.1.1.5.2. Insert Style Selection
1.1.1.5.3. $.50 ea: Glitter Accent Cardstock Upgrade for inner layer
1.1.2. RSVP Card Upgrades
1.1.2.1. $.50 ea: Blank RSVP Envelope
1.1.2.2. $1.00 ea: RSVP Envelope with Printed Return Address
1.1.2.3. $.50 ea + Postage: RSVP Stamping Service
1.1.2.3.1. $.35 ea: RSVP Postcard Stamp
1.1.2.3.2. $.49 ea: RSVP First Class Stamp (card with upgraded envelope and printed return address)
1.2. Add-ons
1.2.1. Additional Insert Cards
1.2.1.1. $1.00 ea: 3.75 x 3.75 Small Insert Card
1.2.1.2. $1.25 ea: 4.75 x 3.75 Medium Insert Card
1.2.1.3. $1.50 ea: 5.75 x 3.75 Large Insert Card
1.2.2. Envelope Liners
1.2.2.1. $1.25 ea: Patterned Envelope Liner
1.2.2.1.1. 32 Envelope Liner Patterns currently available
1.2.2.2. $1.50 ea: Glitter Envelope Liner
1.2.2.2.1. Gold Glitter
1.2.2.2.2. Silver Glitter
1.3. STEP 2: Pick your Paper and Add-ons
1.3.1. Paper Selections
1.3.1.1. [included in base cost] Standard Cardstocks
1.3.1.1.1. 130# Smooth matte - white or cream
1.3.1.1.2. 130# Signature textured - white or cream
1.3.1.1.3. 100# Linen textured - white or cream
1.3.1.2. Luxury Cardstocks
1.3.1.2.1. $.75 ea: 111# Cream Luxe Cardstock
1.3.1.2.2. $1.00 ea: 137# White Metallic Cardstock
1.4. STEP 3: Pick your Finishing Touches
1.4.1. Embellishments
1.4.1.1. $.75 ea: Pocketfold Name Tag (only available for Pocketfold Styles)
1.4.1.2. $.75 ea: Pre-Punched Name Tag
1.4.1.3. $1.00 ea: Cardstock Belly Band
1.4.1.4. $1.25 ea: Satin Ribbon, Raffia or Natural Twine
1.4.1.4.1. Ribbon Colors: Black, White, Silver, Black, Ivory
1.4.1.4.2. Raffia Colors: Gold, Silver
1.4.1.5. $1.50 ea: Hanging Name Tag tied with Satin Ribbon, Raffia or Natural Twine (same colors as above)
1.4.2. Mailing Envelope Addressing
1.4.2.1. Digital Calligraphy
1.4.2.1.1. $.75 ea: Return Address Only
1.4.2.1.2. $1.25 ea: Guest Address Only
1.4.2.1.3. $2.00 ea: Guest and Return Address
1.4.2.2. Address Wraps
1.4.2.2.1. $1.50 ea: Return Address Only
1.4.2.2.2. $2.25 ea: Guest and Return Address
2. Portential Order Price Adjustments
2.1. Invitation Turnaround Times
2.1.1. Proof Design Turnaround
2.1.1.1. [included] STANDARD • receive proof within 5 business days
2.1.1.2. $50 EXPEDITED • receive proof within 3 business days
2.1.1.3. $100 EXPRESS • receive proof on the same day
2.1.2. Production Turnaruond (can be changed at time of final payment)
2.1.2.1. [included] STANDARD • ships within 15 business days
2.1.2.2. [15% of order total] EXPEDITED • ships within 10 business days
2.1.2.2.1. Complimentary upgraded turnaround included if no assembly is required or if client selects to DIY full invitation components (partial DIY assembly not included)
2.1.2.3. [35% of order total] EXPRESS • ships within 5 business days
2.2. Small Order Fees
2.2.1. Our pricing is based off a minimum order of 50 and can be ordered in larger amounts in increments of 5.  Invitation quantities below 50 will incur an additional fee to their order total. Small order fees are as follows: 40-49 Invitations - $30 30-39 Invitations - $60 20-29 Invitations - $90 10-19 Invitations - $120
2.3. Do-It-Yourself Assembly Discounts
2.3.1. We offer DIY Assembly Discounts for the following items: Cardstock Layer Assembly: [ - $.25/layer ] Envelope Liner Assembly: [ - $.25/invitation ] Pocketfold Name Tag Assembly: [ - $.15/invitation ] Belly Band Assembly: [ - $.25/invitation ] Raffia, Ribbon, or Twine Assembly: [ - $.50/invitation ] Address Wrap Assembly: [ - $.50/invitation ]
2.4. Large Order Discounts
2.4.1. LARGE ORDER DISCOUNTS TOTALING OVER: $500 - 5% off Coordinating Stationery $750 - 5% off Invitations & 10% off Stationery $1000 - 10% off Invitations & 15% off Stationery $1500 - 15% off Invitations & 20% off Stationery $2000 - 20% off Invitations & 25% off Stationery $2500 - 25% off Invitations & 30% off Stationery $3000 - 30% off Invitations & 35% off Stationery *** Coordinating Stationery includes Ceremony Programs, Place Cards (including Photo Place Card Boards), Table Numbers, Menus, Signage, and Thank You Cards
2.5. Shipping
2.5.1. Free Ground Shipping on orders over $400 in the Continental USA
2.5.2. $20 Ground shipping charge for orders in the Continental USA under $400
2.5.3. Express or International Orders incur shipping fee based on location and weight
2.5.4. Sample Invitations will have calculated shipping prices depending on speed and location
2.6. Large Quantity Fees
2.6.1. Client can increase quantity at any time but can only decrease by 10 once an order has been confirmed.
2.7. Multiple Language Fee
2.7.1. $75 Flat Fee for each additional language needed. This is a one time charge and will not incur a 2nd fee if stationery is ordered.
2.8. Font Change Fee
2.8.1. $50 fee will be charged for changing font(s) used in an invitation design. If font is not part of our list, client must provide the typeface files. If only ordering coordinating stationery, the fee will be $25.
2.9. Design Change Fee
2.9.1. $75 fee incurred for changing an invitation design once proofing has begun
2.9.2. $35 fee incurred for changing stationery design once proofing has begun
2.10. Format Change
2.10.1. $25 fee for changing orientation of an invitation design
2.11. Mongoram Fee
2.11.1. $25 fee charged for inclusion of monogram within a design.  Must be submitted as vector image to ensure quality preservation
2.12. Custom Ink Color
2.12.1. $25 fee charged for ink colors that are not in our color chart. Client must provide Pantone code or physical swatch for reference
2.13. Additional Proofs
2.13.1. $25 fee charged for each additional proof requested past number of complimentary rounds of revisions included with order
2.14. Stamp Design
2.14.1. Digital postage stamp designs are available for $15. Postage will still need to be ordered through stamps.com or zazzle.com.
2.15. Personalized Names
2.15.1. Personalized guest names on the main invitation card is an additional $1.50 ea.