Tracking progress to my Technical Architect
by
Pete Fife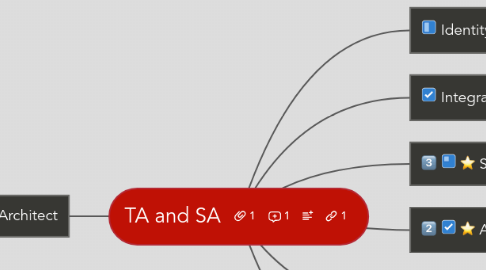 5.0
stars -
2
reviews range from
0
to
5
https://www.inkling.com/store/salesforce-university/ is a list of free e-book for the architect certifications
System Architect
Integration architecture Designer
Destination Success Week 1, Integrating with the force.com platform, Integration, Security Integration, * Trailhead Module: Data Security, * Trailhead Module: User Management, * Event Monitoring, User Interface Integration, Business logic, Data Integration, Trailhead: API Basics, Get to Know the Salesforce APIs, Use REST API, Use SOAP API, Use Bulk API, Use Streaming API, Trailhead: Apex Integration service
superbadge
SFU-Certification guide, Understanding the Basics, Integrating with the Force.com Platform, Integration, Integration Workbook, Integration Architecture Designer Resource Guide (Inking), General, Integrating with the Force.com Platform, Integration, UML 2 Sequence Diagrams: An Agile Introduction, Catalog of Patterns of Enterprise Application Architecture, Patterns in Enterprise Software, 1. Technologies and Overall Integration Strategy, 1.1 Integration Architecture for the Salesforce Platform, 1.2 Awareness of data backup/archiving/data warehousing integration strategies., Salesforce Backup and Restore Essentials Part 1, Salesforce Backup and Restore Essentials Part 2, 1.3 Recommend and justify the appropriate integration strategy and the use of common integration patterns., Patterns and Best Practices for Enterprise Integration, Integration: Mashups and Composite Applications, Integration: Introduction to the APIs, Integration: The Web Service API, Integration: The REST-based APIs, Integration: The Bulk API, Integration: Outbound Messaging, Integration: Salesforce to Salesforce, Integration Characteristics, Salesforce Integration Mechanisms, 1.4 Provide details on the integration components involved in a flow ..., 2. Integration Solution Tools, 2.2 Capabilities and Limitations, Which API should I use, 3. Security, Suggested Activities, 1. Workflow, 2. SOAP Integration, 3. REST Integration, Prep and Study, Certification Study Guide
Independent resources, cory cowgill blog, Succeed with Salesforce, Items you need to know, Outbound Messaging and its capabilities, limitations, Large Data Volume Migration into Salesforce: Considerations, Lightning Connect and its capabilities, Salesforce Canvas, Duplicate Prevention and De-duplication tools and mechanisms (both off platform and within Salesforce), Named credentials, External ID: Knowledge based questions, Middleware (lots of questions), API limits in Salesforce and reasons, Type of Testing to be used in different scenarios, Authentication mechanisms ( CA signed certificates, SSL certificates, Base64 encoding), Batch API and data load in Salesforce (lots of questions), Partner WSDL and Enterprise WSDL, SOAP Callouts, Enterprise Service Bus, Types of API's and capabilities, Chatter REST API, Apex REST Services and its capabilities, limitations, Apex callouts and its capabilities, limitations, Salesforce to Salesforce (lots of questions), Integration related errors and troubleshooting (lots of questions)
Dev Life cycle & Deployment Designer
Exam, Break down...
Destination Success Week 2, Intro to Force.com Development Lifecycle, Intro to Application Development lifecycle, Change management
Unsupported Metadata types
Identity and Access Management Designer
Exam outline, Identity Management Concepts 34%, Describe the role(s) an identity provider and service provider play in an access control solution., Describe common methods how trust connections are established between two systems and the methodologies used to describe trust between an identity provider and service provider., Given a scenario, articulate whether it is describing an authentication, authorization, or accounting scenario and what Salesforce feature should be used to accomplish the task., Given a scenario, recommend the appropriate method for provisioning users in Salesforce and other third party services (SOAP/REST API, SAML JIT, Identity, Connect, User Provisioning for Connected Apps, etc.), Describe the risks to enterprise security that federated single sign-on solutions aim to address., Given a scenario, troubleshoot common points of failure that may be encountered in a single sign-on solution (SAML, OAuth, etc.)., Accepting 3rd party Identity 21%, SFDC as an identity provider 18%, SFDC Identity 8%, Community (partner and customer) 7%
Journey Guide Study resources, Architect Core Resources, Digging Deeper into OAuth, Inkling: Identity and Access Management Designer Resource Guide, General Resources, Understanding Authentication, About Single Sign-On, Identity Implementation Guide, Identity How-to's, OAuth.net, Choosing an SSO Strategy: SAML vs OAuth2, Salesforce Identity Connect, General Overview, 1. SSO, 1.1 Incroporate the right SSO components, Secure Identity and Access Management, Authenticating Apps with OAuth: Tags: Beginner, Recommended, Connected Apps, Single Sign-On Implementation Guide, Configure a Salesforce Authentication provider, Digging Deeper into Auth 2.0 on Force.com, Best Practices for Implementing Single Sign-on, 1.2 Articulate the Various SSO concepts and components, Single Sign-On with SAML on Force.com, MyDomain, Scope Parameter Values, How to Implement Single Sign-On with Force.com, Inside OpenID Connect on Force.com, Implementing Single Sign-On Across Multiple Organizations, Secure Coding Single Sign-On, Modify Session Security Settings, Single Sign-On with Force.com and Microsoft Active Directory Federation Services, 2. Identity Management, Suggested Activities, 1. Establish a Federation ID, 2. Set up your identity provider, 3. Generate SAML, Login Flows
Destination Success, Trailhead: user Authentication, Trailhead: Identity for Customers, Identity Implementation Guide
Other resources, Succeed with Salesforce, Connected Apps (Knowing the settings is important), SAML related errors and troubleshooting, Troubleshoot SAML Assertions, OAuth Scopes and their uses, control the types of resources that the client application can access in a Salesforce organization, My Domain and its uses, Types of OAuth Flows (know each of them really well since there will be tons of questions on these), Two Factor Authentication (2FA), Identity Provider and Service Provider related scenarios, Delegated Authentication, SAML Federated Authentication, Community Self Registration: Apex Registration Handler related scenarios, Login Flows, Just-in-Time Provisioning, Salesforce1 and SSO, External Identity, Identity, Customer Community, Customer Community Plus, Salesforce Platform licenses and uses, CA-Signed Certificates and Self-Signed Certificates, Active Directory (AD) and Identity Connect, Concepts like Access Token, Refresh Token, Relay State, Start URL, Callback URL, Video Series, Dzone.com, https://dzone.com/articles/saml-versus-oauth-which-one, https://dzone.com/articles/how-saml-authentication-works, https://dzone.com/articles/depth-saml, Provisioning Users Communities, Trailheads, Setup Social Sign-on, Resources, Choosing an SSO Strategy, Understanding OAuth 2.0
Optional
Architect Core Resources
App Cloud Mobile Overview
Lightning Experience Development
Mobile Solutions Architecture Guide, General Resources, Salesfoce1 Platform: Mobile Strategy Video Seris, Native, HTML5, Hybrid: Understanding Mobiel App Dev Options, Heroku 101: Beginner's Guide to Hosting Apps in the Cloud, Salesforce App Cloud API Services Guide, Build an IOS App on Heroku in 10 Minutes, Heroku Mobile App Template, Multi-Device Strategy, Power Up Your Mobile STrategy: Apps for Admins, From Mobile strategy to Reality, General Overview, 1. Mobile Strategy and Design, 1.1 Describe the design considerations, trade-offs, and risks for mobile solutions...., Native, HTML5, or Hybrid: Understanding Your Mobile Application Development Options, Html5 and Hybrid, BYOD, Bring your own device, Consumerization, bYOD and MDM: What you need to know, Native iOS, Native Andriod, 1.2 Articulate the key capabilities of the Mobile SDK, including authentication/authorization..., Mobile Basics, Using CSS and JavaScript Mobile Frameworks, Developing Offline Apps with Salesforce Mobile Solution, New Mobile Services for Micro-Moment, SFDC Mobile SDK3.1: ..., Building Beautiful Apps with SFDC Mobile SDK, Using SmartSync in Native Apps, Developing Offline Mobile Apps with SFDC Mobile SDK SmartStore, 1.3 Incorporate all aspects of Salesforce1 declarative design to build a scenario-based solution., Customize Your Login Page Branding, Salesforce1 Mobile Workbook, Salesforce1 Mobile App Developer Guide, 1.4 Recommend a mobile strategy taking into consideration current Apex, Lightning Component..., Salesforce Mobile Push Notifications Implementation Guide, Adding Push Notification to Salesforce Mobile Apps, Lightning Components Developer's Guide, Salesforce1 Mobile App Developer Guide, 1.5 Identify use cases where a connected device and/or wearables would be an appropriate component in a solution..., 5 Ways the Internet of Things Will Make Marketing Smarter, Salesforce Wear Developer Pack, 2. Mobile Security, Suggested Activities
Study Guide
Click the arrow (->) to view the App Architect map on it's own.
Administrators
Admin
Advance admin
Implementation Experts
Community Cloud Consultant
Page 28 of guide
Commitment 30-40 hours
Recommended Experience: 2-5 years
Marketing Cloud Consultant
Pardot Consultant
Sales Could
Service Cloud Consultant
Technical Architect