The Twitterverse
by
Dan Taylor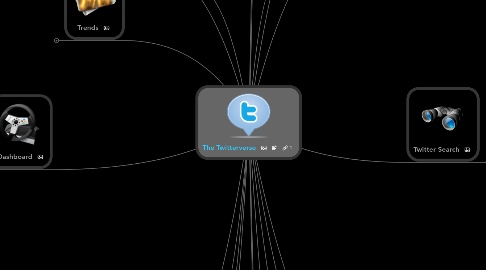 4.3
stars -
4
reviews range from
0
to
5
Originally created by Brian Solis and JESS3  
Twitter Search
Visualizes the conversations on Twitter, Friendfeed, Flickr, Blogs and more. 'spy' can listen in on the social media conversations you're interested in. What do you want to listen for?
WhosTalkin.com is a social media search tool that allows users to search for conversations surrounding the topics that they care about most.
The Twitter Dictionary aka Twittonary provides explanations of various Twitter related words. You can search the entire Twitter Dictionary or by single word using their letter of the alphabet.
What are they doing in twitter ? Answer below. Search powered by Google
The first job search engine for Twitter. Helping jobseekers and employers by finding and organizing job tweets.
A search engine powered by tweets. Topsy is a new kind of search engine, with a new way of looking at the Internet. Topsy doesn't think the Internet is a collection of documents. Or even a web of documents. Topsy sees the Internet as a stream of conversations. Topsy treats people differently from the webpages they create and the things they say. And Topsy sees that people in every community are connected in a web of relationships, where each person influences other people to read, talk and think about things. For a full list of the team behind Topsy, please see:http://labs.topsy.com/about/.
Collecta is not like other search engines. The web is alive with real-time information. So why search a stale archive? Collecta monitors the update streams of news sites, popular blogs and social media, so we can show you results as they happen. Give it a try.
In the innovative world of Microblogging, one site aims to organize it all. Tweet Scan searches Twitter, identi.ca and other Laconica-based sites with more being added all the time. Search public Twitter posts in real-time from the page or using Firefox's search box. Find replies, track keywords, and sign up for daily/weekly email alerts. Download your own personal Twitter archive: You can download a portable wiki and CSV file with your message archive including replies. Our database goes back to December 2007 and is the most comprehensive available.
  Search twitter. Get real insights on different hot topics  
OneRiot partners with leading brands to reach millions of social influencers across an exclusive network of top Twitter apps, mobile apps, social networks and realtime content discovery sites. The OneRiot audience is savvy, social and influential in their communities. This audience responds to content that's relevant on the social web right now. OneRiot works with top creative agencies and brands such as Microsoft, Stella Artois, AOL and Time Inc.
Branding
OneRiot partners with leading brands to reach millions of social influencers across an exclusive network of top Twitter apps, mobile apps, social networks and realtime content discovery sites. The OneRiot audience is savvy, social and influential in their communities. This audience responds to content that's relevant on the social web right now. OneRiot works with top creative agencies and brands such as Microsoft, Stella Artois, AOL and Time Inc.
Geographics
Interest Graph
Dashboard
Tweetie for Mac is a desktop rewrite of the original Tweetie client. Tweetie is free to download and try for as long as you want. It's full-featured and has some of the most beautiful ads around (courtesy of Fusion Ads). You can register to keep your timeline ad-free for only $19.95.
Event Management
Live Streaming
Geolocation
Relationship
Marketing and Advertising
TwitHawk is a real time targeted marketing engine that has already sent out around half a MILLION tweets for users. TwitHawk will find people talking on twitter now by your chosen topic and location, allowing you to really hit your target mid conversation with ease. Let TwitHawk do the hard work while you sleep, play, or focus on other marketing avenues. When you get back to your PC, we'll have already kick started relationships with potential customers or simply new followers for you, then it's up to you to turn that relationship into something truely beautiful. We just lay the ground work... Sign up now, and get 10 free credits to get a feel for ithttp://www.twithawk.com
Twittertise allows you to schedule in advance and track the clickthroughs on tweets. Ideal for advertisers looking to measure effectiveness.
ObjectiveMarketer is a centralized campaign management system for social marketing. The product offers comprehensive analytics on campaign and channel performance with actionable insights. With multi-tenant capability and advanced productivity features, ObjectiveMarketer offers a complete suite of tools for enterprises and agencies to efficiently execute their social media strategies. To Sign Up for ObjectiveMarketer, please visithttp://objectivemarketer.com.
Reward Your Customers.  Run a Twitter Giveaway.
As one of the 1st sponsored tweet platforms, Twittad has evolved into the most comprehensive solution for sponsored tweets on Twitter. For advertisers, they can use our self service module to target specific demographics on Twitter, including: age, male/female, location and over 1,500 categories. Advertisers also have access to a Targeted Tweets platform for targeted @replies from their business account based on Keywords, Key Phrases and where a Twitter users is tweeting from. Twitter users can ethically promote a product they like or use through our technology which includes the tiny url shortening service http://spon.in for every sponsored tweet. Twitter users draft the tweets, so be creative!
Rich Media
Posterous lets you post multiple photos, video, music, all through email. Autopost to twitter via email. Best Mobile Startup Finalist, Crunchies 2008
The easiest way to share videos on Twitter. Share videos on Twitter from your computer, your mobile phone, or your webcam. We also have an API.
Email uploads, connections to cross post to Facebook, Myspace and Yahoo, and clean integration with your Twitter profile make this one of the easiest ways to get your photos uploaded and shared. Everything is safe and reliable with OAuth Logins and a very stable backend. Never be without a place to upload your pics!
READ TWITTER STREAMS AS NEWSPAPERS - easily scan the hundreds of valuable articles shared daily by the people you follow. Articles are organized into topics (semantic analysis), summarized, multimedia extracted and tweets are re-integrated into context...
Another photo sharing service create by ImageShack with a simple and neat interface.
Simple Flickr to Twitter picture posting
Share photos on Twitter by posting them to a site and tweeting a link to it. The first image host dedicated to Twitter. You can log into TwitPic by using your Twitter username and password.
Easily share your favorite YouTube videos on Twitter. Allows discovery, tracking and comments among your followers.
The Social Photo Sharing Network
Communication Management
An Outlook add-on that emails you tweets of the people you follow on twitter.
If you love Twitter, you'll love TweetBeep! Keep track of conversations that mention you, your products, your company, anything, with hourly updates! You can even keep track of who's tweeting your website or blog, even if they use a shortened URL (like bit.ly or tinyurl.com). Now, how cool is that?!
Easy management for multiple Twitter accounts and brand monitor. The definitive twitter client for heavy & corporate users. How many twitter accounts do you have?
GroupTweet turns a standard Twitter account into a group communication hub where members can post updates to everyone in the group using direct messages. When the group account receives a direct message from a group member, GroupTweet converts it into a tweet that all followers can see.
Twitter search alerts delivered to your inbox. ( Almost realtime! )
Follow multiple hashtags on one page
Twitter is a service for friends, family, and co–workers to communicate and stay connected through the exchange of quick, frequent answers to one simple question: What are you doing?
Simple. It's a twitter monitor, it lets you "monitter" the twitter world for a set of keywords and watch what people are saying. Cool huh?
is new service that tracks personal @replies and sends them to your designated email inbox. Seems simple enough and may be ideal for those high volume personal and corporate brands that need to actively monitor inbound tweets without having to stay connected directly to Twitter, Twitter Search, or a third-party service.
Monitor & engage, campaign, analyze sentiment, search, rank, publish, backtest, consult. Real-time Internet conversations occur on many platforms from blogs to social media sites and new web superstars like Twitter.  Tools that you have used in the past, like Google or their email alerts feature cannot keep pace with these conversations. Peoplebrowsr is a real-time search engine and data mine for you to look into the pulse of digital conversations and engage across multiple social networks simultaneously. With filtering, you can bubble up "memes and themes" that are important to you or your brand across any "Web 2.0" service.
Schedule tweets, auto-follow and auto-welcome messages, and email keyword alerts.
ChatterBox is a collaboration platform for social media teams and power users. Whether it is a list of interesting keywords or specific user Twitter handles, ChatterBox can centralize that information into a common dashboard that individuals and teams can leverage to manage and respond to those conversations. An intelligent, single point of access, this web-based interface pulls in conversations and creates a collaborative workspace that provides topical views of information – along with features such as personalized views, assignment, categorization, prioritization, notifications and tagging – creating a more streamlined process to listen, organize and respond to conversations. As a result, social media power users and corporate teams can become far more effective in participating in relevant conversations, providing excellent customer service, and generating stronger business leads.
Twitter promoter, follower and URL shortening service. Can be added to your website, has a wordpress plugin
is a powerful plug-in for FireFox that moves many disparate services and capabilities into one central location – right in your browser. This is almost a complete Twitter experience for the general and even power use , one that Twitter itself should provide.  
Research and Analysis
Twitalyzer is the Social Media industry's most popular, most widely used analytics application. Used by over 400,000 people, Twitalyzer is changing the way that businesses and individuals think about their investment in Twitter and other short-messaging services.
Simple live search on multiple social networks. Search.PeopleBrowsr sorts tweets by authority, location and link to find out in a glance what the influencers are saying about subjects that are important to you or your brand. Bubble up "memes and themes" you are interested in. The live trending feature helps monitoring all the most popular keywords by time intervals and keeps you up to date with the latest hot topics.
  One of the first third-party Twitter apps and the best way to graph stats about your Twitter account. Find out basic stats about your account including how many times you tweet per month and even zoom in on any month to see how many times you've tweeted on a given day. See who you've replied to the most, what Twitter apps you love and track your follower counts over time. The sweet TweetCloud also allows you to see what words you commonly use in all your tweets and even search old tweets for those words.  
Check out who had the most followers, increase your followers and track your stats. Also has a "featured user" pay per view/new followers advertising network
Stream Management
Thing Labs' new browser-based Twitter client allows you to use multiple accounts, monitor searches, share photos, save drafts, interact with Facebook and edit trending topics. It's in public beta, but you can try Brizzly athttp://brizzly.com!
Tweetvisor is a web-based multi-column Twitter interface that enables people to better manage multiple Twitter accounts, returns real-time updates about favorite topics, news and tweets, and supports groups, tagging friends, inline video replies, multiple URL shortening services, various templates, inline multimedia URL preview, integrated feed reader, people connection tools. Plans for integrating Facebook and other social networks, and for developing a Tweet Advisor feature. Become a fan - http://facebook.com/tweetvisor
We harness the power of social working and blast your thoughts, muses, complaints, frustrations, gloats, rhymes and other flavorful compounds all over the internet.
Echofon (formerly TwitterFox) notifies you of your friends' tweets on Twitter. Syncs with iPhone This extension adds a tiny icon on the status bar which notifies you when your friends update their tweets. Also it has a small text input field to update your tweets.
A great web client that is very light-weight loads very fast and is suitable for both the iPhone and mobile phones.
This easy-to-use iPhone/iPad app combines the power to update 50+ social websites and services (Facebook, Twitter, MySpace, LinkedIn, Tumblr, WordPress, Flickr, Blip.fm…and many more) with geo-location, a smart reading view (to see your friends' last posts) and crazy fun enhancements like the ability to doodle on photos, add music, video…even draw a post freehand! See places of interest (POIs) around you in real-time map view…then use a map snapshot to show where you are in your update! Manage multiple Twitter and Facebook accounts. Post to Facebook Pages separate from your personal profile! Schedule posts by network, and for a specific time and date!
awe.sm is a campaign tracking platform for social media that enables professional publishers and marketers to measure the effectiveness of their efforts in channels like Twitter, Facebook, and MySpace. Customers use awe.sm to instrument the syndication and sharing tools they already use and connect them to existing web analytics solutions. awe.sm also offers proprietary analytics to measure outbound marketing across multiple channels and use- cases, providing customers with a cohesive view of their efforts and the ability to understand their relative effectiveness. awe.sm is designed to be the centerpiece of an open social engagement platform. Through our APIs and work directly with tools developers, we have already begun to create an ecosystem that offers highly configurable end-to-end solutions for marketing content via social media. awe.sm launched in private beta in early May 2009 and currently powers tracking on over 140 domains for customers like Universal Music Group, Fox Broadcasting, and the Gannett Company. Currently integrates with:  * Google Analytics  * TwitterFeed  * AddToAny  * TweetMeme  * Backtype Tweetcount  * Sociable  * fbShare.me  * TweetPo.st  * Twitter Publisher WP Plugin
twhirl is a desktop client for the Twitter microblogging service. Most of the features available on the Twitter website are accessible through twhirl, too. Plus, a lot of usability enhancements have been added. twhirl is based on the new Adobe AIR platform that allows web development techniques to be used to create desktop applications. It is powered by the Flash-based Flex 3 framework, also from Adobe.
Mobile Applications
ÜberTwitter is a company devoted to delivering highly functional Twitter clients for mobile devices. Our first product is ÜberTwitter for the BlackBerry line of mobile phones. We are very excited about the opportunity to provide BlackBerry users with a full featured Twitter client which will include: * Integrated ability to upload pictures to a site dedicated to serving ÜberTwitter users * Ability to optionally update your Google Talk status with your last tweet, making your tweets reach a wider audience then just people following you on Twitter * Automatically update your location based on the cell tower information provided by your phone, no GPS hardware required, click here for an example * Send videos embedded in your tweet * See everyone who is tweeting near you
twidroid is a client application for using twitter or identi.ca on the android mobile platform.
OpenBeak (formerly TwitterBerry) is mobile client for posting updates to Twitter. It works over the data network, so you don't need to use SMS. OpenBeak is the evolution of TwitterBerry, and gives a name that allows the app to grow beyond both the Twitter platform and BlackBerry smartphones.
Echofon for iPhone (Formerly known as TwitterFon) is a simple, clean, easy to use, and is a superfast Twitter client for your iPhone and iPod Touch. It is focused on ease of use and 80% of your daily Twitter tasks, such as see your friends/replies/messages timeline, see favorites, and send/reply a tweet. You can also search tweets, get twitter trends, upload photos to twitpic.com, and update your location information.
  The Twitter client that redefined Twitter clients is back, and it's even better. Rewritten from the ground up with a fast and powerful new core, Tweetie 2 offers the most polished mobile Twitter experience around.  
TwitterRide is a simple and fast Twitter client for Android.
Twitterrific is a fun application that lets you both read and publish posts or "tweets" to the Twitter community website. This premium iPhone version has no ads
A best of breed twitter client for the iPhone and iPod touch, Twittelator Pro features myriad features sure to satisfy even the most seasoned of tweeters. With multiple accounts, inline thumbnails of tweeted photos, record audio and video for upload, geotagging, official RT, list creation, edit and viewing, nearby search, one-tap maps for geotagged tweets, TList list finding integration, advanced and persistent search, customizable Themes that you create and can share, infinite drill down into friends of friends of..., trends, featured, favorites, bookmarks, and even a full-featured web browser. Twitter service integration includes: TwitLonger, TwitShrink, TextExpander, Instapaper, ReadItLater, Google Maps, FollowCost, Favstar, What the Trend?, TweetBlocker, Tweeteorites Media upload support integration includes: Posterous, YouTube, TwitVid, TwitPic, Pikchur, Moby, Yfrog, TweetPhoto, WordPress, TwitLens, TwitGoo  Url shorteners: bitly, piurl, href, ws, is.gd
BlackBerry client for Twitter, Facebook, and Foursquare.
    Discover, connect, and send messages to people nearby. Upload photos and update your Twitter account. Contact old friends and make new ones, all with Twinkle, the location-aware network for the iPhone and iPod Touch.  
Hahlo is a popular mobile Twitter website that works well on any smartphone.  
Trends
Discovering trends, popular topics and popular people by tracking Retweets across Twitter
is to Twitter and FriendFeed what "Who Is" is to web sites and IP addresses. It reveals who you should follow and why – based on relevance and not popularity. SocialWhoIs gives you a snapshot of any given user name with links to their assumed social network profiles, related keyworks/topics, as well as a "home base" link. You can also search tags to identify individuals worth following and potentially engaging.
Twitscoop is Twitter's interface for the rest of us: 1) Receive, send tweets, and find new friends instantly, without ever reloading your page. 2) Search and follow what's buzzing on twitter in real-time. 3) Benefit from useful features you'll find nowhere else. Twitscoop is also available on the iPhone and iPod Touch.
aggregates the latest links from the worlds top tech twitter users.
Search for links on Twitter. Features: supports regular and short URLs, realtime updates, subscriptions (e-mail, RSS), API available
Tweetmeme is a service which aggregates all the popular links on twitter to determine which links are popular. Tweetmeme is able to categorize these links into categories and subcategories, making it easy to filter out the noise to find what your interested in
Social CRM
TwAitter provides a suite of tools to help your business get organized and take control of your message and your brand on Twitter. Get your team of Twitter users from various departments in lockstep using TwAitter's team workflow and multi-account management features. Stay on top of all Twitter communication without missing a beat with "best in class" scheduling tools to get your message out. From language translation to market intelligence, from RSS Twitter feeds to CRM, ... TwAitter is where you tweet when Twitter means business.
The social way to keep track of the businesses you do business with.
Twitter curation and moderation platform for business (media/news/conferences).
CoTweet is a comprehensive Web-based social media engagement, management and reporting solution that helps companies of all sizes engage, track and analyze conversations about their brands across the most popular and influential social communities today, Twitter and Facebook.
Businesses and organizations often have more than one person managing their Twitter accounts, but not everyone should have the same level of access. With MediaFunnel, businesses can manage multiple users and multiple accounts and assign the appropriate role to each user. MediaFunnel lets users with the appropriate permissions schedule tweets for a specific time of day and release tweets gradually over the course of minutes, hours or days.   MediaFunnel also offers the ability for Guests to post to your Twitter streams via our editorial review engine. Guests can contribute via a site widget, SMS or email. More closely engage your audience and fans! Background searches and alerts ensure that you're consistently notified about brand and product mentions. React quickly to any feedback, whether it's positive, negative or neutral.
Socialping is a powerful solution for monitoring, receiving instant notifications, and responding to anything that matters to you on Twitter.
Dlvr.it - You Publish, We Deliver. Dlvr.it provides bloggers, publishers and brands a way to instantly add a blog or any RSS-enabled content to Twitter, Facebook, LinkedIn, Google Buzz and more - Free. Everyday Gigaom, WebMd, Edelman Pr, Reuters, TechDirt, universities, government agencies, thousands of independent publishers and small businesses worldwide trust Dlvr.it to bring their content to their readers across the social web. Each feed can be customized and scheduled so just the right content reaches your fans, friends and followers at just the right time. The dashboard provides insight into ways to improve the social sharing of your content along with monitoring retweets, ranking popular content and tracking reach.
Social Whale is an extended Twitter client that adds a plethora of functionalities. These include the ability to create groups, and user lists with customizable timelines, as well as tagging favorites. Moreover, Social Whale has content preview for media of every type - images, videos and music are supported. In addition to that, Social Whale gives the user the chance to connect with several social networks at once, and post updates simultaneously.
Postling is the complete social media management tool that helps businesses efficiently market and respond to their customers.  We support a suite of social media sites -- including blogs, Twitter, Facebook and Flickr. Within our system, you choose which sites you wish to post to, or schedule posts to publish in advance. Postling allows for collaboration within a business team as well as with clients and for the tracking of comments from multiple social media sites. Users can easily respond to comments and mentions received directly from your Postling dashboard. Managers can use Postling to oversee their teams' or clients' social media content while allowing them to continue using whichever tools or devices they currently use to create that content. Postling helps companies to measure and gauge their return on investment and allows your business to avoid hiring extra help to manage social media accounts and saves hours of time each month.
The Twitter Client for Salesforce. Track twitter IDs for your users, leads, and contacts. Search for tweets. Save a watch list to keep track of your contacts' tweets.
Influence and Resonance
  Flowtown is a social marketing tool for small business. We help businesses engage with their customers and connect with influencers everywhere on the social web by turning email addresses into social profiles including Twitter & Facebook. With that information you can automatically follow customers & prospects on Twitter and create customer list, all from an email!  
Klout measures online influence, giving users a Klout score between 0 and 100. We believe that every individual who creates content online has influence. Our goal is to accurately measure that influence and empower users to better understand and leverage their influence.
At Soovox, your voice is heard by the brands you love and rewarded. It's time for brands to start giving back to their most loyal customers and fans.
Ad.ly is an in-stream advertising platform that matches top-tier Twitter publishers with top-tier brands.  Ad.ly for Advertisers Ad.ly is an in-stream advertising platform that matches top-tier brands with top-tier Twitter publishers. Twitter is a global phenomenon and one of the fastest growing sites with over 52 million users in the US alone. Ad.ly enables advertisers to reach the highly sought after Twitter audience by connecting brands with the most influential people in the community.
PeerIndex is a web technology company that is algorithmically mapping out the social web. The way we see it, the social web now allows everyone endless possibilities in discovering new information on people, places, and subjects. We believe that the traditional established authorities and experts - journalists, academics, are now joined by a range of interested and capable amateurs and professionals. As this locus of authority shifts, many new authorities emerge. PeerIndex wants to become the standard that identifies, ranks, and scores these authorities -- and help them benefit from the social capital they have built up.
Twitority is an authority-based Twitter Search Engine, which serves as an alternative to Twitter's own search engine.
Retweet rank is a representative of the number of times a user have been retweeted by others recently. It lets you find rank of any twitter user. Also, the top ranked twitter users, who have been most retweeted recently, are listed in the leaderboard. They are the once producing most interesting content across the twittersphere.
TunkRank measures your influence by the amount of attention your followers actually give you.
Measures your reach, ranking, engagement and displays it by location
twInfluence is a simple tool for measuring the combined influence of twitterers and their followers, with a few social network statistics thrown in as bonus.
reviews your Twitter account and presents a rich visual analysis of your tweet volume, concentration as well as their resonance (measured by replies) by day, time, week and hour.
Causation
Act.ly takes full advantage of Twitter with a clever new twist on petitions, the stalwart of online activism. Anyone can petition another Twitter user, and people can simply retweet to sign. The targeted person sees all the signatures in their mentions, and can click on the act.ly link to respond immediately. Used by political campaigns, charities and activists of all kinds -- Greenpeace, former presidential candidate Mike Huckabee, Joe Trippi, Governor Granholm, SEIU, PETA, and many more. People are already calling act.ly "brilliant", a "stroke of genius," and "freaking awesome."
Twibbon is the easiest and most powerful way to promote awareness of your cause on Twitter. The service overlays a small icon onto supporters' profile images to create a 'Twibbon', making an impactful online statement. The user's Twitter account automatically tweets to let everyone know about their affiliation. Trending: Check the Trending section on the home page to see what's hot on Twibbon right now. Users can also see the most commonly- used Twibbon tags in the tag cloud or click Trends on the Navigation Bar to see more detailed graph analysis. If you see a popular Twibbon you associate with, why not wear it yourself? Support: Users can use the Navigation Bar to browse a wide range of categories, from political and charitable causes to sports and technology brands. If you have a particular idea in mind, you can use the search box to see if someone has already created a similar Twibbon. Click on a Twibbon to see loads more information about it. Create: Users who are passionate about an issue, organisation or initiative can click the 'Create' button, login via Twitter and quickly generate a Twibbon to attract and recruit similarly minded Twitterers. There are plenty of tips on how to make a great Twibbon on our blog. Who Made Twibbon?: This application was built by storm ideas, a team who are passionate about the immediate and viral power of Twitter, and who believe that there has never been a better time for small groups of talented individuals to affect global change using the web.
TwitCause is a way for Twitterers to support nonprofit causes they care about on Twitter. It's also a tool to enable nonprofits to get discovered on Twitter. TechCrunch and the Washington Post called TwitCause a "Causes for Twitter" referencing the popular Causes application on Facebook.
Global events organised *by* twitterers *for* twitterers. Connecting amazing people on one day for a great cause.
How To use this Map:
Clicking on the + sign will open a new node
The notepad icon includes relevant notes pertaining to the mentioned Twitterverse tool. Hover over it to read it.
Exactly!  Well done. :)