6 Steps of Goal Setting and Achieving
by
Amita Gandhi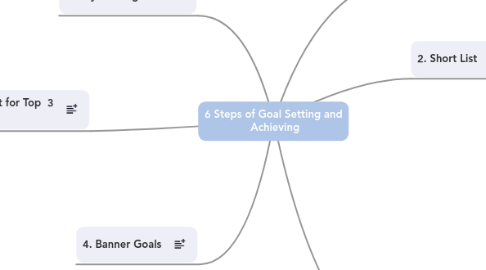 5.0
stars -
8
reviews range from
0
to
5
6 Steps of Goal Setting and Achieving
1. Priority Areas of Life
List goals in each of the eight priority areas of life.
Physical
Mental
Family
Spiritual
Lifestyle
Relationships
Business
Financial
2. Short List
Narrow them down to your Top 10 overall goals  and set deadlines next to each goal.
3. Scrubbing SMART and Balanced
Are the goals completely S.M.A.R.T.? Let's check and adjust accordingly.
S - SPECIFIC specific means well defined, something that would be clear to anyone else.
M - MEASURABLE To determine if your goal is measurable, ask questions such as, How much? How many? How will I know when it is accomplished?
A - ATTAINABLE What could you do and control the outcome to if you played at world class level?
R - RELEVANT Goals you set align with the core values, your mission and support the vision you have for your life?
T - TIME SENSITIVE Deadlines create a challenge and people respond in dramatic fashion to the challenge of deadlines.
4. Banner Goals
  Sometimes we pursue too much and achieve too little. It's hard to chase multiple rabbits. Let's prioritize your goals into your Top 3 goals.  
5. Habit Assessment for Top 3 Goals
List answers of all the questions for each goal
1. General description of WHO I NEED TO BECOME
2. New habits, disciplines or behaviors I need to START
3. Existing healthy habits, disciplines or behaviors I need to EXPAND:
4. Poor habits or behaviors I need to STOP
5. Top three modifications and how I will implement it into my daily routine HABIT, BEHAVIOR OR DISCIPLINE V/S IMPLEMENTATION IN ROUTINE
6. Rhythm Register
Maintain weekly, monthly or yearly rhythm register to measure your goal.