STRATEGY MONITORING
by Ewin zamia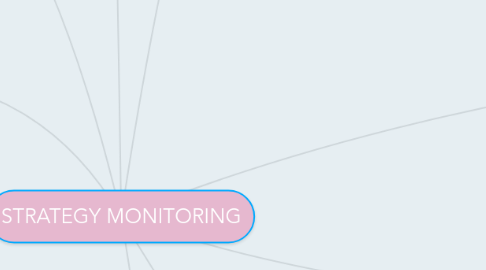 1. The balances scorecard
1.1. Aim
1.1.1. To balance between shareholder objective with customer and operaational objective
1.2. Evalution strategies
1.2.1. Financial performance
1.2.2. Customer knowledge
1.2.3. Internal business processes
1.2.4. Learning and growth
1.3. Key issues
1.3.1. Customer
1.3.2. Manager/employees
1.3.3. Operations/processes
1.3.4. Community/social responsiblity
1.3.5. Bussiness ethics
1.3.6. Financial
2. Nature of strategy evaluation
2.1. Three basis activities
2.1.1. Examine strategy
2.1.2. Compare result
2.1.3. Take corrective action
2.2. Strategy evaluation
2.2.1. Long run focus
2.2.2. Short run focus
2.3. Criteria for evaluation strategy
2.3.1. Consistency
2.3.2. Consonance
2.3.3. Feasibility
2.3.4. Advantage
2.4. Trends limitation
2.4.1. Environment's complexity
2.4.2. Difficult predict future with accuracy
2.4.3. Number of variables
2.4.4. Obsolescene of even best plan
2.4.5. Domestic and world events
2.4.6. Time span planning with any certainty
2.5. Problem facing management
2.5.1. How to control employee effective
2.5.2. How to ensure empowered employee not putting company at risk
2.6. Process of evaluation strategies
2.6.1. Initiate managerial questioning
2.6.1.1. expectation
2.6.1.2. assumption
2.6.2. Stimulate creativity
2.6.2.1. Generate alternatives criteria of evaluation
2.6.3. Management wandering around all levels
2.6.4. Continue basis
2.6.4.1. Monitor benchmark effectively
2.6.4.1.1. Aware progress that be made
2.6.4.1.2. Corrective action
2.6.5. Involve manager and employee
2.6.5.1. Commited to achieve objective
3. Strategy Evaluation Framework
3.1. Reviewing Bases of Strategy
3.1.1. Developing EXTERNAL FACTOR EVALUATION (EFE)
3.1.1.1. Focus on opportunities and threats
3.1.2. Developing INTERNAL FACTOR EVALUATION (IFE) based on changes in
3.1.2.1. Organization's management
3.1.2.2. Marketing
3.1.2.3. Finance and accounting
3.1.2.4. Production and operation
3.1.2.5. R&D
3.1.2.6. Management information systems strength and weaknesses
3.2. Measuring bases of strategy
3.2.1. Activities
3.2.1.1. Comparing expected results to actual results
3.2.1.2. Investigating deviations from plans
3.2.1.3. Evaluating individual performance
3.2.1.4. Examining progress being made toward objective
3.2.2. Strategy evaluation criteria
3.2.2.1. Quantitative
3.2.2.1.1. Use to compare the firm performance
3.2.2.1.2. Annual objective
3.2.2.2. Qualitative
3.2.2.2.1. Factors
3.3. Taking corrective action
3.3.1. Final strategy evaluation
3.3.2. Benefit
3.3.2.1. Keep organization on track toward achieving objective
3.3.2.2. Raises employees annd manager anxieties
3.3.2.3. Place orgaanization in better position to
3.3.2.3.1. Capitalize internal strength
3.3.2.3.2. Take advantage external oppurtunities
3.3.2.3.3. Avoid, reduce or mitigare external threats
3.3.2.3.4. Improve internal weakness
3.3.2.4. Strengthen on organization's competitive position in its basic industry
3.3.2.5. Resistance to change not easily overcome by rational argument
3.3.2.5.1. Overcome by creating situations of participating and full explaination when changes are envised
4. Published sources pf strategy-evalution information
4.1. Key attributes evaluation criteria
4.1.1. People management
4.1.2. Innovativeness
4.1.3. Product quality
4.1.4. Financial soundness
4.1.5. Social responsibility
4.1.6. Use of assets
4.1.7. Long-term investment
4.1.8. Global competitiveness
4.1.9. Quality of management
4.2. Focus primarily on large, publicly held business
5. Characteristics of an effective evaluation system
5.1. Strategy evaluation activities
5.1.1. Must be economical
5.1.2. Should be meaningful
5.1.3. Should provide timely-information
5.1.4. Frequent measurement
5.1.5. Provide true picture of what is happening
5.1.6. Fairly potray type of situation
5.2. Strategy evaluation process
5.2.1. Not dominate decision
5.2.2. Simple, not to restrictive
5.2.3. More elaborated and detail
5.2.4. Convice participant
6. Contigency planning
6.1. Benefits
6.1.1. Quick respon to change
6.1.2. Prevented panic in crisis situations
6.1.3. Made managers more adaptable
6.2. Alternative plan that can be put into effect if certain key events do not occur as expected.
6.3. Process:
6.3.1. Identify both good and bad events that coulld jeopardize strategies
6.3.2. Determine when the good and bad events are likely to occur
6.3.3. Determine the expected pros and cons
6.3.4. Develop contingency plan
6.3.5. Determine early warning trigger points key contingency events
7. Auditing
7.1. A systematic process of objectively obtaining and evaluating evidence regarding assertions about economic actions and events
7.2. Advantages of IFRS
7.2.1. Simplify accounting
7.2.2. Easier for investors to compare firms across country
7.2.3. Easier to raise capital globally
7.3. Disadvantages of IFRS
7.3.1. Too costly
7.3.2. International body has the authority to write accounting rules
7.3.3. Pay higher taxes because of some accounting treatmment
8. 21-st Century Challenges in Strategic Management
8.1. The art or science issue
8.1.1. Art
8.1.1.1. Suggest that strategic decision making based on holistic thinking, intitution, creativity and imagination
8.1.1.2. Informality
8.1.1.3. Strategy planning as emergent process
8.1.2. Science
8.1.2.1. Reject strategy based on emotion, hunch, creativity and politics
8.1.2.2. Formality
8.1.2.3. Strategy planning as deliberate process
8.1.3. It is not wise to rely too much on gut feeling and opinion instead of research data, competitive intelligence and analysis
8.2. The visible or hidden issue
8.2.1. Visible (More preferable in business organization)
8.2.1.1. Reasons to be visible
8.2.1.1.1. The whole organization can be readily contribute to the process- Many ideas.
8.2.1.1.2. Investors and creditors will support more.
8.2.1.1.3. Promotes democracy.
8.2.1.1.4. Enhance understanding, commitment and communication within the firm
8.2.2. Hidden (Inhibit employee and stakeholder communication and commitment)
8.2.2.1. Reasons to be hidden:
8.2.2.1.1. Turn into competitive intelligence for rival firms.
8.2.2.1.2. Limits criticism, second guessing and hindsight.
8.2.2.1.3. Rival may lure the participants away.
8.2.2.1.4. Limits imitating or duplicating firm's strategies.
8.3. The top-down or bottom-up approach
8.3.1. Top-down approach
8.3.1.1. Only top executives
8.3.1.2. Make strategy decisions.
8.3.2. Bottom-up approach:
8.3.2.1. Lower and middle-level managers and employees
8.3.2.2. Involved in formulating the strategies.
8.3.3. Strategists must reach a working balance of two approaches.
8.3.4. Low and middle-level should participate
8.3.4.1. Increased education
8.3.4.2. Diversity workforce