GREENHOUSE EFFECT. CLAUDIA AND LAURA
by claudia cobera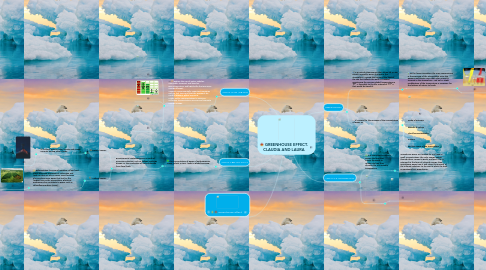 1. WHY IT'S IMPORTANT
1.1. It is important because it causes the heat that enters the Earth to remain and can then develop life at a suitable temperature.
1.1.1. Greenhouse gases are needed for our keep in small concentrations: the solar energy passes through them, comes to Earth, and part of it, is returned, in the form of infrared energy; then greenhouse gases trap it and retain the warmth of the infrared radiation, to the way in which the heat is maintained in a greenhouse.
1.2. .
1.2.1. .
2. WHAT CAN WE DO
2.1. Reduce the use of motor vehicles. Use public transport and bicycles. Buy refrigerators and light bulbs that are more energy-efficient. Support environmentally important measures such as fuel taxes and that the proceeds be used to prevent global warming. Lobby public representatives to improve collective transportation services and promote energy savings.
2.1.1. .
2.1.2. .
2.1.3. .
3. WHAT LED US TO IT
3.1. The concentration of gases of anthropogenic origin. Which, in turn, leads to global warming.
3.1.1. Environmental contamination as a result of economic activities, such as tailings, garbage dumps, or the production of carbon dioxide from fossil fuels.
3.1.1.1. Natural causes:
3.1.1.1.1. Volcanic activity, solar activity and ocean currents, among other things.
3.1.1.2. Artificial causes:
3.1.1.2.1. Deforestation, burning of gasoline, oil and coal. There are some processes of cultivation and land use that are also a cause. Most factories also produce many gases that last for the longest time in the atmosphere. Electrical appliances also contribute to gases such as chlorofluorocarbons (CFCs).
4. DEFINITION
4.1. Is a natural phenomenon that allows life on our planet; caused by gases that are in the atmosphere, causing that some of the heat of the sun that reflects the Earth is trapped maintaining the average global temperature in 15 º c, favorable to the life, instead of -18 º c, that would be harmful.
4.1.1. But in larger quantities, the main consequence is the warming of the atmosphere, since the gaseous pollutants cause that solar energy is trapped in the atmosphere. And only a slight modification of the temperature is necessary for the balance of nature to break.
4.1.1.1. .
4.2. It´s caused by the increase of the concentration of gases as:
4.2.1. .
4.2.2. oxide of nitrogen
4.2.3. dioxide of carbon
4.2.4. clorofluorocarbonados
4.2.5. metane
4.2.6. and the ozone of the troposphere
5. Greenhouse effect.