IRIS - Feminist Guerrilla Video from the Twin Cities
by Angi Gass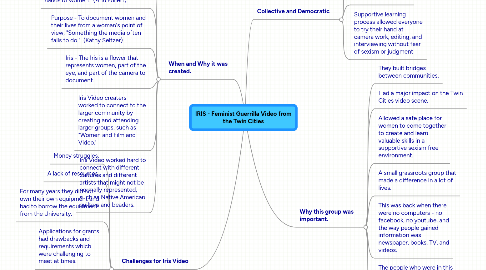 1. Why this group was important.
1.1. They built bridges between communities.
1.2. Had a major impact on the Twin Cities video scene.
1.3. Allowed a safe place for women to come together to create and learn valuable skills in a supportive sexism free environment.
1.4. A small grassroots group that made a difference in a lot of lives.
1.5. This was back when there were no computers - no facebook, no youtube, and the way people gained information was newspaper, books, TV, and videos.
1.6. The people who were in this group have strong feelings about the value of their time spent working on Iris Video.
1.7. They were the beginning of a newer feminist movement, beyond the leftist movement after Vietnam, which was still sexist.
1.8. Women Helping Women!
2. Collective and Democratic
2.1. Weekly Meetings
2.2. Decisions were made collectively
2.3. Supportive learning process allowed everyone to try their hand at camera work, editing, and interviewing without fear of sexism or judgment
3. When and Why it was created.
3.1. Iris Video began in the early 1980's at the University of Minnesota video access center as an all woman feminist alternative to the male dominated video world.
3.2. Iris Video Mission - "The mission of Iris Video was specifically to put the communication tool of video into the hands of women." (Ann Follett)
3.3. Purpose - To document women and their lives from a woman's point of view, "Something the media often fails to do." (Kathy Seltzer)
3.4. Iris - The Iris is a flower that represents women, part of the eye, and part of the camera to document.
3.5. Iris Video creaters worked to connect to the larger community by creating and attending larger groups, such as "Women and Film and Video.'
3.6. Iris Video worked hard to connect with different cultures and different artists that might not be normally represented, such as Native American quilters and beaders.
4. Challenges for Iris Video
4.1. Money struggles.
4.2. A lack of resources.
4.3. For many years they did not own their own equipment and had to borrow the equipment from the University.
4.4. Applications for grants had drawbacks and requirements which were challenging to meet at times.
4.5. Cultural differences were not always well understood when focusing on smaller artistic groups.
4.6. People were judgmental and suspicious of what these women were trying to accomplish.
4.7. Men were not allowed.