UWC
by
Steve A Hickey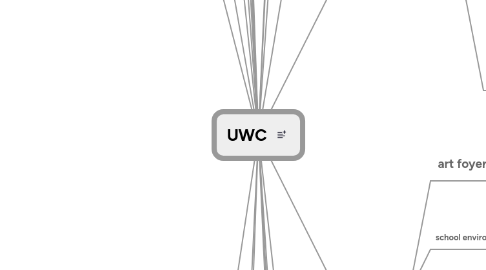 0.0
stars - reviews range from
0
to
5
UWC
The Red Cross Nordic United World College (RCNUWC), founded in 1995, is the ninth member of the family of United World Colleges. Patrons of the college and the movement include Nelson Mandela, Her Majesty Queen Noor of Jordan and Queen Sonja of Norway . The first college, Atlantic College, was established by the German Educationalist Kurt Hahn to promote international understanding and peace. The size of the colleges varies between 200 (Pearson, Nordic and Adriatic) and more than 2000 (South East Asia). Students are selected from 135 nations by National Committees or selection contacts on merit and many receive full scholarships. Students at the college are eligible, after graduation, to participate in the Shelby Davis Scholarship programme, which funds undergraduate study (based on need) for UWC students at many US universities. RCNUWC is located on the remote shores of Flekke in the municipality of Fjaler, Western Coastal Norway at approximately 61°19′58″N 5°20′08″E /...
equipment
palette stands - can be built into a sink top of a cupboard with a drip tray using the concept in the picture attach this can also be installed later
Mark can build these
water pots large and small
palettes
some art school easels
variety all styles and types of brushes, sets of flat brushes, and sets of round 4-0 fine brushes
oil paints
canvas
water color paints
drawing
food dye in powder form
Papers, colored, cartridge, etc
TA to over see and mansge with all teachers involved with safe use rules
acrylic artist student grade
acrylic mediums
workstation clay boards 100
Courses
IGCSE Graphic Design
FIB
11/12
MS
1SLR Nikon d90 and Cannon a3
Photography
small room next to photo studio
room 1 converted to control room - glass widow through to the photo studio? - unsure whether this is needed
unsure if we will go ahead of this
Elem room Andrew
taller heavy duty wooden top tables if possible
need to convert some of the ones we have - easy job for Mark
this is a wet environment(electrical safety)
keep an eye on this at all times - look for dangerous items
floor drainage if possible
clay trap in sinks
Mark can make this to a design I have
deep sink to floor
consider this some more with the others - will need a trap as well
pug mill
plaster slab table
Kiln
Drying room
tools
wheels 3-4
we need to get these going after school - Rebecca maybe?
room 1
room 2
room 3
room 4
room 5
Elem room Margot
materials
clays
equipment
Research Summary for Classroom Context The goal of an open-ended learning environment is "to immerse learners in rich experiences, using various tools, resources, and activities with which to augment or extend thinking" (Hannafin, Hill, & Land, 1997). An ideal learning environment is structured to support student learning and growth physically, emotionally, and developmentally. Elements such as effectively structured time, carefully arranged space, and thoughtfully chosen materials are the basis for classroom management. Providing choice-based learning centers allows the teacher to respond to student needs and key in on teachable moments. TIME Established routines, such as having students sit in "listening seats" at the beginning and ending of class, provide "a similarity of environment (actions, feelings, formats, routines) that keys students into their environment" and "turns on their operators for that particular kind of activity" (Saphier & Gower, 1997). The effective use of starting time (for new material and review) and ending time (for review and assessment) targets students' ability to remember what happens at the beginning and end of a class period (Saphier & Gower, 1997). In the choice-based art classroom, students are invited to structure time to fit the needs of their learning styles and the work that they have chosen (Baker, 2001; Ediger, 1999). Hart (1983) writes, "Where the setting offers mastery with a good deal of freedom of choice, students will...take on surprising risks, and often make good on them. But the setting must allow the time and continuity the projects require. Conversely, students held to short efforts that can be completed within a factory-school time frame are being effectively prevented and discouraged from building experience in undertakings that demand more planning, dedication, and perseverance, qualities normally regarded as of high value." The teacher plans for whole-class, direct instruction to be brief, leaving more time for the students to work (Douglas, 1993). SPACE The arrangement of space is of great importance in the choice-based classroom (Cyert; Szekely, 1988; Ediger, 2001; Baker, 1999, Johnson et al, 1990). As New (1993) states, "The environment informs and engages the viewer." Saphier & Gower (1997) discuss observations made in effective classrooms, where every inch of space is used productively and the design encourages positive student activity, organized traffic patterns, and a comfortable noise level. An orderly environment helps students to achieve more optimally. The teacher needs to evaluate the learning environment continually and make any changes necessary to motivate student learning (Ediger, 1999). New (1993) writes, "Other supportive elements of the environment include ample space for supplies, frequently arranged to draw attention to their aesthetic features...clearly designated spaces for large- and small-group activities...designed to encourage playful encounters. It is no wonder that Reggio Emilia teachers refer to the environment as OUR THIRD TEACHER."   MATERIALS The organization of materials is a key component of the choice-based classroom (Szekely, 1988; Douglas, 1993; Perrone, 1989; Ediger, 1999). Perrone (1989) explains, "Children know what learning materials--paint, brushes, wood ...--are available and where they are stored as well as understand that they have virtually complete access to them. If children must ask permission to use the items, which usually involves waiting, or do not know what is available, they may well lose interest or have limited opportunities for exploring new areas. It should be noted, too, that the children do things for themselves--mix paints, clean brushes. ... These simple chores are part of the process of earning self-reliance and responsibility." Materials that the students use should be visibly stored and accessible to facilitate efficient getting and putting away (Saphier & Gower, 1997). "Concrete materials stimulate and motivate pupil learning" (Ediger, 1999). "Students who are given the responsibility to select their own materials and tools are more resourceful as they develop competence and skill through exploration of the materials" (Linderman, 1974). All materials should be usable independently after minimal introduction (Lowenfeld, 1987; Smith, 1995; Douglas, 1993). The classroom is organized around various learning centers (Douglas, 1993; Baker, 2000; Ediger, 1999). Learning center experiences also help children develop a sense of responsibility, as well as problem-solving and decision-making skills. The multiple techniques and methods used in centers accommodate different learning styles. At centers, children have a chance to collaborate with others and to work with a variety of materials and activities. Children plan, select, and assess their learning (Baker, 2000). "Semi-concrete materials (illustrations, slides, videotapes, filmstrips, CDs, computer software and personal computers) as well as films should also be located at each station" (Ediger, 1999). Centers contain menus, adult exemplars, and student exemplars (Saphier & Gower, 1997; Douglas, 1993; Ediger, 1999). INSTRUCTION "In teaching art to children the most important element is the teacher, for the teacher has the important task of providing an atmosphere conducive to inventiveness, exploration, and production" (Lowenfeld, 1987). By providing direct instruction through a demonstration accompanied by explanation and visuals, teachers are able to appeal to a variety of learners (Gardner, 1990). "Educators who teach in a constructivist manner respond to students and help them make connections and foster expanded knowledge by encouraging analysis and interpretation through open-ended questions and student dialogue" (Brooks & Brooks, 1993). In choice-based classrooms, experiences are varied and open-ended (Linderman, 1974; Lowenfeld, 1987; Baker, 2000). They provide ample opportunities for student learning, allow for individual differences and learning styles, and are, by their nature, developmentally appropriate (Ediger, 1995; Baker, 2000). CHOICE A student-centered approach to teaching "enables individuals to address their unique learning interests and needs, examine content at multiple levels of complexity, and deepen understanding" (Land, 1996). Flowerday and Schraw's phenomenological study about teacher beliefs in instructional choice indicates that teachers strongly support choice as a way to improve "affective response by increasing students' ownership, interest, creativity, and personal autonomy." A number of proponents of choice-based teaching and learning have made this claim (Deci, 1992; Kamii, 1991; Kohn, 1993). The philosophy of learning station use is that students will achieve more if they may choose what to pursue and what to omit (Ediger, 1999). As Eisner (1999) writes, "We are the shapers of the environment, stimulators, motivators, guides, consultants, resources. But in the end, what children make of what we provide is a function of what they construe from what we offer. Meanings are not given, they are made."  
k-5
6-8
9-10
11/12
workshop
decor
safety and art
set up a routine with the TA to do a scan daily and deeper one weekly
art foyer
school environment
gallery
Display herd (movable cubicles that can be wheeled all over the college
artist in residence
international art prize
art curriculum training events
Web presence for student work
publication of student work
generalist art with ceramics
HS - Lawrence McGrath
Elementary specialist - Margot Marks
Elementary specialist - Andrew Mockett
MS - Head, Sarah
HOD - Steve HIckey
TA - Mark Kauffman 2013 August
main materials
Lockable spaces and shelving designated by sector
dicuss - partially there
have a shop style counter in one wall and a shelf with access both sides (inside store and into public access) that also can be locked on the outside - make dispensing easier - the double access shelf can be used to make materials available and accessible to students and restocked as necessary
discuss once we know the rooms
Do we need more than one?
discuss with Sarah - there is storage in the rooms - favour one major store shi
Flat screen tv
Shelves
DVD player
Apple tv?
Digital wireless projector
oen on a trolley?
Starbuck style chairs (some 5?)
Sculpure fabrications 3D...
Where
What
Who
How