BE STUPID CAMPAIGN
by
whitney hartwig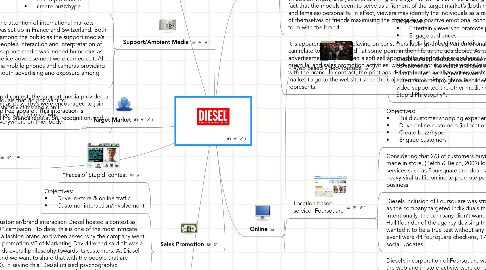 0.0
stars -
0
reviews range from
0
to
5
The fashion industry exists as a dog eat dog world, forcing brands to use a no-bounds approach to capture the intended market.  Diesel is one brand that cut through the red tape, threw out the notion of ethics, and involved the public to challenge the 'smart' stereotype- stirring up trouble all along the way.  The successful execution can be attributed to Diesels conversational advertising approach as new media facilitated relational communication through foursquare, social media networks, web based video, and website interactivity features. The viral activity was then supported by press, outdoor, and in-store promotional activity to achieve maximum exposure and response. Utilising all of these media outlets Diesel executed a strong integrated marketing campaign and as you will find out they did it as fierce as their models on the catwalk...
Sales Promotion
Individuals would head to one of 31 participating Diesel stores receiving stickers that read "BE STUPID". The participants were instructed to place the stickers on their forehead, take a picture, and write about a stupid story answering the question "what is the stupidest thing you've ever done that had led to something positive?" The picture and story were then submitted to the Faces of Stupid website. Contestants would then be entered to win exotic prizes such as cutting a record in Jamaica or swimming with sharks off South Africa.
Objectives: • Drive in-store & online traffic • Customer interaction/involvement
In an effort to shakeup the customer/brand interaction Diesel hosted a contest as a spin-off to the "BE STUPID" campaign. To date, this is one of the most intricate campaigns implemented by a fashion brand and when asked why the company went to such great lengths for the promotion VP of Marketing David Ireland said "it was a natural extension of the brands overall philosophy towards its customers. At Diesel we live the lifestyle we sell, and we want to share that with the people that are fans of the brand"(Lee, 2010). In saying this, Diesel utilised psychographic targeting through offering incentives appealing to the audiences lifestyle.
It is apparent Diesels objective is to foster an authentic relationship with customers as this contest, along with the various campaign efforts, provide social gratification among the target market. This is effective as all too many brands use stereotypical means of reaching the public. In this case, however, an experiential opportunity is created and rewarded through activities reflective of the 'Diesel people' making participation naturally appealing not forced.
Print
Objectives: • brand building/showcasing brand identity • brand awareness • brand recognition
Print media, the most traditional form of advertising, remains a dominant means for brands to raise awareness and reach specific demographics. It is a high-involvement media as the reader invests effort in seeking and reading the content and advertisements (Belch & Belch, 2009). Recognizing this, Diesel strategically chose magazines reflective of the brand and target market such as GQ and Vogue to ensure maximum exposure. These magazines provided geographic selectivity, extensive penetration, permanence, and prestige whilst working in unison with other campaign elements to bring attention to the brand.
The print ads are visually arresting to break through the high clutter existing in modern media. The copy is bold and eye catching as the imagery and font are vivacious, bright, and youthful allowing the slogan to stand out. Also alluring, is the fact that the models seem to serve as a figment of the target market's (both male and females) personality. In effect, viewers may identify the individuals as a reflection of themselves or friends maximising the chance for a positive emotional connection to form with the brand.
It is apparent Diesel was playing on consumers feelings through an emotional appeal as everyone can relate to "being stupid" at some point in their life as the ads depict. As such, the print advertisements represented a soft sell approach to support the more heavily executed viral, guerrilla, and sales promotion activities, which aimed for more interaction/customer involvement with the brand. In contrast, the print ads did not feature a call to action (such as directing the market to go to the website) since the objective was to simply showcase what and who Diesel represents.
Online
Geographic targetting was executed as Foursquare users who checked in within a three-city block radius of the flagship New York Diesel store were alerted of a special promo at this location. As a one-day event, those who checked in the Diesel venue received a free specially printed t-shirt in red or purple. Within the first hour 4 people had responded via the Foursquare promo.  
Websites
In France, buildings and sidewalks were spray painted with the 'be stupid' slogan and t-shirts hung from clotheslines between trees, on storefronts, and on bus shelters in the central city. In Switzerland two different ice sculptures were randomly placed in the busy city-one with a t-shirt and the other with a pair of jeans. After staring at the ice sculpture and reading the BE STUPID slogan, individuals began aggressive efforts to retrieve the clothing. People threw the big block on the ground, poured hot coffee on it, and attacked it using a hammer and axe. All the while onlookers recorded the action via mobile phones, cameras, and videotapes providing Diesel with free advertising through these mediums and word of mouth. Similar to the faces of stupid contest, the support media provided a sense of social gratification as passerby's were encouraged to join in on the action to retrieve free apparel. This interaction is memorable and increases the brands reputation, recognition, and awareness. 
Objectives: • Brand awareness • Brand recognition/recall • Brand preference • create buzz/hype
In an attempt to capture the attention of international markets support/ambient media was set up in France and Switzerland. Both attempts created arousal among the public as the support media's effect depended on the people's interaction and interpretation of the ads. The result of the support media was indeed humorous as vicious attacks to break the ice-advertisement were carried out. All the action was recorded via mobile phones and cameras providing Diesel with free word of mouth advertising and exposure among mass audiences.
Similar to the faces of stupid contest, the support media provided a sense of social gratification as passerby's were encouraged to join in on the action to retrieve free apparel. This interaction is memorable and increases the brands reputation, recognition, and awareness.
History
Considering the companies humble beginnings, Renzo Rosso founded Diesel in 1978 surrounding himself with a team of visionaries on a mission to bring to life his dream. This involved creating an apparel line for independent people who take the so called "road less travelled" in life, expressing their individuality by the way they dress. The design team, headed by Creative Director Wilbert Das, reflects Rosso's intended market as they discard 'style-dictators and consumer forecasters' allowing their individual tastes to lead them in all that they do. These Diesel "people" (making up the creative design team) have cemented a reputation for their unconventional work methods and as a result, they have been profiled in countless media and have been studied by international consulting organizations and universities over the years. In retrospect, the campaign in focus reflects Diesel's inimitable corporate culture as the images and slogans feature the unconventional theme, which defines the company's very purpose and being.
Direct: Energie & GStar
Indirect-Jeans&Urnban Clothing industry: Levi's, Lee, Miss Sixty, Calvin Klein
New Popular brands:Seven for All Mankind,Blue Cult, True Religion, Chip&Pepper, Citizen of Humanity, Rock and Republic, Stitch's and Yanuk
As Diesel's jeans target market is males aged 18-30 it is rewarding to know the company ranked #2 in the top 10 mens fashion brands(click on link to see).
Strategic Planning for BE STUPID Campaign
Proof of Planning: Even though Diesel manufactures street clothing the brand itself is regarded as a fashion brand- recent polls ranked Diesel No.15 among worldwide luxury brands-above Lancome, Armani, Bose, Calvin Klein, and Ralph Lauren (Fort, 2005).    Diesel's strategic planning has set the company above exclusive brands and with a presence in over 80 countries, and more than 300 mono-brand stores i'd say Diesel is fierce competition.