Daintree Rainforest -what would it be like?
by maria dacre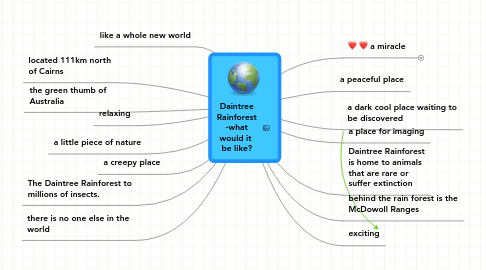 1. a miracle
1.1. New node
2. like a whole new world
3. exciting
4. there is no one else in the world
5. a peaceful place
6. relaxing
7. a place for imaging
8. a little piece of nature
9. a dark cool place waiting to be discovered
10. a creepy place
11. the green thumb of Australia
12. located 111km north of Cairns
13. behind the rain forest is the McDowoll Ranges
14. Daintree Rainforest is home to animals that are rare or suffer extinction
15. The Daintree Rainforest to millions of insects.