PAGES Free Online
by mis libros escondidos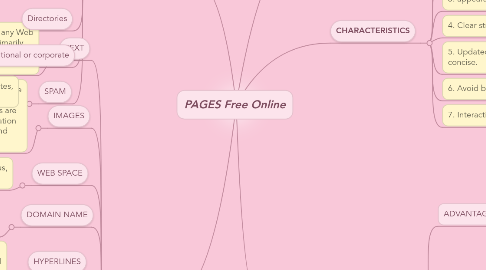 1. WHAT IS IT?
1.1. It is a document or electronic information capable of containing text, sound, video, programs, links, images, and many other things, adapted for the call World Wide Web (WWW) and that can be accessed through a browser.
2. CHARACTERISTICS
2.1. 1. utility.
2.2. 2. Ease of navigation.
2.3. 3. appearance.
2.4. 4. Clear structure.
2.5. 5. Updated information, simple, credible and concise.
2.6. 6. Avoid bad habits
2.7. 7. Interactivity.
3. ELEMENTS
3.1. TEXT
3.1.1. Text is the most significant element of any Web site because users browse the Web primarily searching for information expressed in hypertext
3.2. IMAGES
3.2.1. Although you should not abuse images because of the risk of increasing the weight of the page, and therefore download times. The images are an essential element to offer visual information of the content and to show an attractive and personal design.
3.3. WEB SPACE
3.3.1. In order for our website to be visible to all of us, we need to place it on a server.
3.4. DOMAIN NAME
3.4.1. The domain name is the first part of a Web address that identifies the server that stores and serves your site.
3.5. HYPERLINES
3.5.1. By itself, a Web page can not do much. The magic of truth begins when you relate several pages through links.
3.6. VIDEO
3.6.1. While the Internet is becoming more affordable, reliable and fast, video editing programs become closer to users. Now it is easier to make a video from a digital camera or a mobile phone with built-in camera and end up uploading the web to make it available to everyone.
3.7. ANIMATIONS IN FLASH
3.7.1. It is an animated image, easy to create and above all it takes little memory. It has different uses, from the creation of cartoons to the display of interactive drawings.
3.8. SOUNDS
3.8.1. An increasingly important element. The marketing of new mobile digital devices such as the iPhone has boosted this element. In addition to incorporating sound on the Web page you can download audio files for your mobile devices. The MP3 format is the best known and most used for its quality and compression level.
4. ADVANTAGES AND DISADVANTAGES
4.1. ADVANTAGES
4.1.1. Web pages have the prime advantage that anyone from all over the world can raise opinions on thematic.
4.1.2. you can put valuable information about something you researched and so the website would become famous.
4.1.3. The web pages are means of communication that allow the user that enters the same, communicate with a content and also can put their opinion in a comment and thus interact with other people.
4.1.4. It is possible to be aware of what is published on a website through social networks, such as Twitter or Facebook, among the best known.
4.2. DISADVANTAGES
4.2.1. The main disadvantage of web pages is that anyone in the world can upload information that is not true simply because it benefits in some economic or social sense.
4.2.2. Web pages have the disadvantage that people do not go into the content when they have to search a lot of information, but among so many websites with different data, is confused and looking for what they need in a very superficial way.
5. TYPES OF OFICCIALS
5.1. PERSONAL
5.1.1. like your name of the dice, sites of your website where they express the themes of a person in the defect of the theme of a group.
5.2. BLOG
5.2.1. It is usually known as blog, where articles are published referring to a market segment
5.3. FORUMS
5.3.1. They are website of discussion or dialogue, where it is verified and between the members respond.
5.4. E-commerce
5.4.1. Are the sites dedicated to the sale of products and / or services, usually known as online stores.
5.5. Directories
5.5.1. You can tell your child as virtual catalogs, which are shown hyperlinks to other web pages.
5.6. Institutional or corporate
5.6.1. They are the sites built to give a particular brand projection.
5.7. SPAM
5.7.1. So sites that are built to position other sites, your information is worthless