Garland Romua Browsers 2011
by
Garland Romua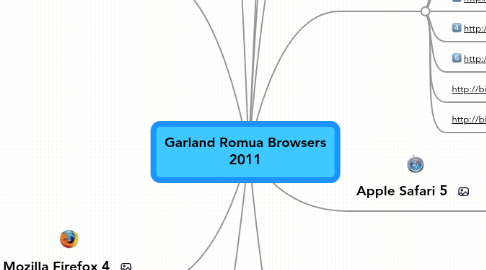 0.0
stars -
0
reviews range from
0
to
5
Garland Romua Browsers 2011
Opera 11
Pros:
Cons:
Google Chrome 9
Cons:
Apple Safari 5
Cons:
Mozilla Firefox 4
Cons:
Explorer9
Cons:
Define: Browser:
Short for Web browser, a software application used to locate and display Web pages. The two most popular browsers are Microsoft Internet Explorer and Firefox. Both of these are graphical browsers, which means that they can display graphics as well as text. In addition, most modern browsers can present multimedia information, including sound and video, though they require plug-ins for some formats.
Sources
minimum 5 sources, only most recent versions as shown:
http://bit.ly/f8ensL
http://bit.ly/9ds3L2
http://bit.ly/9c8aaX
http://yhoo.it/fysyKk
http://bit.ly/dlpITM
http://bit.ly/eLg8NV
http://bit.ly/9MumLU
Define: HTML5
In theory, HTML 5 will allow the Web browser to become a development platform. A primary goal for HTML 5 is to ensure interoperability among browsers so that Web applications and documents behave the same way no matter which HTML 5-compliant browser is used to access them
HTML 5 is the next revision of the Hypertext Markup Language (HTML), the standard programming language for describing the contents and appearance of Web pages. HTML 5 was adopted by the new HTML working group of the World Wide Web Consortium (W3C) in 2007. This group published the first public draft of HTML 5 in January 2008, but refinements are expected to continue for several years before HTML 5 becomes a formal recommendation.
Marketshare
To Flash or Not to Flash