Amber Cook Browsers 2011
by Amber Cook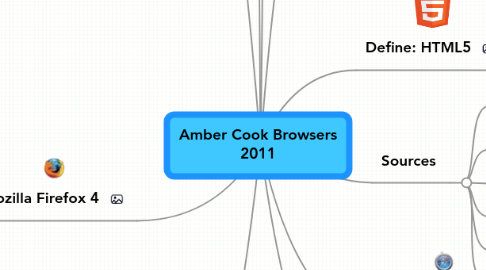 1. Google Chrome 9
1.1. Pros:
1.2. Cons:
1.2.1. 1
1.2.2. 2
2. To Flash or Not to Flash
3. Marketshare
4. Mozilla Firefox 4
4.1. Pros:
4.1.1. The New Panorama View Heavy, internet-users who have several tasks going on while browsing like research work on 4 tabs, finding new music in 3 tabs and mailboxes opened in 2 tabs won't have any problem now, they will no more get confused. Firefox now supports piling up tabs into groups, you rename the groups. This feature is good and needs little bit stress-testing. You can create groups by clicking the panorama button next to minimize button.
4.1.2. Thumbnails, You can now also turn on "Thumbnails in the taskbar for each tab", this feature is already available in IE 8 and above, and makes switching tabs when in other apps real fast.
4.2. Cons:
4.2.1. Some Windows 7 Based Features, Firefox 4 Beta 9 has adopted the default application style of Windows 7, it has hidden the menu bar, and an orange Firefox button provides the most used options grouped in a descent way. Though the buttons need to be bigger so that the correct button is pressed when in rush.
4.2.2. though its performance is better than the 3.5 version, it is still not up to par in terms of speed when compared to Google Chrome.
5. Explorer9
5.1. Pros:
5.1.1. 1
5.1.1.1. The overall Web experience with IE9 definitely feels "snappier" than previous versions of IE, especially when we tested both the 32-bit and 64-bit versions of IE9 on JavaScript-heavy sites such as Facebook and Gmail, and on Flash-based Web destinations including YouTube.
5.1.2. 2
5.1.2.1. The URL address box pulls double duty as an Internet search box. Type in a word or phrase, and you'll be presented with icons representing the search engines you have selected to be used directly within IE9. Click on a search engine's icon, hit "Enter," and search results from that service will be shown inside the browser window.
5.2. Cons:
5.2.1. The new download manager Although it's clearly an improvement over what's found in previous versions of IE, this new manager doesn't seem to track some file types downloaded with it (particularly, image files).
5.2.2. No XP for you! Like all the other cool new toys that Microsoft will soon be releasing (such as Windows Live Essentials 2011), IE9 will not be available for Windows XP. So for you XP hold-outs, IE8 will be the last browser you ever get from Microsoft.
6. Define: Browser
6.1. A web browser is a software application for retrieving, presenting, and traversing information resources on the World Wide Web. An information resource is identified by a Uniform Resource Identifier (URI) and may be a web page, image, video, or other piece of content. ... en.wikipedia.org/wiki/Browser_(Web)
7. Define: HTML5
7.1. HTML5 is being developed as the next major revision of HTML (HyperText Markup Language), the core markup language of the World Wide Web. The Web Hypertext Application Technology Working Group (WHATWG) started work on the specification in June 2004 under the name Web Applications 1.0. ... en.wikipedia.org/wiki/HTML5
8. Sources
8.1. minimum 5 sources, only most recent versions as shown:
8.1.1. Shorten your URLs at the following link:
8.1.2. http://bit.ly/
8.2. http://bit.ly/cuppvj
8.3. http://bit.ly/fq5njW
8.4. http://bit.ly/hyl86Q
8.5. http:
8.6. http:
9. Apple Safari 5
9.1. Pros:
9.1.1. 1
9.1.2. 2
9.2. Cons:
9.2.1. 1
9.2.2. 2
10. Opera 11
10.1. Pros:
10.1.1. 1
10.1.2. 2
10.2. Cons:
10.2.1. 1
10.2.2. 2