Edgar Alvarez Browsers 2011
by
Edgar Alvarez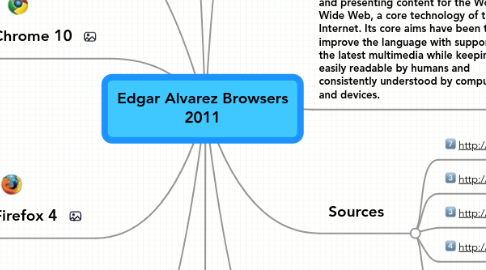 0.0
stars -
0
reviews range from
0
to
5
Opera 11
Pros:
Cons:
Google Chrome 10
Cons:
Apple Safari 5
Cons:
Mozilla Firefox 4
Cons:
Explorer9
Cons:
Browser: A software application for retrieving, presenting, and traversing information resources on the World Wide Web. An information resource is identified by a Uniform Resource Identifier and may be a web page, image, video, or other piece of content.
Sources
http://en.wikipedia.org/wiki/HTML_5
http://download.cnet.com/Internet-Explorer/3000-2356_4-10497433.html
http://www.techradar.com/reviews/pc-mac/software/home-and-reference-software/mozilla-firefox-4-935643/review
http://en.wikipedia.org/wiki/Web_browser
http://www.huffingtonpost.com/2011/03/28/google-chrome-10-vs-firefox-4-vs-internet-explorer-9_n_841320.html
HTML5: It is a language for structuring and presenting content for the World Wide Web, a core technology of the Internet. Its core aims have been to improve the language with support for the latest multimedia while keeping it easily readable by humans and consistently understood by computers and devices.
Marketshare - strategic management and marketing is the percentage of the available market or market segment that is being serviced by a company.
To Flash or Not to Flash