DISCOURSE ANALYSIS: LANGUAGE BEYOND THE SENTENCES CONCERNED WITHE THE STUDY OF LANGUAGE IN TEXTS AND CONVERSATIONS.
by PatriciA Rodríguez Toledo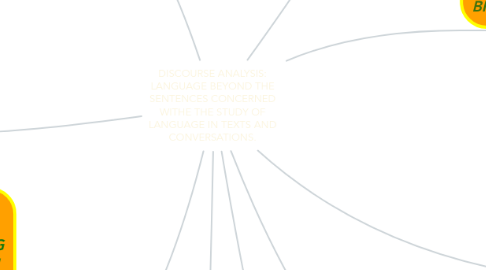 1. COHERENCE: THE KEY TO THE CONCEPT (EVERYTHING FITTING TOGETHER WELL) IS NOT SOMETHING THAT EXISTS IN WORDS OR STRUCTURES, BUT SOMETHING THAT EXISTS IN PEOPLE. IT IS PEOPLE TO MAKE SENSE OF WHAT THEY READ AND HEAR.
2. INTERPRETING DISCOURSE: IS THE EFFORT TO INTERPRET, OR TO BE INTERPRETED, AND HOW WE ACCOMPLISH IT, THESE ARE THE KEY ELEMENTS INVESTIGATED IN THE STUDY OF DISCOURSE. TO ARRIVE AT AN INTERPRETATION AND TO MAKE OUR MESSAGES INTERPRETABLES, WE CERTAINLY RELY ON WHAT WE KNOW ABOUT LINGUISTIC FORM AND STRUCTURE.
3. COHESION: TEXTS MUST HAVE A CERTAIN STURCTURE THAT DEPENDES ON FACTORS QUITE DIFFERENT FROM THOSE REQUIRED IN THE STRUCTURE OF A SINGLE SENTENCE. IT TIES AND CONNECT THAT EXIST WITHIN TEXTS. IT GIVES US SOME INSIGHT INTO WRITERS STRUCTURE WHT THEY WANT TO SAY AND THEY MAYBE BE CRUIAL FACTORS IN OUR JUDGMENTS ON WHETER SOMETHING IS WEEL WRITTEN OR NOT.
4. HEDGES: SHOWS THAT WE ARE CONCERNED ABOUT FOLLOWING THE MAXIMS BEING CO-OPERATIVE PARTICIPANTS IN CONVERSATIONS., THEY CAN BE DEFINED AS WORDS OR PHRASES USED TO INDICATE THAT WE´RE NOT REALLY SURE THAT WE ARE SAYING AS SUFFICIENTLY CORRECTOR OR COMPLETE.
5. SCHEMAS AND SCRIPTS: A SCHEMA IS A GENERAL TERM FOR A CONVENTIONAL KNOWLEDGE STRUCTURE THAT EXISTS IN MEMORY. WE HAVE MAY SCHEMAS (OR SCHEMATA); AS WE TRIED TO MAKE SENSE OF WHAT WE EXPERIENCE AND WHAT WE HEAR AND READ. SIMILAR TO A SCHEMA IS A SCRIPT; A SCRIPT IS ESSENTIALLY A DYNAMIC SCHEMA. THAT IS, INSTEAD OF TEH SET OF TYPICAL FIXED FEATURES IN A SCHEMA , A SCRIPT HAS A SERIES OF CONVENTIONAL ACTIONS THAT TAKE PLACE.
6. CO-OPERATIVE PRINCIPLE: AN UNDERLYING ASSUMPTION IN SOME CONVERSATIONAL EX CHANGES SEEMS TO BE THAT THE PARTICIPANTS ARE CO-OPERATING WITH EACH OTHER. MAXIMUS SUPPORTING THIS PRINCIPLE: THE QUANTITY MAXIM MAKE YOUR CONTRIBUTIONS AS INFORMATIVE AS IS REQUIRED, BUT NOT MORE, OR LESS, THAN IS REQUIRED. THE QUALITY MAXIM; DO NOT SAY THAT WHICH YOU BELIEVE TO BE FALSE OR FOR WHICH YOU LACK ADEQUATE EVIDENCE. THE RELATION MAXIM; BE RELEVANT. THE MANNER MAXIM; BE CLEAR, BRIEF AND ORDERLY.
7. IMPLICATURES: WHEN WE TRY TO ANALYZE HOW EDGES WORK, WE USUALLY TALK ABOUT SPEAKERS IMPLYING THAT IS NOT SAID. AND ADDITIONAL CONVEY MEANING CONCERNING SPECIFIC ACTIVITIES.
8. CONVERSATION ANALYSIS: ENGLISH CONVERSATION CAN BE DESCRIBED AS AN ACTIVITY IN WHICH FOR THE MOST PART, TWO ORE MORE PEOPLE TAKE TURNS AT SPEAKING. TYPICALLY, ONLY ONE PERSON SPEAKS AT A SAME TIME AND THERE TENDS TO BE AN AVOIDANCE OF SILENCE BETWEEN SPEAKING TURNS.
9. TURN TAKING : THE PARTICIPANTS CHARACTERIZED AS "RUDE" OR "SHY" IN THIS WAY MAY SIMPLY BE DHERING TO SLIGHTLY DIFFERENT CONVENTANTIONS OF TURN TAKING. IF THE NROMAL EXPECTATION IS THAT COMPELTION POINTS ARE MARKED BY THE END OF A SENTENCE AND A PAUSE, THEN ONE WAY TO "KEEP THE TURNS" IS TO AVOID HAVING THOSE TWO MARKERS OCCUR TOGETHER.