Utopia: Thomas More
by Lois Kim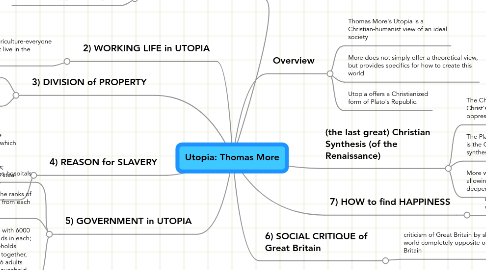 1. 3) DIVISION of PROPERTY
1.1. no private ownership
1.2. goods stored in warehouses and given out upon people's request
2. 1) HUMOR and PARODY
2.1. The title Utopia means nowhere
2.2. Each community government group
3. 2) WORKING LIFE in UTOPIA
3.1. most important job: agriculture-everyone is taught this, and must live in the countryside
4. 4) REASON for SLAVERY
4.1. slaves (mostly criminals) are shackled with gold chains, which shows how gold should be disliked, since it is used for criminals and chamber pots; moreover, gold is harder to steal as it is in plain view--on the slaves
5. 5) GOVERNMENT in UTOPIA
5.1. welfare state with free hospitals
5.2. mayor (from among the ranks of Bencheaters) elected from each town
5.3. 54 towns with 6000 households in each; 30 households grouped together, and 10-16 adults in each household
6. Overview
6.1. Thomas More's Utopia is a Christian-humanist view of an ideal society
6.2. More does not simply offer a theoretical view, but provides specifics for how to create this world
6.3. Utopia offers a Christianized form of Plato's Republic.
7. (the last great) Christian Synthesis (of the Renaissance)
7.1. The Christian aspect of the synthesis is Christ's gospel of caring for the poor, the oppressed, and the downtrodden
7.2. The Platonic, Republican tradition is the Greek aspect of the synthesis
7.3. More wrote Utopia with a comedic tone, allowing him to speak his truth while telling a deeper story.
8. 6) SOCIAL CRITIQUE of Great Britain
8.1. criticism of Great Britain by showing a world completely opposite of Great Britain
9. 7) HOW to find HAPPINESS
9.1. not in money/wealth, but being unselfish