MENTAL HEALTH AND WELL BEING
by Helen Saudi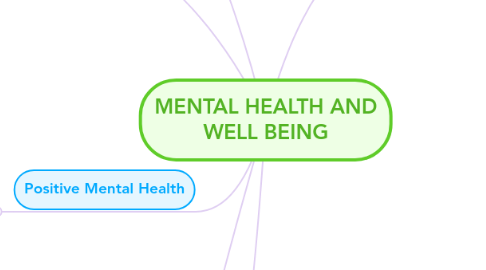 1. a disorder that significantly interferes with an individual's cognitive, emotional & or social abilities
2. Mental Illness
2.1. Symptoms commonly show up as:
2.2. Behaviors
2.3. Thoughts
2.4. Feelings
2.5. Physiological responses
3. Mentally Healthy Persons
3.1. Feel comfortable about themselves
3.2. Feel right about other people
3.3. Able to meet the demands of life
4. Positive Mental Health
4.1. Positive Attitude Towards Self
4.2. accepting one's strengths and weaknesses
4.3. Growth, Development & Self-actualization
4.4. invovles entails successful achievement of each developmental task, seeking new growth & new challenges
4.5. Integration
4.6. maintaining an equilibrium & balance between various life processes
4.7. Autonomy
4.8. ability to perform in an independent & self-directed manner
4.9. Perception of Reality
4.10. ability to see environment without distortion
4.11. Environmental Mastery
4.12. ability to achieve a satisfactory role within a group
5. Mental Health
5.1. used to describe either a level of cognitive or emotional wellbeing or an absence of a mental disorder.
5.2. affected by individual factors and experiences
6. Psychological Well-Being
6.1. depends on an individual's psychological health depends on his positive functioning in certain aspects of his life
6.2. Hedonic Approach
6.3. focuses on happiness and defines well-being in terms of pleasure attainment and pain avoidance
6.4. Eudemonics Approach
6.5. focuses on meaning and self realization