Explore and exemplify what you would do in an LEDC: Cambodia
by Ayann Mohammed ABDIKER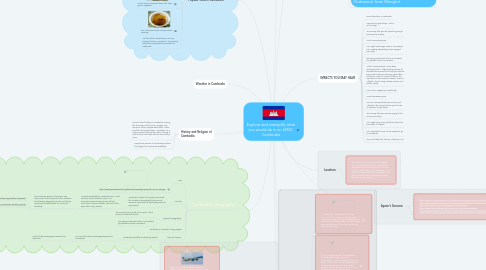 1. IMPACTS YOU MAY HAVE
1.1. main attractions in cambodia
1.2. How will you get there?- Airline and timings:
1.3. The money that you will spend is going to be someone's salary
1.4. Local economies grow
1.5. You might encourage more or less people from visiting (depending if you enjoyed your stay)
1.6. low-lying central plain that is surrounded by uplands and low mountains.
1.7. What I have searched: I have been searching hotel + flight package online to minimize the amount of money you have to pay. Lastminute.com has very good offers on this so I used it. I found a hotel in the city which is also close to a beach. There is a flights I found using vietnam airlines and British airway.
1.8. Mee Kola a vegetarian noodle dish
1.9. Local buisnesses grow
1.10. You can cause pollution (Even if you put rubbish in the correct places, you'll cause air polution to get there)
1.11. The money that you spend is going to be someone's salary
1.12. You might leave some pollution behind so be careful of rubbish
1.13. You may attract more or less people to go to Cambodia
1.14. This could help the tourism industry or not
2. Cambodian Geography
2.1. Map
2.1.1. http://www.operationworld.org/files/ow/maps/lgmap/camb-MMAP-md.png
2.2. Climate
2.2.1. Cambodia is warm to hot year round and the climate is dominated by the annual monsoon cycle with its alternating wet and dry seasons.
2.2.1.1. As mentioned before, Cambodia has a "wet and dry" sort of weather cycle. The monsoon season (rainy season) will last from about May to October. The rest of the year is the "dry" period.
2.2.1.1.1. The monsoon season of course is very rainy. Some of the impacts of the monsoon are flooding, degrading roads, and having very heavy rainfalls which can limit your travelling.
2.3. Physical Geaography
2.3.1. The country has a coast in the south. This if covered in beautiful beach
2.3.2. low-lying central plain that is surrounded by uplands and low mountains.
2.4. Cambodia is covered in large jungles
2.5. Flora and Fauna
2.5.1. Cambodia's wildlife is extremely diverse
2.5.1.1. You can find various endangered species in Cambodia
2.5.1.1.1. Most of these endangered animals are mammals
3. Flight and Acomodation Details:
3.1. Flight: Your outbound flight will be from Geneva airport (GVA) at 10:30 on the 1st of July and you will be using Vietnam airlines to Paris Charles de Gaulle (CDG) which you will arrive at 11:40 you will have a stop over till 13:20. You can spend that time in the lounge. At 13:20 you will depart with Vietnam airways to Ho Chi Minh City (SGN) which you will arrive at 6:30 then leave for Phu Quoc Duong dang (PQC)which is the final destination for you on the 2nd of July.Your Inbound flight will start from Phu Quoc Dong Dang on Saturday the 8th of July departing at 15:30 with Vietnam airlines headed to Hanoi Noi Bai (HAN) which you will be arriving at 17:40. You will Depart from HAN airport and head for Geneva airport (GVA) which you will be arriving at 12:10. And that will be the end of you journey!
3.2. You will be staying at the Grand Seagull hotel in Sihanoukvile for 8 days and 6 nights. You will have a deuxe room which has 1 king bed that can fit 2 people. Your room comes with breakfast but you have to pay for any other meal. This hotel is located in the city but also not to far from the Beach.
3.3. Total price for the Flight and the Acomodation is: £2,831
4. History and Religion of Cambodia
4.1. There is lots of history in Cambodia. During the four years of the Khmer Rouge's rule around 2 million people were killed. That's one-fifth of the population. Therefore, for a history teacher there will be lots of things to look at which will make her like the country more.
4.2. 95 percent percent of Cambodia practice the religion of Thearavada Buddhism
5. Weather in Cambodia
6. Location:
6.1. The location of where you will be headed to is in Cambodia the city of Sihanoukville. This place was chosen because it is a LEDC country. We had asked you questions and all of your answers lead us to Cambodia. So we think you would enjoy this place the most because of your answers.
7. Popular food in Cambodia
7.1. Amok is a very popular cambodian dish. Amok is served in a half coconut shell with tasty food inside. Looking at tripadvisor I saw that people loved the chicken Amok.
7.2. Prahok fried in bannana leavs with fresh green vegtables.
7.3. The cambodian herb and spice base Kroeung.
7.4. The food that I listed above are very popular foods in Cambodia. These foods would be very likely to be served at a restaurant.
8. main tourists attractions
8.1. Angkor Wat is a temple complex in Cambodia and the largest religious monument in the world, with the site measuring 162.6 hectares located in siam reap.
8.2. The Royal Palace, in Phnom Penh, Cambodia, is a complex of buildings which serves as the royal residence of the king of Cambodia. Its full name in the Khmer language is Preah Barum Reachea Veang Chaktomuk Serei Mongkol.
9. Activities to do:
9.1. 1: Otres Beach. Otres beach is the top choice of all the beaches in Sihonoukville. Many people spen the day there as there are food stalls and beach chairs. The beach has a very beutifull view of the ocean which I am sure you will enjoy.
9.2. 2: Kbal Chhay Waterfall. This waterfall is the best water fall you can see in Sihanoukville. It is a very beautiful place to spen around an hour or two depending on how you are feeling and if the weather permits. You can go for a stroll on the top of the water fall and feel the cold refreshing water run past your toes. It is a really attractive place to visit. Once you go you never want to leave!
9.3. 3: Boat Rentals. Go get a boat for two and rent it for a day. Bring your own food and have a picnic on your boat. Sit and relax as you see the sunset wile laying in your boat.
9.4. 4: Take a walk through the city. A walk through the city would be perfect to see the culture and daiy life of Cambodian people. You may stop at a restaurant and tase some of their traditional food!
9.5. 5: Have lunch (or dinner) by the Ocean.
9.6. 6: Relax in the pool of your hotel.
10. Facts that you may need to know about Cambodia
10.1. Since Cambodia is an LEDC country we assume that Cambodia is not expensive. This is true. My group members have provided flights and hotels and to be honest it's not much to travel to Cambodia and stay for long periods of time.
10.2. According to multiple sources and social media the locals in Cambodia are very nice. When you visit a new country you always want to be sure that you are safe and comfortable.
10.3. When we asked geogalot about her opinion on beaches geogalot answered with I love beaches. Well to pick the right country for geogalot the country has to have some beautiful beaches. Well, Cambodia has some of the best beaches in the world. The cambodian beaches are very clean and have a beautiful ocean and a beautiful colour of water which is light blue. You can find a picture of a beach in Cambodia in one of my friends section of Activities to do.
11. Ayann's Sources:
11.1. http://www.tourismcambodia.com/travelguides/provinces/sihanouk-ville/what-to-see/36_kbal-chhay-waterfall.htm https://www.lonelyplanet.com/cambodia/sihanoukville/attractions/otres-beach/a/poi-sig/441770/355898 http://www.lastminute.com/city-breaks/flight-hotel.html https://www.vietnamairlines.com/my/en/plan-book/vna-experience https://en.tripadvisor.com.hk/LocationPhotoDirectLink-g325573-d7331556-i120974201-Grand_Seagull_Hotel-Sihanoukville_Sihanoukville_Province.html https://www.travelfish.org/orientation_detail/cambodia/southern_cambodia/sihanoukville/sihanoukville/163