The Institute for Learning- If it went, what would the implications be?
by Natalie Makinson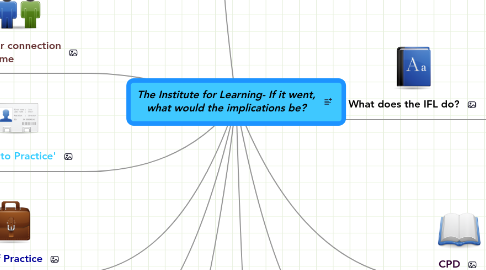 1. What is IfL?
1.1. 'THE independent professional body for the lifelong learning sector. Recognised the difference between the LLL sector and compulsory education'.
2. QTLS
2.1. Implications?
2.1.1. Un-standardised
2.1.2. Lack of credibility
2.1.3. Little or no support during first year teaching
3. Registration
3.1. Implications?
3.1.1. Safeguarding issues
3.1.2. Professionalism
3.1.3. Legal implications
4. Code of Practice
4.1. Implications?
4.1.1. Standards in the sector may be lowered
4.1.2. No national uniformity & continuity
5. 'License to Practice'
5.1. Implications?
5.1.1. Possibility of inexperienced/incapable practitioners
6. Volunteer connection programme
6.1. Implications?
6.1.1. CPD would suffer as this supports teachers at local level
7. What does the IFL do?
7.1. CPD
7.2. Research
7.3. Policy work- what policies should be put in place, working with government
7.4. QTLS-Process of Professional formation
7.5. Registers teachers and trainers
7.6. Code of Practice
7.7. License to practice
7.8. Organises volunteer connection programme
8. CPD
8.1. Implications without the IfL?
8.1.1. Could result in a lowering of standards, as some colleges may not see it as a priority.
8.1.2. Lack of progression
8.1.3. Reduces innovation
9. Research
9.1. Implications?
9.1.1. Status of the sector would diminish
9.1.2. Research would have an agenda i.e if it was government led
10. Policy
10.1. Implications?
10.1.1. Policy decisions would be uninformed and externally led
10.1.2. Would not necessarily impact on the needs of the sector
10.1.3. Gives individuals in the sector a voice