The evolution in society's attitude towards education
by
anita vannarath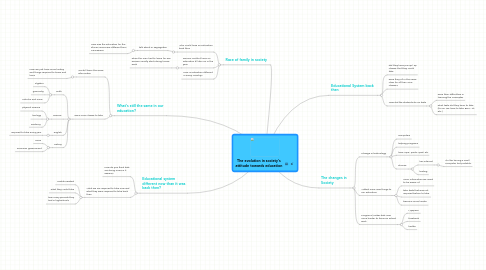 0.0
stars - reviews range from
0
to
5
The evolution in society's attitude towards education
Purpose of controlling statement; In this paper I am going to explain the evolution in the society's attitude towards education.   Thesis; The students attitude towards education has evolved due to changes, race of family in society, and  the similarities and differences of education in the past and present.
Race of family in society
Who could have an education back then
woman couldn't have an education til later on in the year.
How is education different in every country?
The changes in Society
Change in technology
Added more new things to our education
Programs (makes kids now more harder to focus on school work
Educational system different now than it was back then?
How do you think kids are doing now? is it easier??
What we are required to take now and what they were required to take back then.
Educational System back then
did they have pre-ap/ ap classes that they could take
were they all in the same class for all their core classes?
How did the students do on tests
What's still the same in our education?
We still learn the same information
same core classes to take