Carol Ann Duffy
by Malika Salymbekova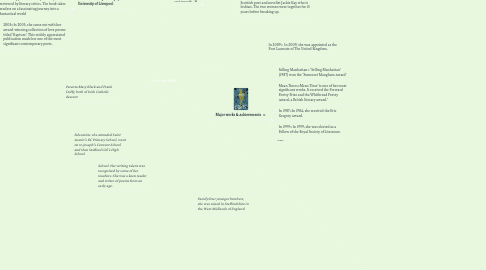 1. In 2009= In 2009, she was appointed as the Poet Laureate of The United Kingdom.
2. Birth:December 23, 1955, Carol Ann Duffy was born in Glasgow, Scotland
3. Family:four younger brothers, she was raised in Staffordshire in the West Midlands of England
4. Parents:Mary Black and Frank Duffy, both of Irish Catholic descent
5. Education: she attended Saint Austin's RC Primary School, went on to Joseph's Convent School and then Stafford Girl's High School
6. School: Her writing talent was recognized by some of her teachers. She was a keen reader and writer of poems from an early age.
7. Childhood: Carol Ann Duffy was born in Gorbals, a poverty struck and underprivileged part of Glasgow
8. Career: studied philosophy at the University of Liverpool
8.1. In 1987= In 1987, she published one of her highly acclaimed works of poetry, 'Selling Manhattan'. The book was very well-received and is regarded as one of her best works.
8.2. 1990=In 1990, she came out with 'The Other Country', a collection of poems that was well appreciated and positively reviewed by literary critics. The book takes readers on a fascinating journey into a fantastical world
8.3. 2005=In 2005, she came out with her award-winning collection of love poems titled 'Rapture'. This widely appreciated publication made her one of the most significant contemporary poets.
9. Major works & Achievements
9.1. Selling Manhattan= 'Selling Manhattan' (1987) won the 'Somerset Maugham Award'
9.2. Mean Times=Mean Time' is one of her most significant works. It received the Forward Poetry Prize and the Whitbread Poetry Award, a British literary award.'
9.3. In 1987=In 1984, she received the Eric Gregory Award.
9.4. In 1999= In 1999, she was elected as a Fellow of the Royal Society of Literature.
9.5. Images:
10. Carol Ann Duffy
10.1. Personal life
10.1.1. Carol Ann Duffy is openly bisexual. She was also only 16 when she first met her love (a poet, musician and artist) when he was 39. Their huge gap didn't stop a teenager continuing their romantic relationship further on.
10.1.2. Later,Duffy entered into a relationship with the Scottish poet and novelist Jackie Kay who is lesbian. The two women were together for 15 years before breaking up.