BUSINESS META-MAP: The Best Business Mindmaps on MindMeister
by Aaron Hoos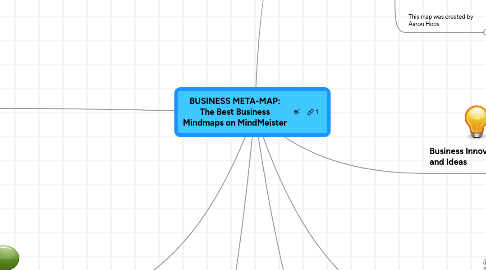 1. Business Planning and Startup
1.1. Strategy
1.1.1. Build your sales funnel (tool)
1.1.1.1. http://www.mindmeister.com/87887999/build-your-sales-funnel
1.1.2. Strategic management
1.1.2.1. http://www.mindmeister.com/34984574/strategic-management
1.1.3. Business brainstorming template
1.1.3.1. http://www.mindmeister.com/10516953/business-brainstorming-template
1.1.4. Online strategy
1.1.4.1. http://www.mindmeister.com/34421081/online-strategy
1.1.5. SWOT Analysis
1.1.5.1. http://www.mindmeister.com/11617308/swot-analysis
1.1.6. Business Plan
1.1.6.1. http://www.mindmeister.com/22404975/business-plan
1.1.6.2. http://www.mindmeister.com/39311666/business-plan
1.1.7. Stakeholder Theory
1.1.7.1. http://www.mindmeister.com/46612950/bus-101-concept-map
1.2. Implementation
1.2.1. Business influences and models
1.2.1.1. http://www.mindmeister.com/30828827/biz-influences-models-lifestyles
1.2.2. Successful ebusiness
1.2.2.1. http://www.mindmeister.com/35628166/successful-ebusiness-how-to-make-your-online-business-successful
1.2.3. Online Business and Monetization Models
1.2.3.1. http://www.mindmeister.com/19055588/online-business-and-monetization-models
1.2.4. Start-up lessons learned
1.2.4.1. http://www.mindmeister.com/6315289/startup-lessons-learned
2. Finance and Accounting
2.1. Raising money
2.1.1. How to raise money for you business
2.1.1.1. http://www.mindmeister.com/7176220/how-to-raise-money-for-your-business
2.2. Audit and control
2.2.1. Internal Audit and Control
2.2.1.1. http://www.mindmeister.com/40609740/internal-audit-and-control-main-concepts
3. Marketing and Sales
3.1. Marketing strategy
3.1.1. Marketing strategies
3.1.1.1. http://www.mindmeister.com/29317884/marketing-strategies
3.1.2. Interruption marketing versus engagement marketing
3.1.2.1. http://www.mindmeister.com/58978478/interruption-marketing-vs-engagement-marketing
3.1.3. Account plan
3.1.3.1. http://www.mindmeister.com/11617274/account-plan
3.1.4. 26 week internet marketing plan
3.1.4.1. http://www.mindmeister.com/32080402/26-week-internet-marketing-plan-framework-http-www-26weekplan-com-framework
3.1.5. Marketing strategic process
3.1.5.1. http://www.mindmeister.com/43126402/marketing-strategic-process
3.1.6. Differences in the promotion mix
3.1.6.1. http://www.mindmeister.com/36106717/what-are-the-essential-differences-between-the-different-elements-of-the-promotion-mix
3.2. Marketing (general), promotion, & PR
3.2.1. How to be more referable
3.2.1.1. http://www.mindmeister.com/23949165/how-to-be-more-referable-www-referralenginebook-com
3.2.2. How to win customer trust
3.2.2.1. http://www.mindmeister.com/19971503/how-to-win-customer-trust-gain-the-complete-and-unconditional-trust-of-your-existing-and-potential-customers
3.2.3. Demand Generation Marketing
3.2.3.1. http://www.mindmeister.com/89683395/demand-generation-marketing
3.2.4. Online marketing ecosystem
3.2.4.1. http://www.mindmeister.com/40479273/online-marketing-ecosystem
3.2.5. Public Relations (PR) 2.0
3.2.5.1. http://www.mindmeister.com/9184182/pr-2-0
3.3. Social
3.3.1. Social media framework
3.3.1.1. http://www.mindmeister.com/11704653/social-media-framework
3.3.2. The power of social media marketing
3.3.2.1. http://www.mindmeister.com/22367986/the-power-of-social-media-marketing-networking-blogging
3.3.3. Social media crash course
3.3.3.1. http://www.mindmeister.com/51606831/social-media-crash-course-by-thomas-power-founder-of-ecademy
3.3.4. How to really use LinkedIn to find customers
3.3.4.1. http://www.mindmeister.com/24506598/how-to-really-use-linkedin-to-find-new-customers
3.3.5. Using web 2.0 for business
3.3.5.1. http://www.mindmeister.com/46758478/using-web-2-0-for-business
3.3.6. Social media training
3.3.6.1. http://www.mindmeister.com/43582767/social-media-training-guide-social-media-training
3.4. Mobile
3.4.1. Mobile marketing integration
3.4.1.1. http://www.mindmeister.com/50029088/mobile-marketing-integration-mind-map
3.5. Sales
3.5.1. How to write great titles
3.5.1.1. http://www.mindmeister.com/23983538/how-to-write-great-titles-key-steps
3.5.2. 12 step foolproof sales letter
3.5.2.1. http://www.mindmeister.com/69636657/12-step-foolproof-sales-letter-formula
3.5.3. Webcopy that sells
3.5.3.1. http://www.mindmeister.com/stylesheets/skins/default/images/bg_thumbnail_xlarge.gif
4. Management
4.1. Management (overview)
4.1.1. Management
4.1.1.1. http://www.mindmeister.com/9302169/management
4.1.2. Critical Success Factors Scrum and Lean Management
4.1.2.1. http://www.mindmeister.com/75066778/critical-success-factors-scrum-and-lean-management
4.2. Six Sigma
4.2.1. http://www.mindmeister.com/83722746/six-sigma-the-process-roles
4.3. Project management
4.3.1. Project integration management
4.3.1.1. http://www.mindmeister.com/17068774/4-project-integration-management
4.3.2. 9 Knowledge Areas Processes 5 Management Process Groups
4.3.2.1. http://www.mindmeister.com/16998373/nine-knowledge-areas-processes-five-management-process-groups
4.3.3. Project management body of knowledge
4.3.3.1. http://www.mindmeister.com/17446818/project-management-body-of-knowledge
4.4. Analytics
4.4.1. What it means to put analytics to work
4.4.1.1. http://www.mindmeister.com/41449287/what-it-means-to-put-analytics-to-work
4.5. Information management
4.5.1. Informational management areas of work
4.5.1.1. http://www.mindmeister.com/37100147/informational-management-areas-of-work
5. Staffing and Outsourcing
5.1. Outsourcing
5.1.1. How to outsource tasks
5.1.1.1. http://www.mindmeister.com/63106708/how-to-outsource-tasks-for-small-business
6. Business Innovation and Ideas
6.1. Innovation
6.1.1. Innovation and Entrepreneurship
6.1.1.1. http://www.mindmeister.com/12277943/innovation-and-entrepreneurship
6.1.2. The Realizer (innovation tool)
6.1.2.1. http://www.mindmeister.com/12278060/therealizer
6.2. Ideas
6.2.1. Business ideas
6.2.1.1. http://www.mindmeister.com/20549528/business-ideas
7. ABOUT THE BUSINESS META-MAP
7.1. The Business Meta-Map is a collection of the best business-related mindmaps on MindMeister.
7.2. How to use this map
7.2.1. Identify the area (or areas) where you need business help.
7.2.2. Expand the node with the + sign and follow the links to the individual maps for help and information.
7.2.3. Check back regularly for updated maps
7.3. This map was created by Aaron Hoos
7.3.1. Aaron Hoos is a business writer and strategist
7.3.2. Visit his site at http://aaronhoos.com
7.3.3. Follow him on Twitter at http://twitter.com/AaronHoos
7.3.4. Connect with him on LinkedIn at http://ca.linkedin.com/in/aaronhoos (invites welcome)