SOCIAL ISSUE
by
Timothy Ho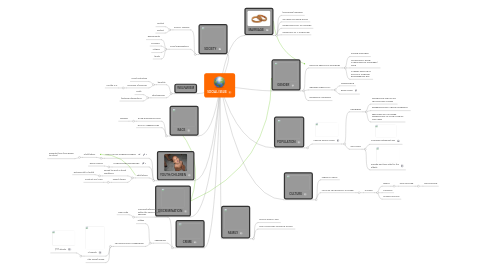 0.0
stars - reviews range from
0
to
5
SOCIAL ISSUE
SOCIETY
SOCIAL NORMS
explicit
implicit
social organizations
governments
economy
religion
family
FAMILY
STRAIN FAMILY TIES
SHIFT TOWARDS NUCLEAR FAMILY
GENDER
ROLE OF FEMALE IN SOCIETIES
SINGLE MOTHERS
TRADITIONAL ROLE: CARETAKER OF CHILDREN / WIFE
CAREER: FEMALE IN POLITICS, SCIENCE, ENGINEERING ETC.
GENDER INEQUALITY
WORKFORCE
EDUCATION
DOMESTIC VIOLENCE
RACE
RACE DISCRIMINATION
NIGGER
RACIAL STEREOTYPES
POPULATION
AGEING POPULATION
PROBLEMS, INCREASING STRAIN ON HEALTHCARE SYSTEM, DETERIORATING LABOUR STRENGTH, PRESSURE ON YOUNGER GENERATION TO TAKE CARE OF THE AGED
SOLUTION, Increasing retirement age, Provide part time jobs for the elderly.
YOUTH/CHILDREN
    http://www.japanfocus.org/-Kosugi-Reiko/2022    
Child labour, Prevents them from going to school
DRUG ABUSE
Child abuse
Forced to work in harsh conditions, Detrimental to health
Sexual slavery, Contract HIV/AIDS
WELFARISM
benefits
social protection
provision of services, e.g.the U.K.
shortcomings
costly
fostering dependency
CULTURE
IDENTITY CRISIS
LOSS OF TRADITIONAL CULTURE
CAUSES, MEDIA, POP CULTURE, HOLLYWOOD, TOURISM, GLOBALISATION
DISCRIMINATION
CRIME
Increased information sharing within the various crime agencies
New node
TERRORISM
Taliban
TRANSNATIONAL TERRORISM, Al-Qaeda, 911 attacks, Abu Sayyaf Group
MARRIAGE
homosexual marriage
SOARING DIVORCE RATES
INCREASING NO. OF SINGLES
CONFLICTS IN A MARRIAGE