Formative Assessment Tools
by Rebecca Turnage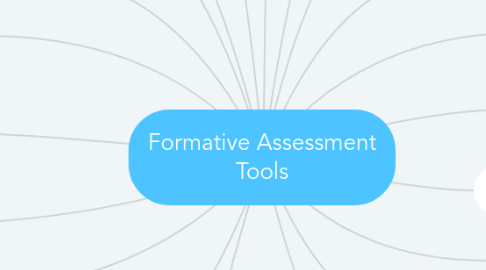 1. Kahoot!
1.1. Game-based classroom response system.Kahoot! | Learning Games | Make Learning Awesome!
2. Padlet
2.1. This tool provides students with a blank slate to create and design project pageshttps://padlet.com/my/dashboard
3. Plickers
3.1. Allows teachers to collect formative assessments without student deviceshttps://www.plickers.com
4. Quizlet
4.1. Create text, flashcards, and study games. Quizlet
5. FlipQuiz
5.1. Create review games for studentshttps://flipquiz.me
6. Google Forms
6.1. Allows teachers and students to create documents that can be shared with the class.Google Forms - create and analyze surveys, for free.
7. Jot
7.1. Turns an iPad or any device into an individual white board. Allows students to show responses. Jot!: The iPad Whiteboard | The easiest way to sketch and share ideas on your iPad.
8. Obsurvey
8.1. Create surveys for students easily.Obsurvey - Free Online Survey Maker - No.1 Web Survey Software
9. Wordables
9.1. A word guessing game that helps to increase student vocabulary. http://wordables.com
10. Yacapaca!
10.1. Allows teachers to create online games for students. Yacapaca! - Home
11. Exit Ticket
11.1. Teachers can poll, test, or survey what students know. http://exitticket.org
12. Educreations Interactive White Board
12.1. This app makes any tablet or mobile device a white board for student responses or work.Educreations Interactive Whiteboard on the App Store
13. Poll Everywhere
13.1. This tool creates feedback polls for students. https://www.polleverywhere.com
14. Today's Meet
14.1. This tool serves as an online collaboration for classes to share thoughts and ideas. TodaysMeet - Give everyone a voice
15. Quizziz
15.1. Create online quizzes for automatic feedback from students. Quizizz: Fun Multiplayer Classroom Quizzes
16. Brainrush
16.1. Teachers can create online study games called Brainrushes. BrainRush | Home
17. Socrative
17.1. Allows teachers to use online polls with games and quizzes. Socrative
18. AnswerGarden
18.1. A tool for online brainstorming that allows teachers to see student feedback. AnswerGarden »
19. Pick Me!
19.1. App that randomly chooses student names from a list. Pick Me! on the App Store
20. Quia
20.1. Students play games created by their teacher. Quia