TOPIC 2:OUTDOOR (AMBIENT) AIR POLLUTION
by Madihah Zaini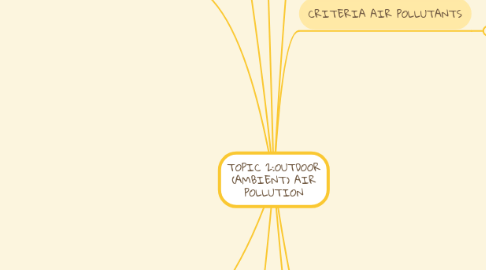 1. CATEGORIES
1.1. According to their source
1.1.1. Natural (unregulated)
1.1.2. Anthropogenic/man-made (regulated)
1.2. According to the way in which they are formed in the atmosphere
1.2.1. Primary pollutants
1.2.1.1. Emitted directly into the atmosphere by natural events/human activities
1.2.1.2. Ex: CO, VOCs, PM, SO2 & Oxides of nitrogen (NO,NO2,N2O4)
1.2.2. Secondary pollutants
1.2.2.1. Primary pollutants may react with one another in the presence of sunlight to form new compounds.
1.2.2.2. Also can form from reactions with substances that occur naturally in the atmosphere
1.2.2.3. Ex: O3, most NO3 and So4 salts, hydrogen peroxide, aldehydes & PAN
2. Carbon Monoxide (CO); persistent pollutant and readily combined with oxygen to form CO2.
2.1. Produced when organic materials; gasoline, coal, wood & trash burnt with insufficient oxygen.
2.2. Any process that involved burning of fossil fuels has potential to produce CO
2.3. Largest source of CO : Automobile (when do not service regularly) Other sources : Processes involved burning (power plants,industry, burning leaves)
2.3.1. Solution: Increased fuel efficiency & use of catalytic converters Problem: No of automobiles on the road risen
2.4. HEALTH EFFECTS OF CO
2.4.1. Dangerous; it binds to the hemoglobin in the blood & makes the hemoglobin less able to carry oxygen.
2.4.1.1. CO remains attached to hemoglobin for a long time; small amount tend to accumulate & reduce blood's oxygen carrying capacity
2.4.2. Most dangerous in enclosed spaces where it is not diluted by fresh air
2.4.3. Several hours of exposure to air containing o.oo1% CO can cause death
2.4.4. Amount of CO produced in heavy traffic cause headaches, drowsiness & blurred vision
3. PARTICULATE MATTER (PM10&PM2.5)
3.1. Consist of minute (10microns&smaller) solid particles & liquid droplets dispersed into the atmosphere
3.2. Primary pollutant: coarse particles (greater than 2.5) such as dust & carbon particles
3.3. Secondary pollutant: fine particles (less than 2.5) that forms in atmosphere from interactions of primary air pollutants.
3.3.1. Ex: Sulfates & nitrates formed from sulfur dioxide & nitrogen oxides
3.4. HEALTH EFFECT OF PM
3.4.1. Reduced visibility
3.4.2. pM of asbestos is carcinogenic; cause cancer
3.4.3. Particles can accumulate in the lung & interfere with their ability to exchange gases.
4. OXIDES OF NITROGEN
4.1. N2+O2 produced NO (primary)
4.2. 2NO+O2 produced 2NO2 (seconday)
4.3. HEALTH & OTHER EFFECTS OF NO2
4.3.1. Highly reactive, reddish brown gas; secondary pollutant
4.3.1.1. Causes respiratory problem
4.3.1.2. Components of acid precipitation (acid rain)
4.3.1.3. Important in production of mixture of secondary air pollutants called smog (especially ozone)
5. TROPOSPHERIC/PHOTOCHEMICAL (O3)
5.1. Highly reactive; irritating gas with unpleasant odor
5.2. Produced in the presence of sunlight when NO2 breaks down to NO and O; since O is extremely reactive and will react with molecular O2 in the air and form O3
5.3. HEALTH & OTHER EFFECTS OF O3
5.3.1. Breathing problem
5.3.2. Coughing
5.3.3. Reduces resistance to colds&pneumonia
5.3.4. May speed up lung tissues aging
5.3.5. Can damage plants&trees
5.3.6. Damage rubber, fabrics and paints
6. POLLUTION
6.1. Any addition of matter/energy that degrades the environment for human & other organisms
6.1.1. Gaseous
6.1.2. Aerosols
6.1.2.1. Consist of tiny particles of solid/ droplets of liquids suspended in the air
7. CRITERIA AIR POLLUTANTS
7.1. U.s Environmental Protection Agency established air quality standards for 6 principal air pollutants
7.1.1. NO2
7.1.2. O3
7.1.3. SO2
7.1.4. Particulate matter
7.1.5. CO
7.1.6. Pb
7.2. Recommended Malaysian Air Quality Guidelines: established ambient air quality guidelines (1998)
7.2.1. O3
7.2.2. CO
7.2.3. NO2
7.2.4. SO2
7.2.5. Total suspended particles (TSP)
7.2.6. Particulate matter (10&2.5)
7.2.7. Pb
7.2.8. Dust fall
8. SULFUR DIOXIDE (SO2)
8.1. S (containing fossil fuels) + O2 produced SO2
8.2. HEALTH & OTHER EFFECT OF SO2
8.2.1. Has sharp odor; cause headaches, sore throats & nausea
8.2.2. Irritates respiratory tissues
8.2.3. Aggravates asthmatic condition
8.2.4. Form acid when react with H20, O2 and other materials; become attached to particles that when inhaled; very corrosive to lung tissue
8.2.5. Involved in acid deposition
9. LEAD (Pb)
9.1. Sources: gasoline; added to help engines run more efficiently and paints; dust from flaking paint, remodeling/demolition.
9.2. HEALTH & OTHER EFFECTS OF Pb
9.2.1. Mental retardartion
9.2.2. Kidney damage