Zackary's Organized Life
by Zackary Gomez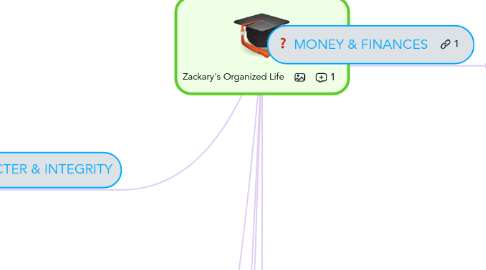 1. EDUCATION & SKILL DEVELOPMENT
1.1. I know the personal dimensions of education, my learning connections inventory and the two mindsets.
1.2. The talents and skills that I plan to develop are technical skills to improve my LCI scores.
1.3. I have read about 10 books in the past year.
1.4. My talents and skills are: being fluent in child development, bilingual, knowledgeable in microsoft office.
1.5. I am spending time learning new things and developing my mind.
1.6. My current education status is being an undergrad at Ashford University.
2. HEALTH & FITNESS
2.1. My current diet is eating foods that are digestible and portioned correctly.
2.2. I am taking adequate steps to address my health risks by eating sensibly and healthy.
2.3. The health risks that run in my family are high cholesterol and diabetes.
2.4. I do not know what my resting heart rate is.
2.5. I weigh 137 pounds.
2.6. I am not getting good quality sleep.
2.7. On average, I sleep 7-8 hours.
2.8. I do pushups three times a week.
2.9. I don't often get sick.
2.10. I am generally tired.
2.11. I make healthy home-cooked meals.
2.12. I regularly don't eat fast food.
2.13. I typically eat rice, chicken, beans, vegetables, bread, etc.
3. CAREER & WORK
3.1. I have a small job on mechanical turk right now.
3.2. I am engaged in my work.
3.3. My career work is not stressful.
3.4. I am not well-positioned and networked within that industry.
3.5. My current job is not considered a job because it only pays a couple of cents per hit, therefore it does not give me mastery, control, and purpose.
3.6. I am good at my job.
3.7. I work from home.
3.8. My goal is to look for data and submit it.
3.9. I am a mechanical turker.
3.10. I submit hits (human intelligence tasks).
4. SOCIAL LIFE & RELATIONSHIPS
4.1. I have a lot of clutter.
4.2. My wife and I are aware of each other's needs and desires.
4.3. I do not have influence and status in social circles and society.
4.4. I am not a member of any clubs, organizations, and communities.
4.5. I am not cared for, loved, and valued by others.
4.6. I don't have any social circles.
4.7. I don't have any "core" friends.
4.8. I don't have any friends.
4.9. My relationship with my extended family is non-existent.
4.10. There is always room for improvement.
4.11. My relationship with my wife is great.
4.12. My home life is a bit messy.
5. EMOTIONS & WELL-BEING
5.1. I am not enjoying life the way I want to.
5.2. I do not practice self-compassion.
5.3. I do not have a regular mindfulness practice.
5.4. I am quick to notice how my emotions influence my thoughts, actions, and decisions.
5.5. I am easily aware of my current emotional state.
5.6. I am generally positive.
5.7. I am generally optimistic but have instances when I become pessimistic for several days.
5.8. I feel great about my life!
6. CHARACTER & INTEGRITY
6.1. My identity is small.
6.2. My vices: hurting peoples' feelings, violent temper, being jealous, and wanting to be "perfect".
6.3. My greatest virtues: Patience, selflessness, care, and empathy.
6.4. My weaknesses are that I am afraid, easily angered and I had broken misconceptions about family growing up.
6.5. My key strengths are that I am loving, patient and determined.
6.6. The identity that I have is being a hard-working husband and student.
7. PRODUCTIVITY & ORGANIZATION
7.1. I am not organized.
7.2. I do not have a good workspace environment and setup.
7.3. I am busy due to a lack of priorities.
7.4. I'm not doing any deep work.
7.5. I need to simplify.
7.6. There is too much complexity in my life.
7.7. My routines and rituals are to get up every morning, wash dishes, take a shower and figure out what is planned for the day.
7.8. I am using mindmeister and mistreats and my productivity tools and systems.
8. ADVENTURE & CREATIVITY
8.1. I have not done fun things lately.
8.2. I study for fun.
8.3. My hobbies are listening to music, cleaning the house, reading the news.
8.4. I have made halloween masks with my wife lately.
8.5. I am not experiencing what I want to experience in life.
9. VALUES & PURPOSE
9.1. I want to have a great home and graduate from Ashford University.
9.2. My direction is to look for a job and continue my studies.
9.3. I truly value my wife, my career and my current home.
9.4. I want the world to be different by making positive impacts in the lives of children everywhere.
9.5. My fundamental values are to take good care of my health, provide for my family and move ahead in my career.
9.6. My philosophy of life is to keep moving forward.
9.7. My sense of purpose is my family.
10. CONTRIBUTION & IMPACT
10.1. I need to give money away to charity in the next year.
10.2. My existence needs to have impact.
10.3. I need to contribute to important and worthy causes that I care about.
10.4. I need to make a difference.
10.5. I need to take responsibility for, and re-ducing, my environmental impact on the world since I live in a town that has non existent recycling systems.
10.6. I need to give value to the world right now.
11. LOCATION & TANGIBLES
11.1. I have mental sufficiency.
11.2. I need to be in a comfortable place in the world.
11.3. I am readily mobile.
11.4. I do not know how much stuff I own.
11.5. I have too many things.
11.6. I am not tied to one location.
11.7. My life is cluttered.
11.8. I need to move to a better home.
11.9. My living situation needs to improve.
11.10. I would like to move to Chula Vista, where I was born.
11.11. My home is in a town which I would like to move out of.
12. MONEY & FINANCES
12.1. I need to have assets and investments.
12.2. I need to know where my money goes.
12.3. I budget effectively.
12.4. I am aware of how I spend my money.
12.5. I want to spend my money on bills and vacation.
12.6. I need to organize my finances.
12.7. I need to have an emergency fund.
12.8. I have unwanted debt.
12.9. I need to have savings.