Making your teaching more effective through technology
by
King Wai Ngan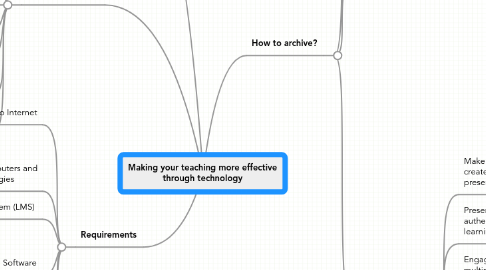 0.0
stars - reviews range from
0
to
5
Making your teaching more effective through technology
What is it?
E-learning
Distance learning
Blended learning
Technology integration in a classroom
Why do we need?
Increase teacher effectiveness
Improve learning of subject matter content
Enable assessment for learning
Development of "new literacies"
Make learning more relevant for students
Empower research activities
Transformation of practices
Increase global/regional competitiveness
Create distance learning opportunities
How to archive?
Harvesting
Identifying useful educational material for teaching and other resources, Tools, Wikipedia, Google, Social bookmarking, Folksonomy, Social repositories, RISAL, RSS Feeds
Skills in use of new tools
Mashing
Mixing and re-mixing existing resources and media to create new resources, Tools, Blog, YouTube Video, Facebook, Slideshare presentation, Voicethread, Presentation, Power Point, Prezi Presentation, Mind Map, Mindmeister, Digital Story, Model, Scratch, Comic Strip, ToonDoo, Animation, GoAnimate, Video
Active Lessons
Make uses of Power Point to create an interesting scenario presentation
Presents students with some authentic scenario for learning.
Engages students to explore multimedia resources
Provides templates which organize and scaffold students' completion of tasks
Requires students to use technology-based tools to create artifact of their involvement in the task
Require students to produce a product for evaluation
tudents might also conduct presentations, exhibitions, upload their artifacts on-line for class critique, etc.
Requirements
Access to Internet
On-campus and at home
Wireless network
Mobile network
Access to Computers and Other Technologies
Learning Management System (LMS)
Software
Rise of free software
Open sources
Web-as-a-platform
Content and Institutional Repositories
Pedagogical design
Transformation management