INDUSTRIAL MECHANIC MILLWRIGHT
by Rodrigo Garcia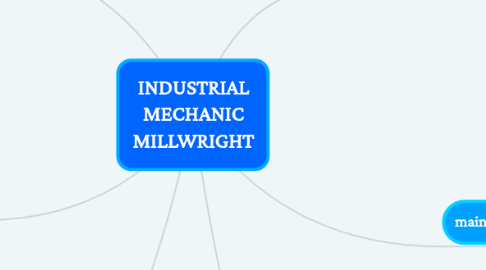 1. Millwrighting involves the installation, maintenance, repair and troubleshooting of stationary industrial machinery, as well as mechanical equipment in factories, production plants and recreational facilities.
2. main duties
2.1. Read blueprints, diagrams and schematic drawings to determine work procedures
2.2. Install, align, dismantle and move stationary industrial machinery and mechanical equipment, such as pumps, fans, tanks, conveyors, furnaces and generators according to layout plans using hand and power tools
2.3. Operate hoisting and lifting devices such as cranes, jacks and tractors to position machinery and parts during the installation, set-up and repair of machinery
2.3.1. Inspect and examine machinery and equipment to detect and investigate irregularities and malfunctions
2.4. Install, troubleshoot and maintain power transmission, vacuum, hydraulic and pneumatic systems, and programmable logic controls
2.5. Adjust machinery and repair or replace defective parts
3. Who do they work for?
3.1. Bottling plants
3.2. Mines
3.3. Pulp and paper
3.4. Manufacturing
3.5. Construction
4. Sample titles
4.1. Machinist
4.2. Machine tool operations
4.3. Fitter/Welder
4.4. Industrial mechanic
4.5. Millwright
5. Essential Skills
5.1. Document use
5.2. Numeracy
5.3. Critical Thinking
6. Salary
6.1. Between $19.50 and $39.00. Annual salaries between $42,000 to $89,500